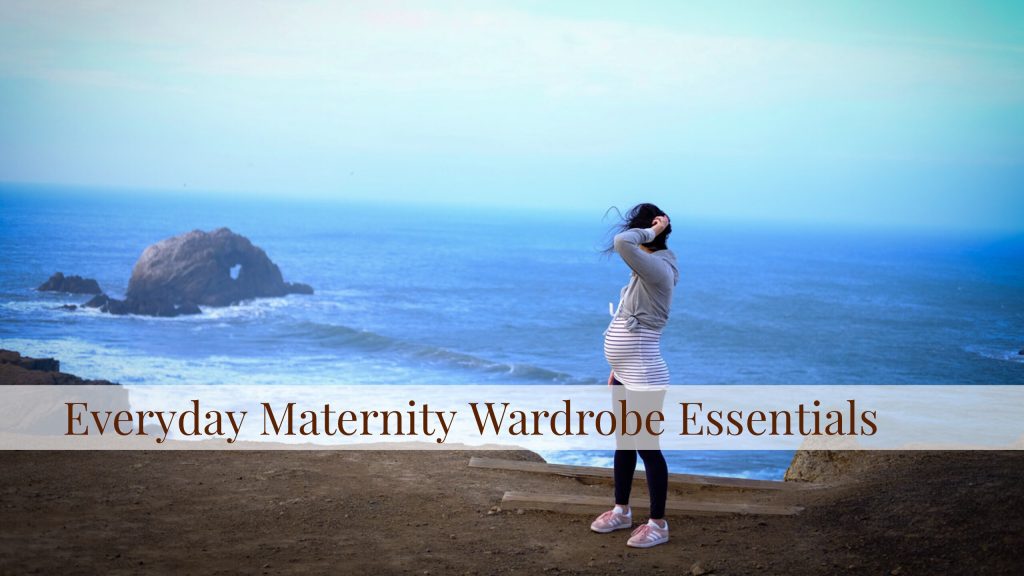 Welcome back to our series featuring "must-have" pregnancy products to keep you healthy, comfortable, and stylish during your 9 months and beyond!  In this next installment, I'm sharing essentials for your everyday maternity wardrobe to keep your bump comfortable in style.  These are my favorite items that carried me through my first pregnancy and new favorites that I'm currently living in.
Maternity Jeans
Despite trying to squeeze into my regular jeans for as long as possible, I have to admit an affinity for maternity pants!  Everyone pops at different rates, but I guarantee that maternity jeans are worth the splurge and you will come to cherish them (so much that you'll be asking yourself if they are appropriate for next Thanksgiving)!  With their stretchy over-the-bump panels or built-in elastic waists, they are built for comfort and make can make a world of difference.  In terms of fit, I'd recommend taking your regular size in maternity jeans (or one size up, if you're anything like my first pregnancy where I immediately gained in my butt / hips / thighs).  Definitely try on a few different designers and styles and give them a test run by walking, bending over, and sitting down.
From my first pregnancy, I loved my maternity jeans from DL1961.  These are super soft, stretchy in all the right places, and the under-belly elastic waistband doesn't constrict while sitting down.  The dark wash is great for Fall / Winter, can be easily go from day to night, and is flattering to the "birthing hips".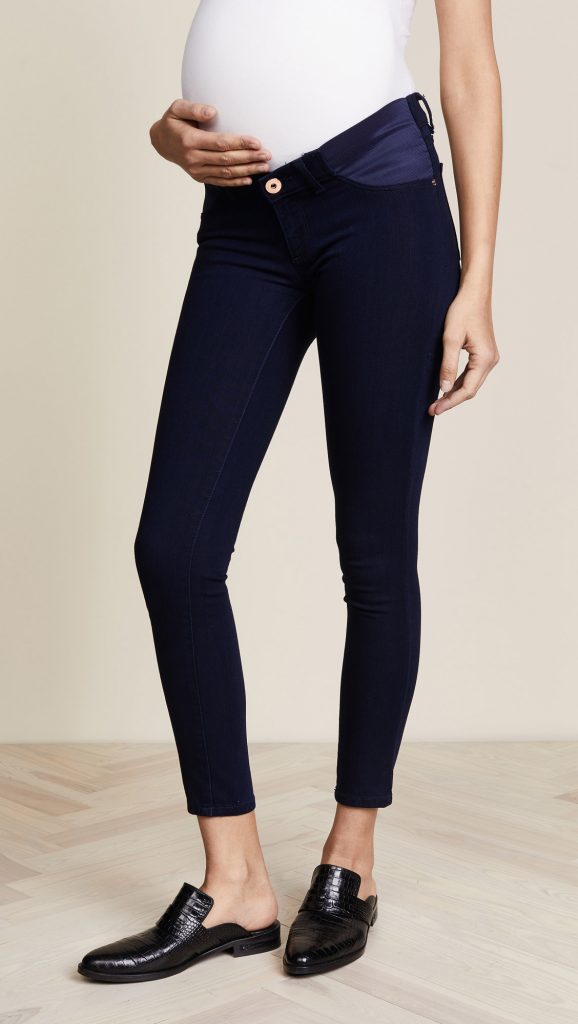 For a more casual, daytime look, I love my Paige Transcend Verdugo maternity jeans.  The subtle vertical whisking helps make petite legs look a little longer, especially necessary when you are living in flats!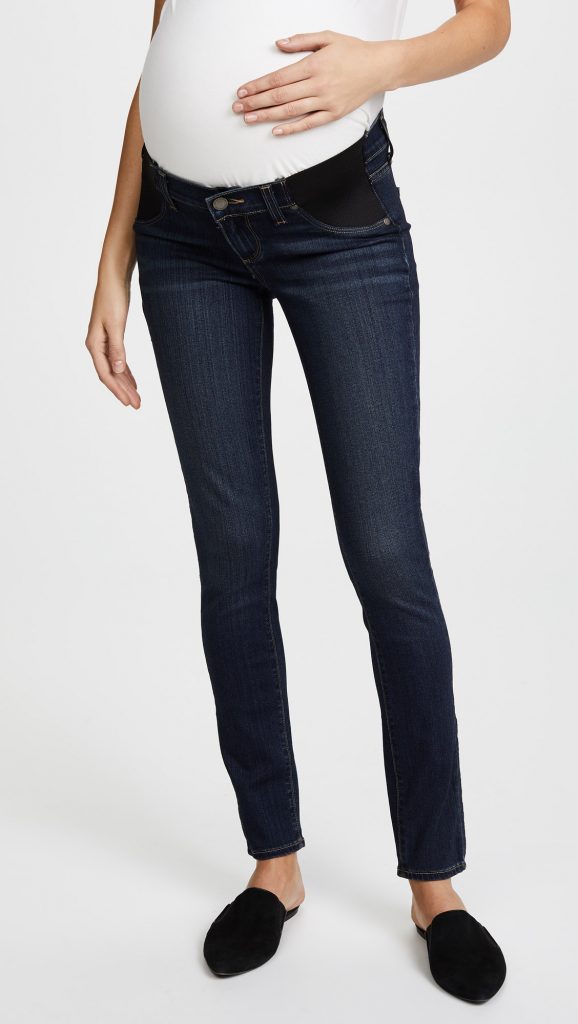 I also love these J.Brand Mama J maternity jeans for the weekend.  The cigarette cut is super flattering with a pair of sneakers and the wash can easily transition from Fall / Winter to Spring.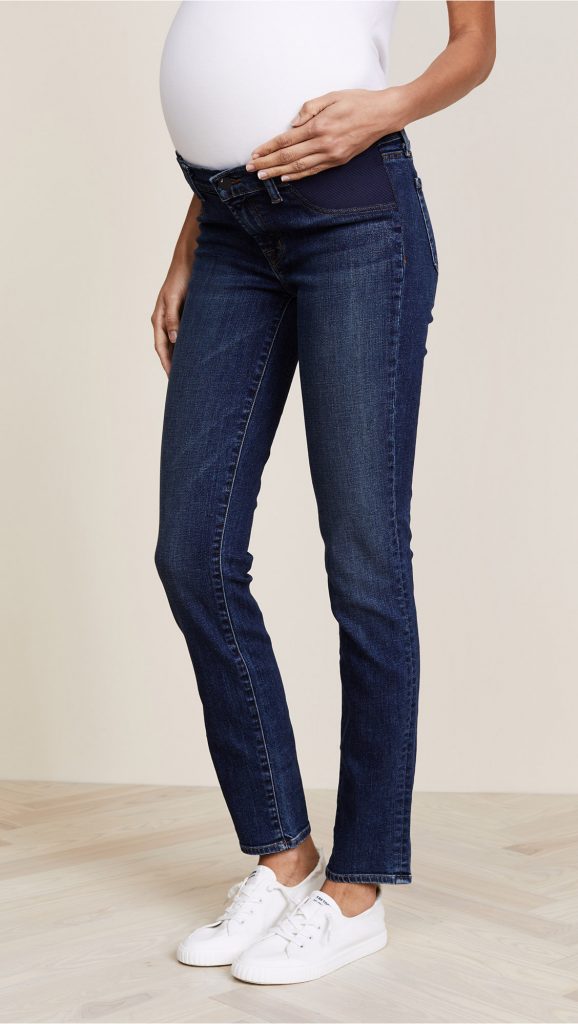 This time around, not wanting to spend a fortune on additional pairs that I'd only wear for the next 2 months, I recently bought Loft's maternity jeans and I have mixed feelings about them.  They make a good petite maternity jean / pant with the perfect length (for my 5'1 frame) so I don't have to worry about hemming, but I have found that their over-the-waist stretchy band rides low and I'm constantly tugging it up.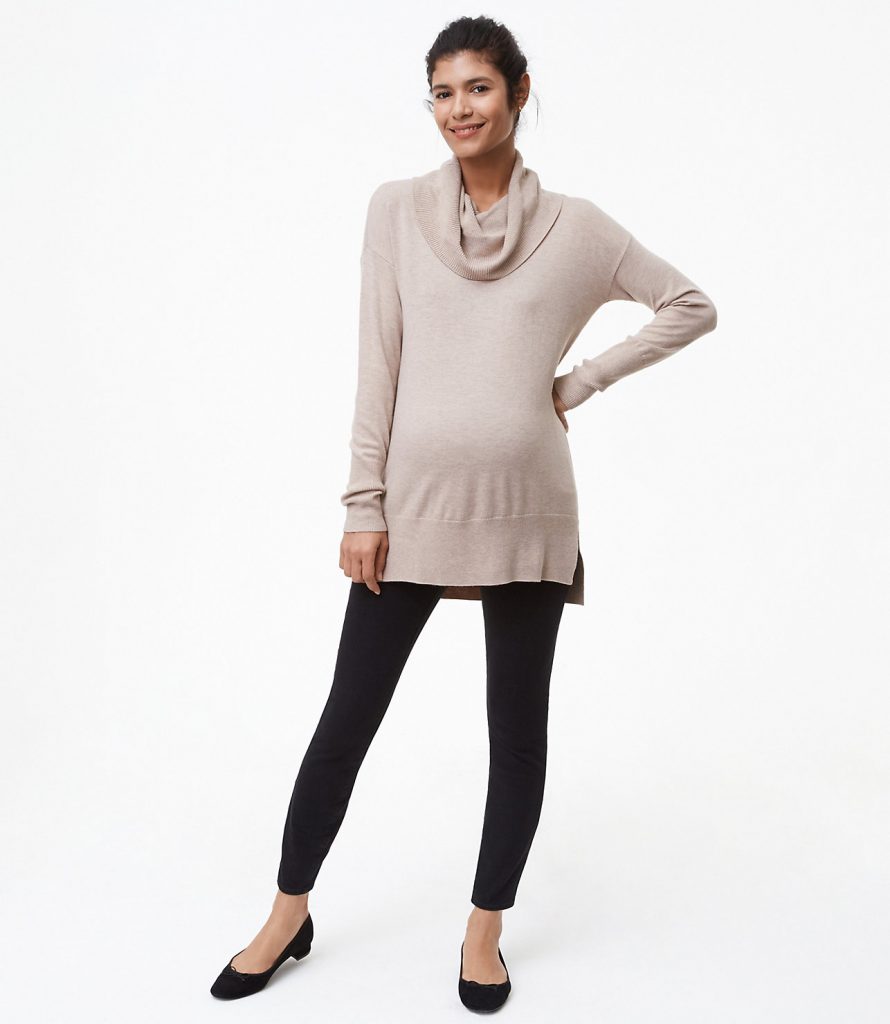 Pants – Leather / Suede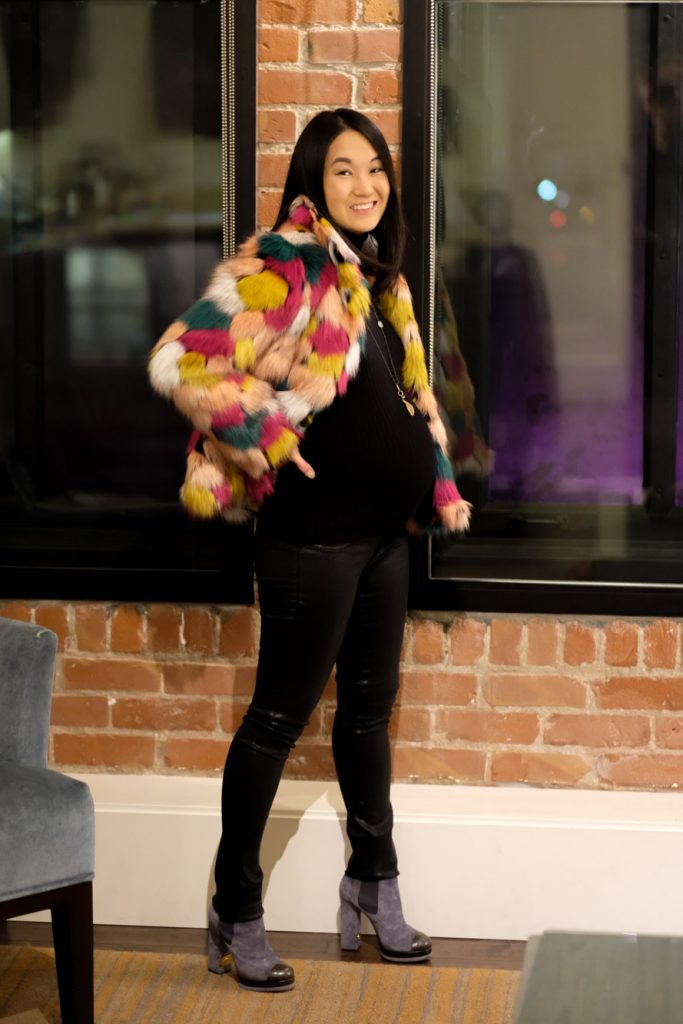 If you are a fan of leather pants, (I usually live in mine during winter) there is a great maternity alternative. To replace these staples (at a fraction of the cost), I turned to these coated Citizen of Humanity "leather-look" maternity jeans.  Paired with a sweater and shawl, they are perfect for a daytime look or glam them up with an embellished top or colorful accessories for the perfect date night look.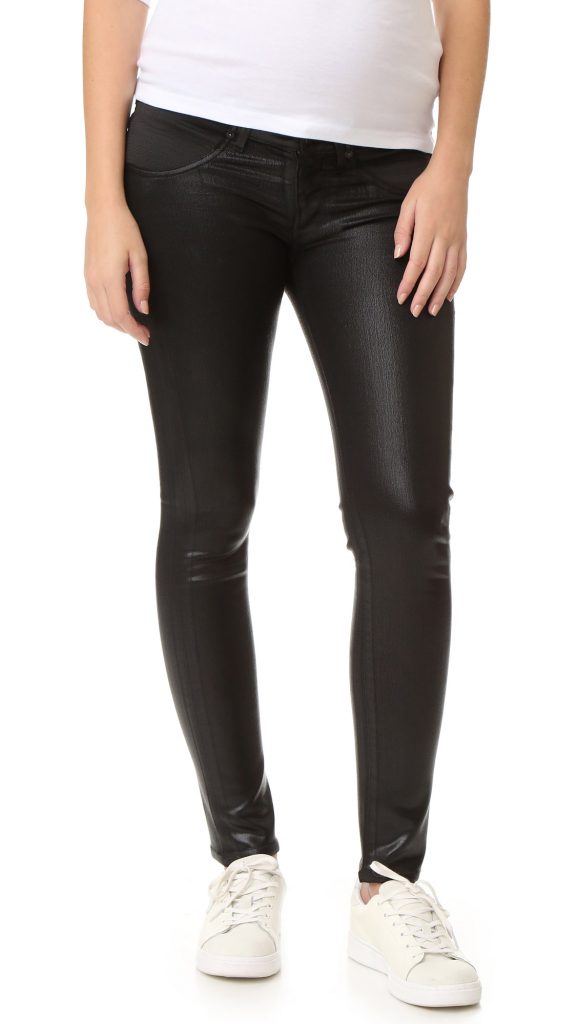 For a non-maternity splurge option, I'm still living in these Vince suede leggings.  I have them in a burgundy color from 3 years ago during my first pregnancy where I just went up one size and their very stretchy elastic waist sits comfortably right under my bump.
Pants – Leggings
I've also been living in leggings, especially during this last trimester when stretchiness and comfort are critical. For maternity leggings, my go-to pair is the Isabella Oliver Secret Fit Belly Trouser Maternity Leggings.  Made of a thick jersey and with a cute seam that dresses them up a bit, they are super comfy and stylish.  I even wore them to the office on "jeans-day Fridays" during my last trimester!  And, unlike the David Lerner Maternity Leggings I also bought, these Isabella Olivers actually last through years of washes and won't pill.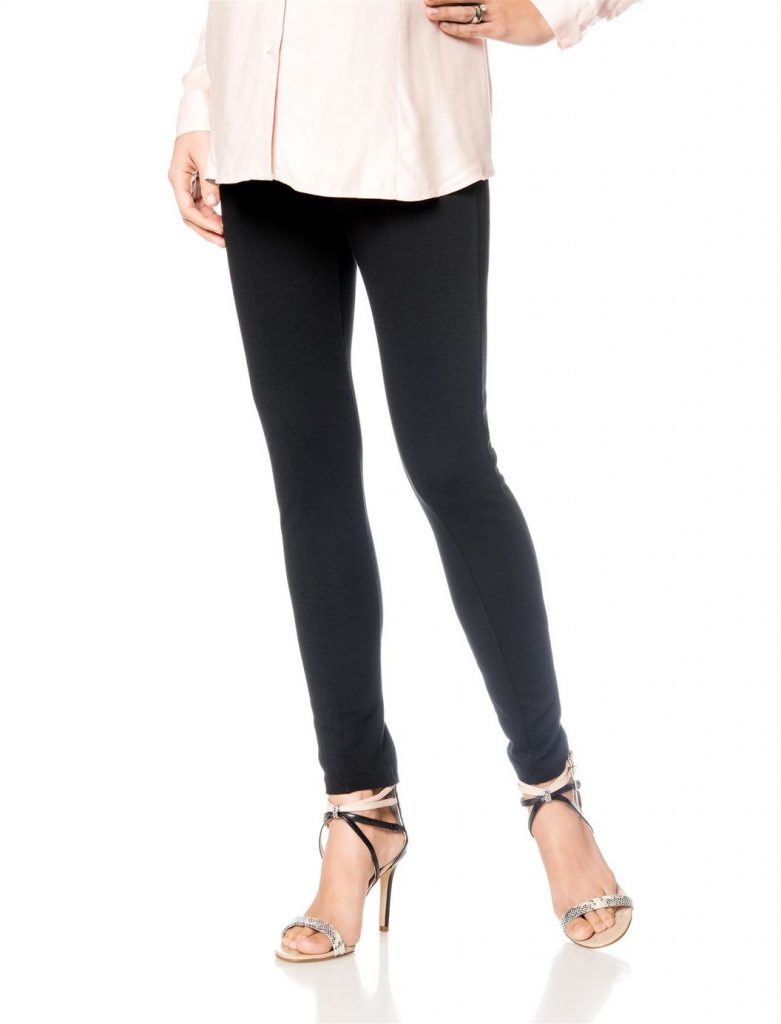 Pants – Athletic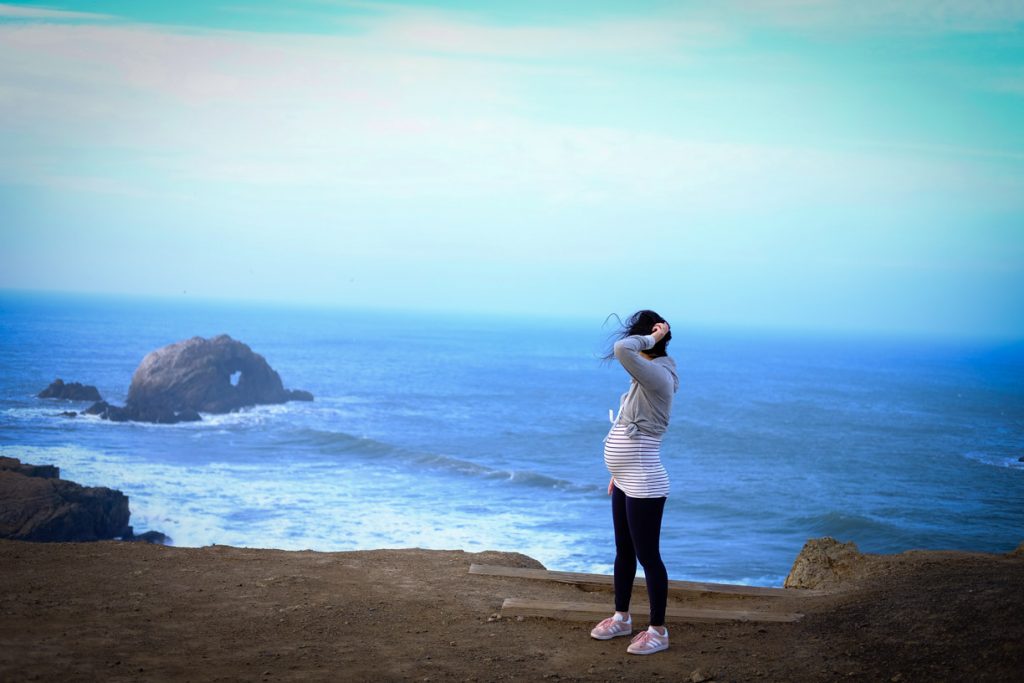 For yoga pants, I've been able to stick with non-maternity brands as they've been stretchy and comfortable over / under my bump.  I've always been a big Athleta fan for their petite sizes.  I lived in these Herringbone Metro Leggings, especially during post-partum and these Polartec Power Stretch Tights which are fleece-lined, perfect for winter.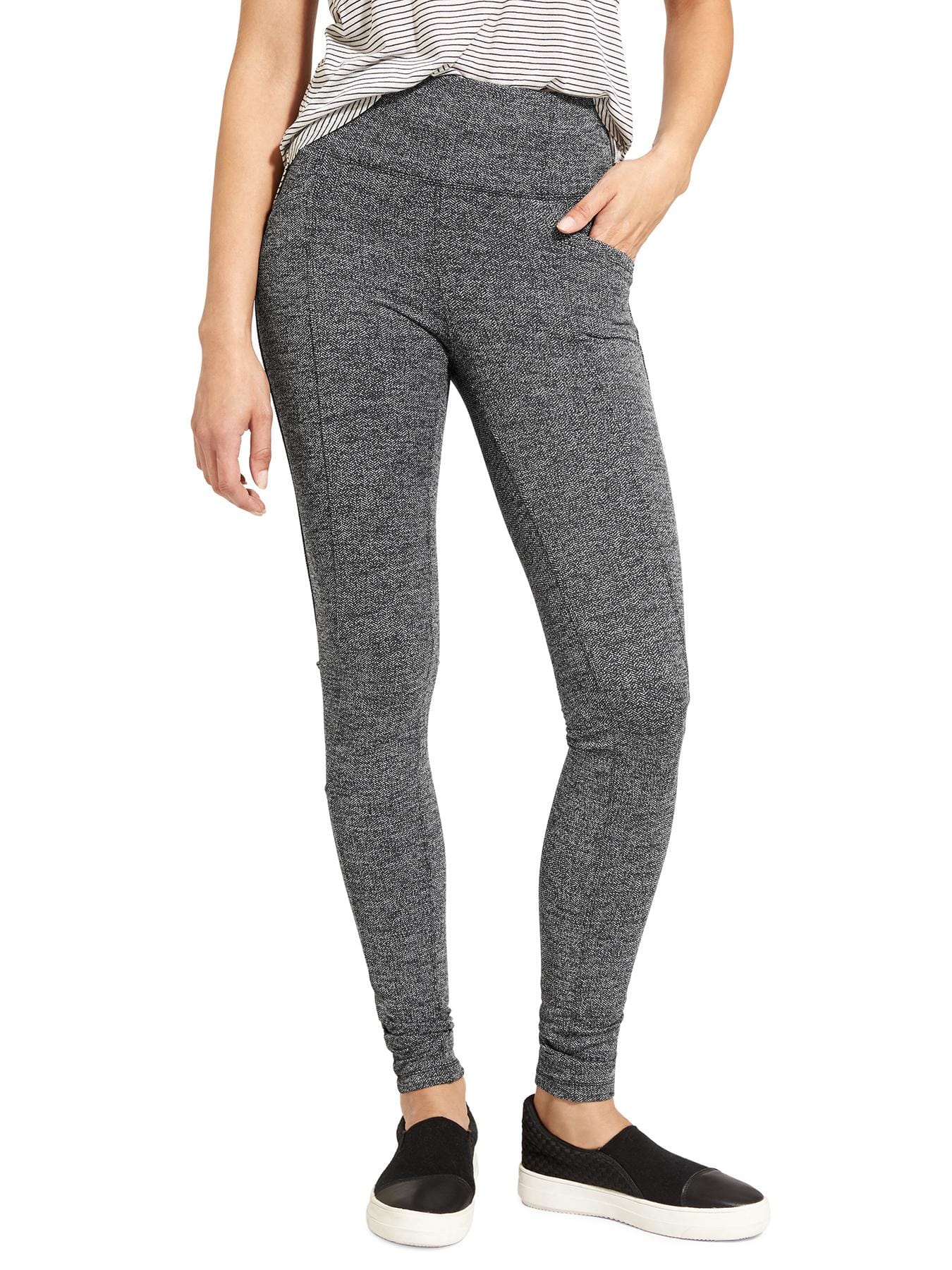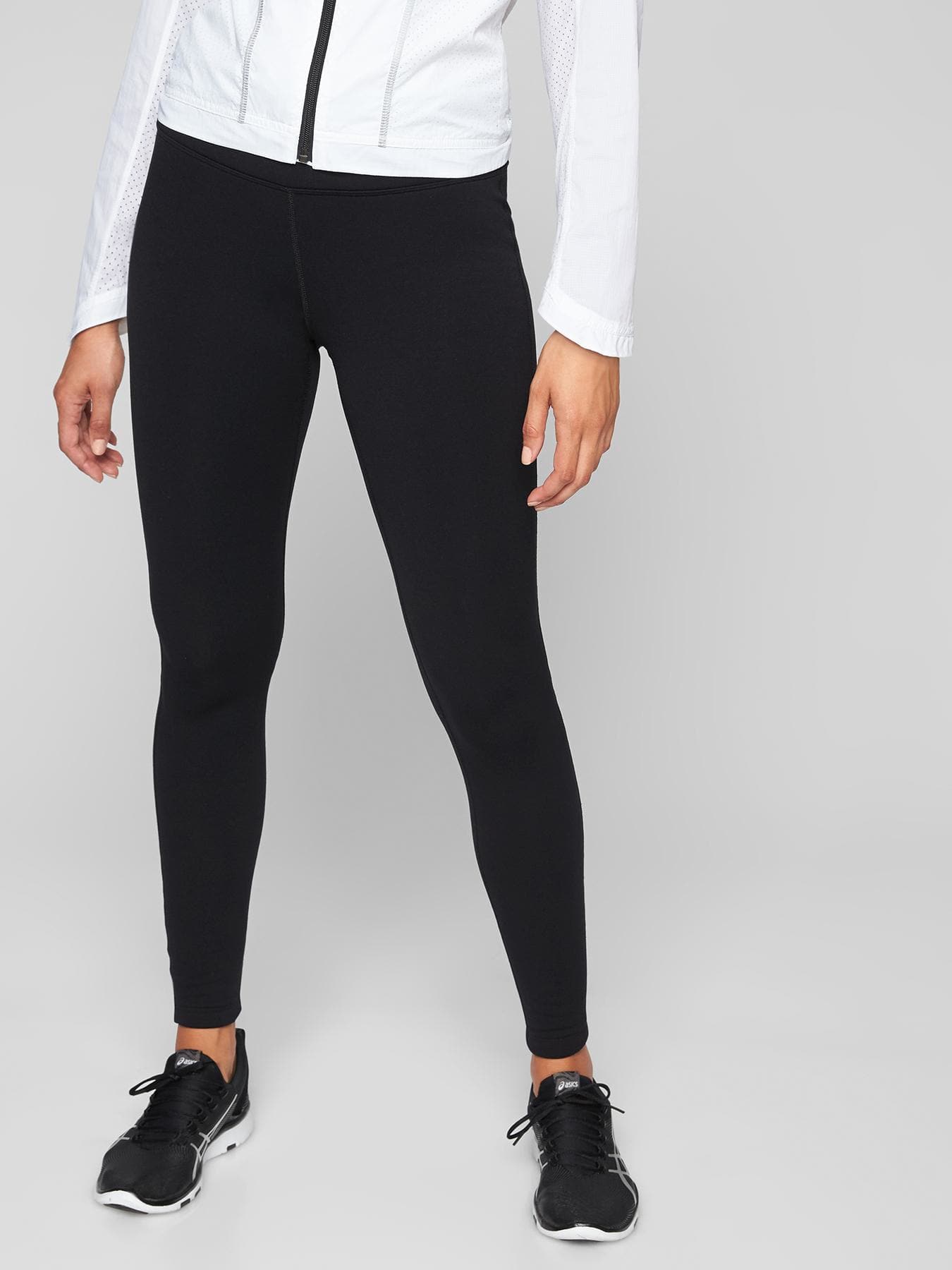 I am also obsessed with Lululemon's Align leggings for their super soft, full-coverage but "naked" feel.  While they don't make a maternity pant, the saleslady swore that every pregnant woman loves these Align pants and they do not disappoint! I took my regular size (albeit the "cropped" length works as a regular length legging on me) and will be heading back for a few more pairs as they are super soft and have the best stretch.
Tops – Basic Layers
Through both pregnancies, I mostly stuck with my regular tops and sweaters and invested in non-maternity layers like vests and cardigans to provide more coverage once my current shirts started riding higher.  At the start of my third trimester, I stocked up on basic maternity style t-shirts (long and short-sleeved) that I use as undershirts or casual base layers.  These keep my bump covered and I also found that I lived in them post-partum as they are super comfortable around the house and can handle all mess of the newborn phase.  While you may be looking forward to fitting back into your pre-baby clothes, look for tops that will accommodate the "Fourth Trimester".  Nursing / pumping-friendly top styles include your standard "nursing" tops with snaps / clips, strategically placed peekaboo holes, stretchy pull down / up layers, wrap styles, and button downs.
My favorite layering shirts included Isabel Maternity by Ingrid and Isabel for Target which I got in multiple colors and in both long and short-sleeves.  These are great basics that are super soft with bump-friendly ruching, and hold up well in the wash.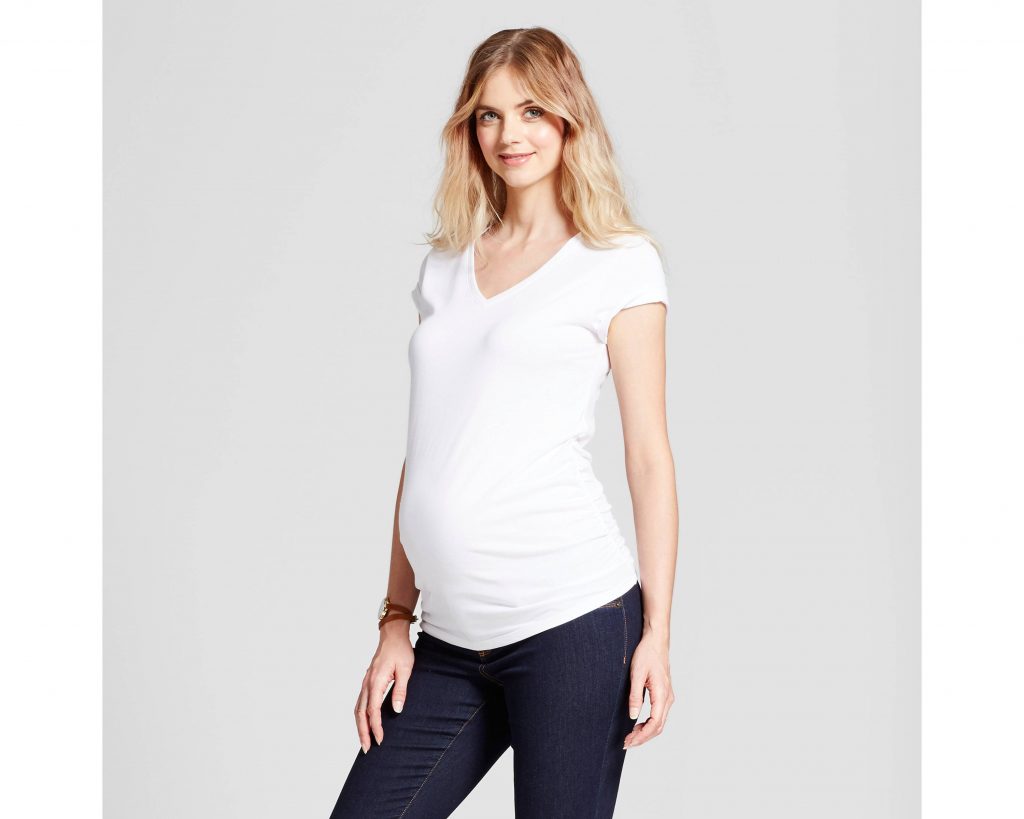 I've also gotten so much wear out of my Seraphine maternity tops.  While they are a little more expensive, they are really great for nursing as they have detachable shoulder snaps or pull-up styles.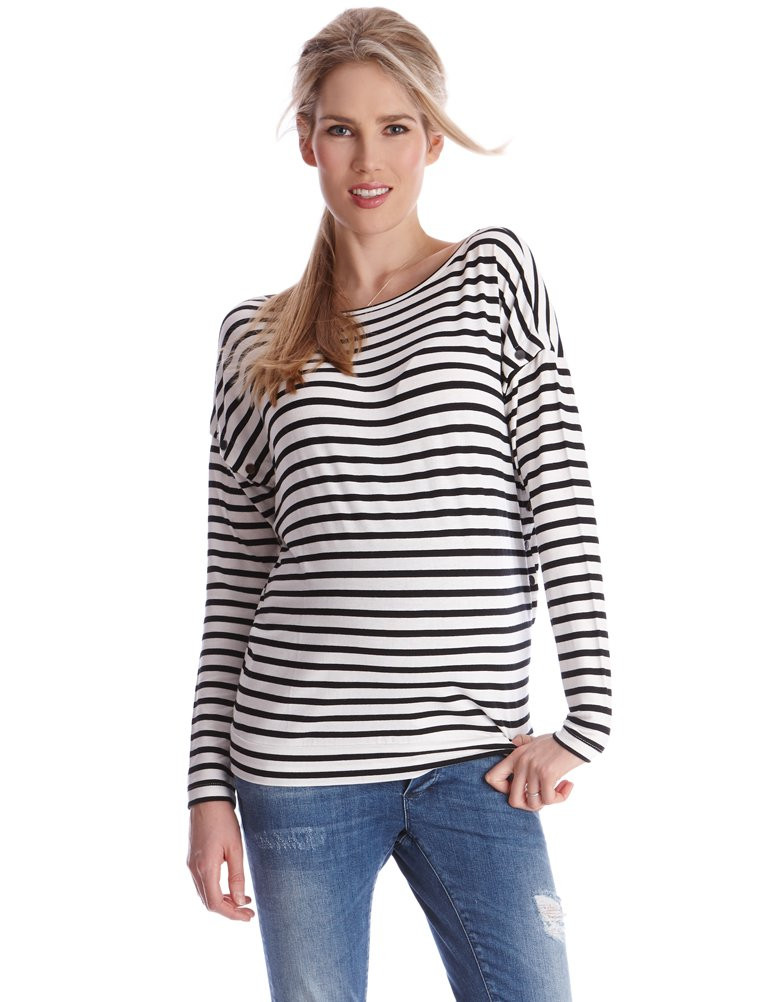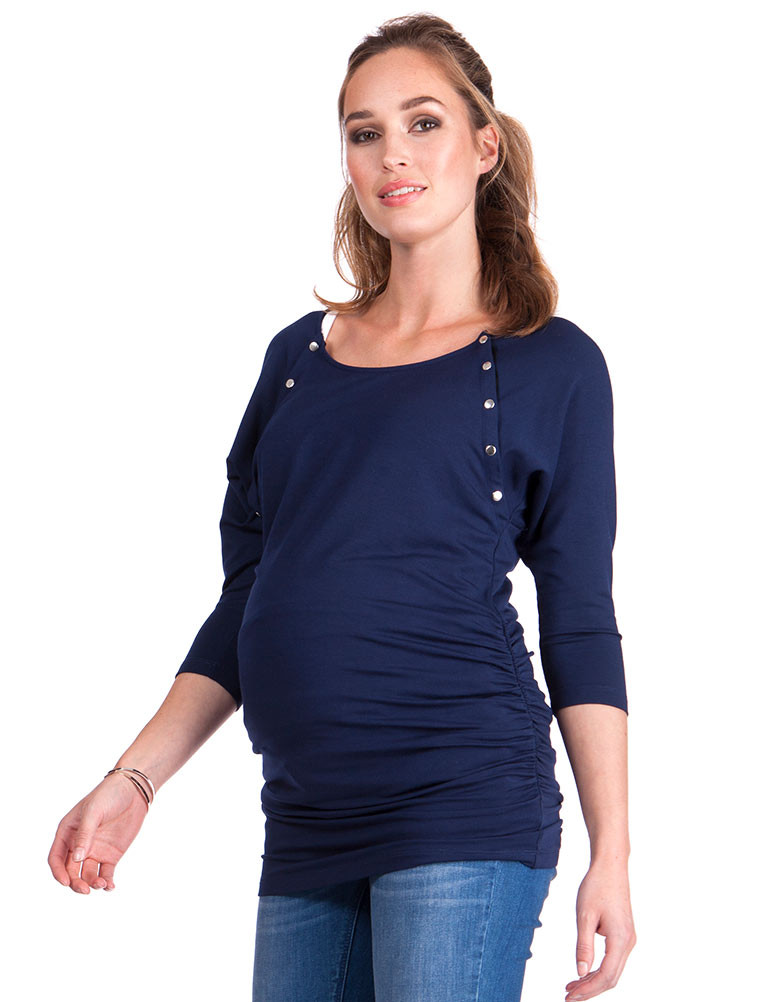 Tops – Workout
For comfy workout shirts, I lived in these soft Athleta tops.  They are stretchy enough that you can wear your regular size, no need to size up. I was fine throughout pregnancy and beyond. I found the most bump-friendly styles include: Pose, Chi, and CYA.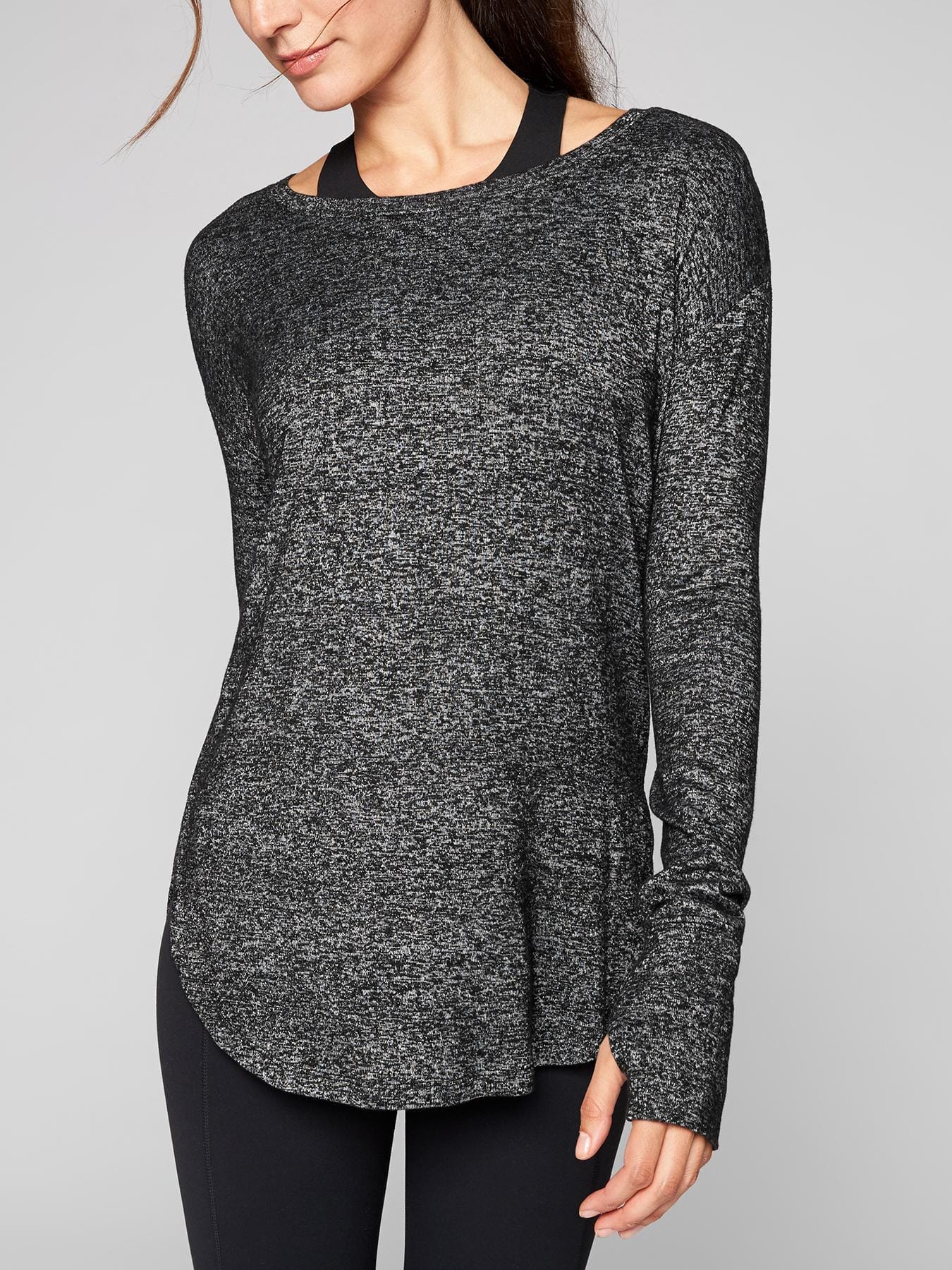 I also love Monrow's super soft, yet refined sweats.  I live in this sweatshirt – it's the first thing I put on when we get home!  Monrow recently released maternity versions of their sweats, and while I've been able to comfortably wear my regular tops, I did recently splurge on this pair of Maternity Overalls, aka: adult onesie, which is also going to be perfect for nursing / post-partum.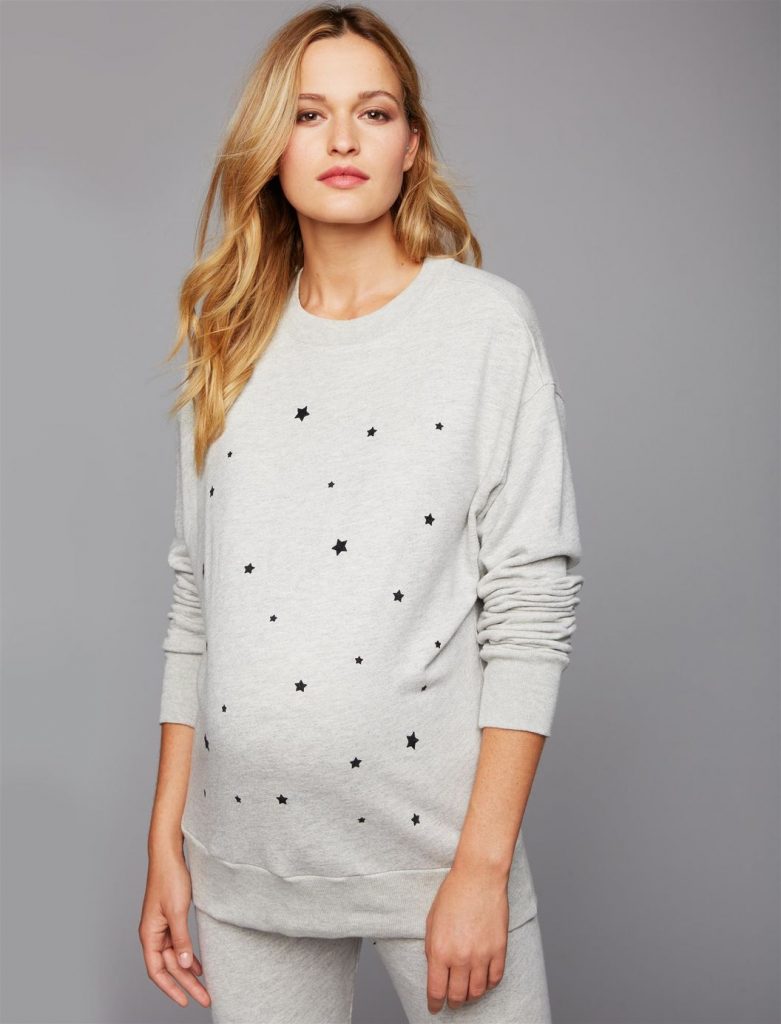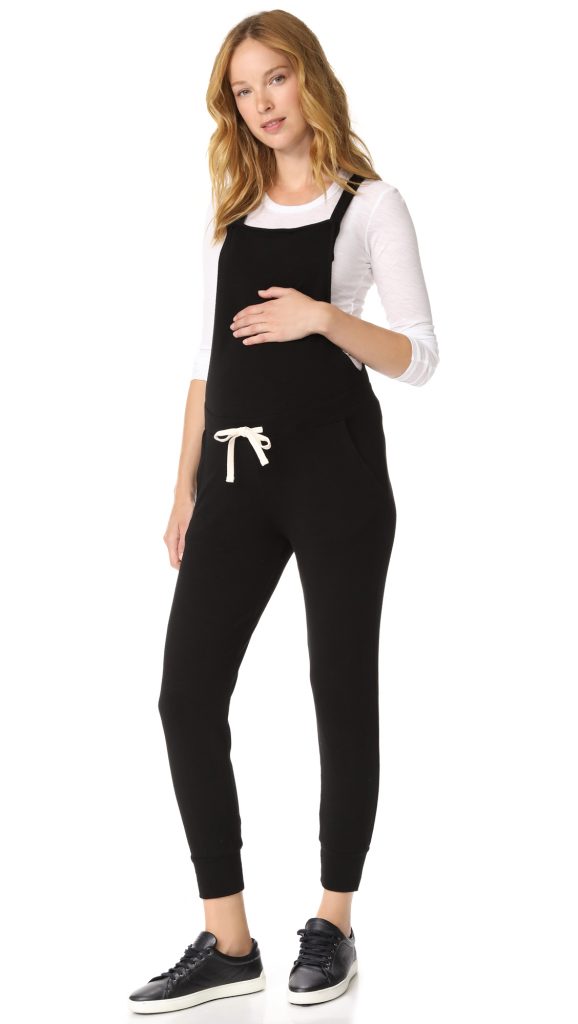 Tops – Skip the Maternity Sweaters, get a Cape / Cardigan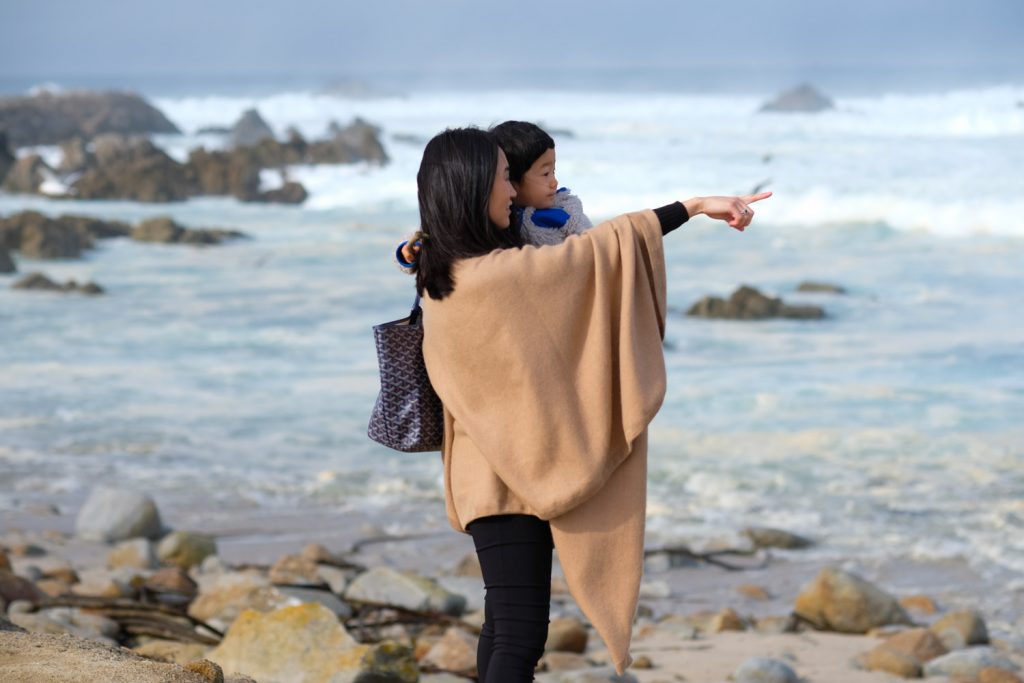 During my first pregnancy, I tried a few maternity brand sweaters but I found that they weren't the greatest quality and the nursing-friendly sweaters weren't so friendly once you've layered them over t-shirt.  So, I stuck with my favorite J.Crew and Vince cashmere sweaters and cozy oversized knits.  I also went into a frenzy for capes, ponchos, and cardigans, which I completely justify the investment as they will grow with your bump, are great for post-partum nursing, and, of course, you will continue wearing them beyond your 9 months.
Some of my favorites include: Cuyana's alpaca cape, Muji's yak wool cape stole, and Theory / Club Monaco ponchos. These are classics that will last you way past the post-partum period.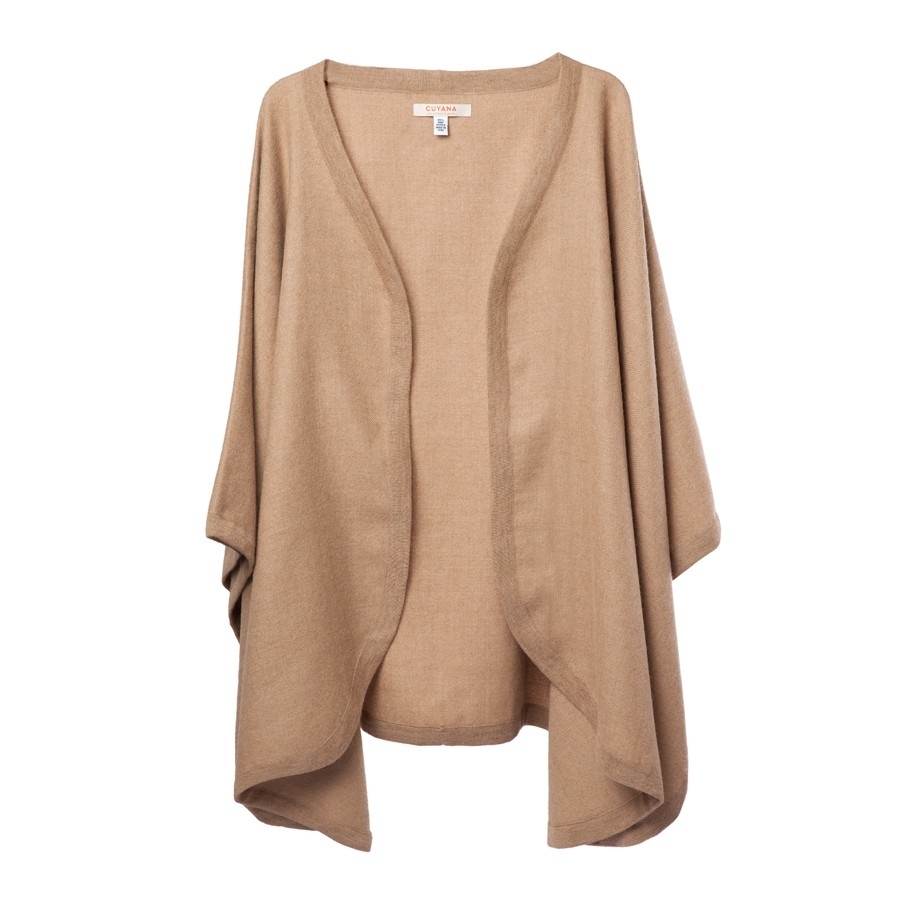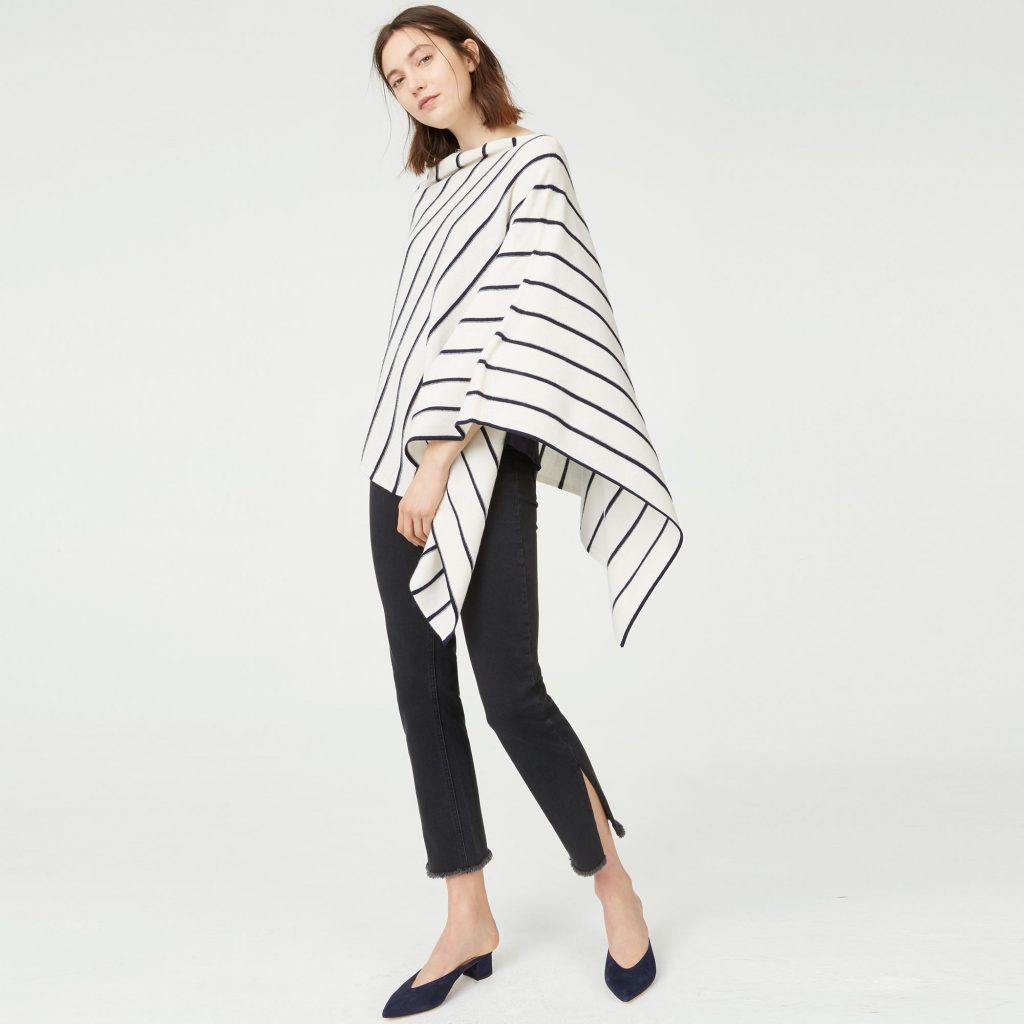 While many maternity brands make drapey style cardigans, you can get much better quality ones from regular brands like Vince, Theory, J.Crew, and Club Monaco.  Plus, these will be great postpartum and will help satisfy the urge to return to "normal" clothing.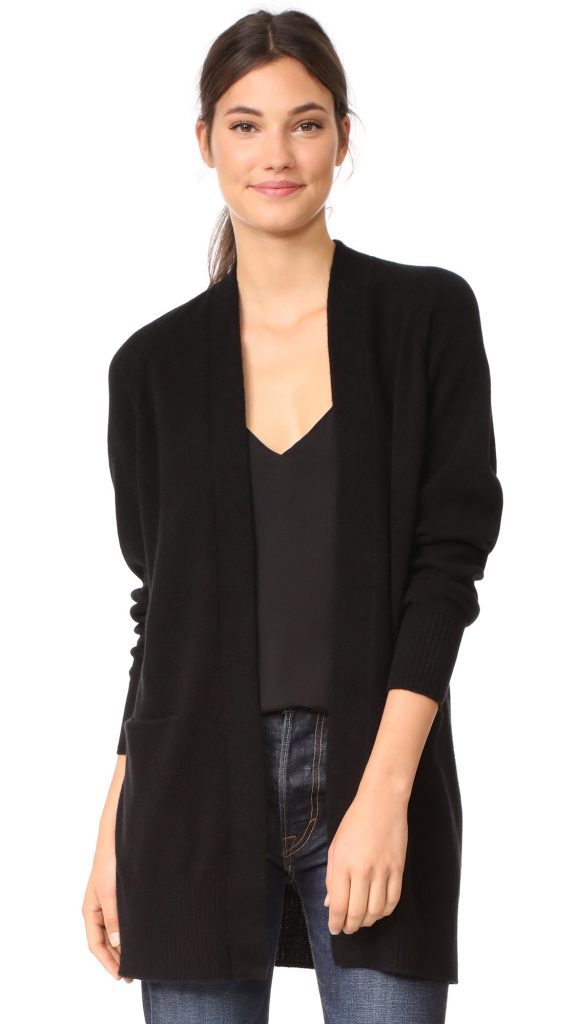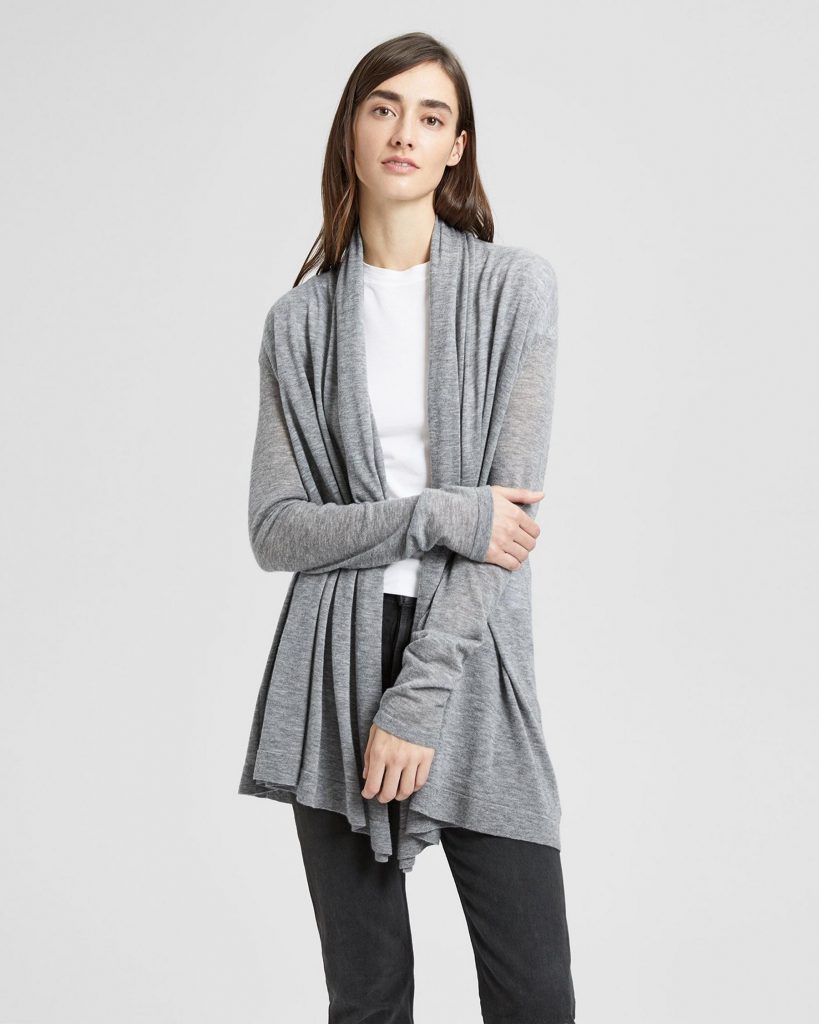 Outerwear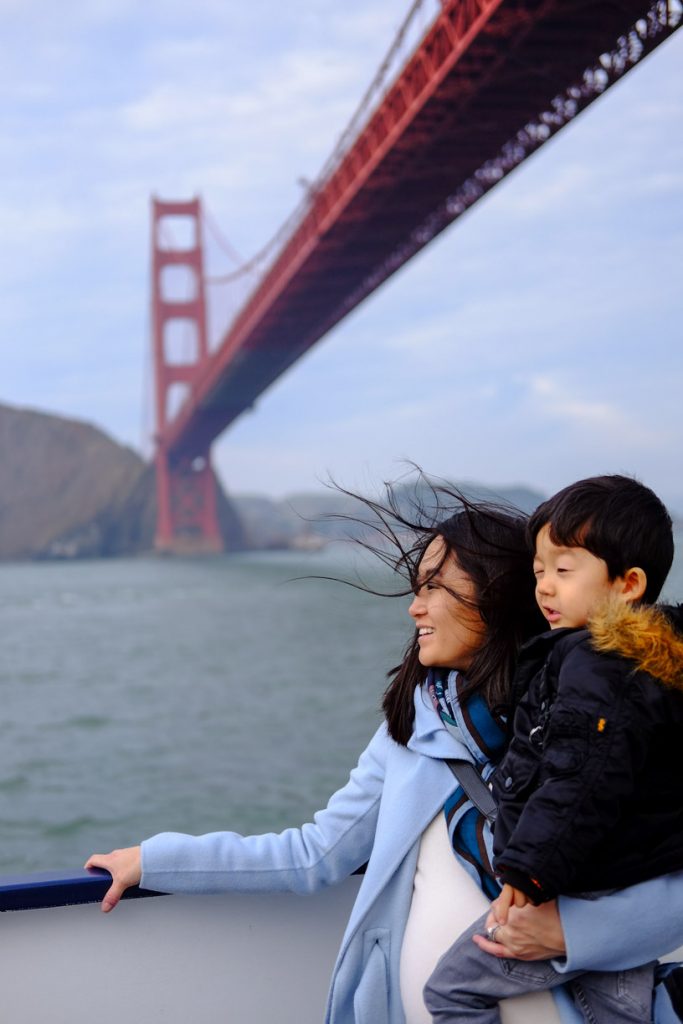 For outerwear, I didn't bother investing in a maternity coat during either pregnancy.  My trusty "mom-at-the-playground" Patagonia Tres 3-in-1 Parka still zips over the bump and for dressier coats, I stuck with blanket, wrap, car coat or trench styles from Vince, The Row (I have a similar version in black and navy from a past season and while I may look like I'm in my bathrobe, this is the coziest coat, especially during pregnancy), and J.Crew.  Because I had a built-in mini portable heater and lots of cozy layers, I often didn't even need to zip my coat, leaving me with lots of outerwear options.  When the temperatures dip below freezing, I like to add longer, cozy scarves – the cowboy knot paired with a classic Hermes CSGM does just the trick!
For a similar blanket / wrap style, check out this Zara wool wraparound coat.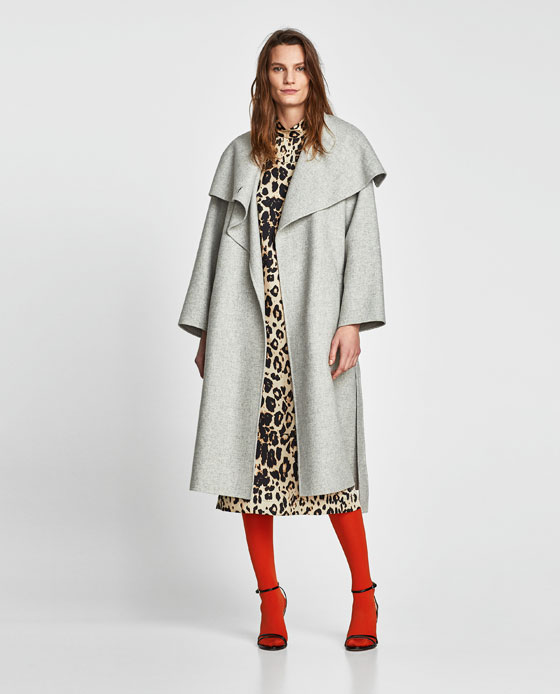 Don't forget to check out our overview on Styling Your Bump and Pinterest boards for more maternity style inspiration!  Next up, I'll be sharing my maternity essentials for work and dressier occasions.  Let me know in the comments how you style your bump!