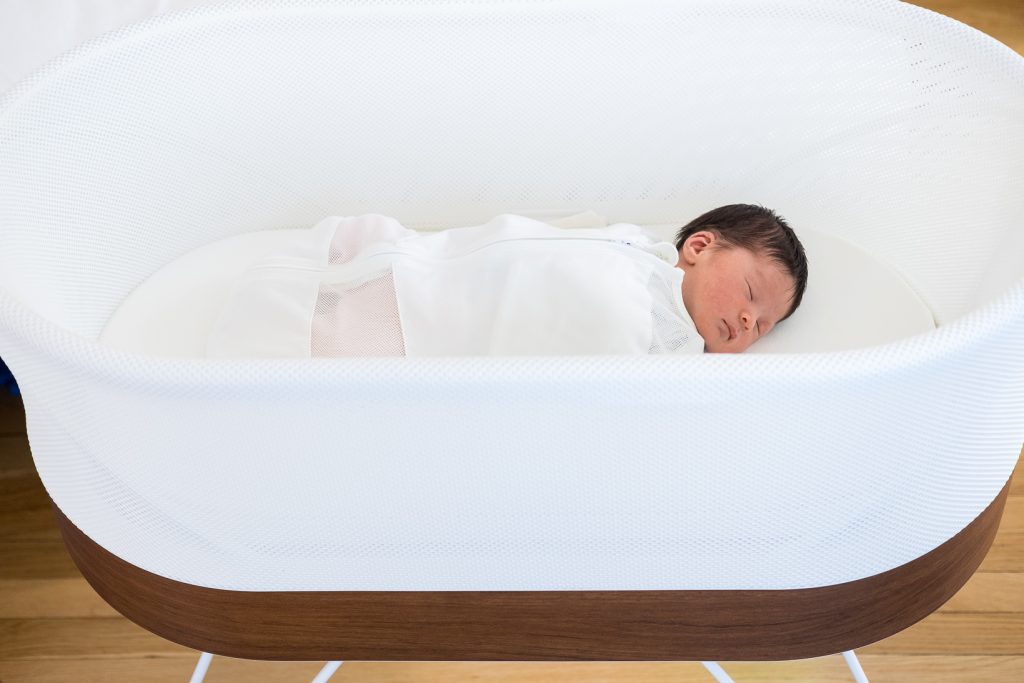 Better newborn (and parent) sleep with the push of a button!  Sound too good to be true?  That's what the Snoo, a $1,295 high-tech baby bassinet from legendary baby sleep guru, Dr. Harvey Karp, promises.  We've been using the Snoo for the past 6 months with our second child, Baby Ava, which has fostered tons of questions from friends and family, curious to know if it really guarantees blissful sleep.  I'm excited to finally share my full opinion of the Snoo as it's been my pet peeve that all of Google's top "honest" reviews are from those "gifted" with the Snoo.  While I have no doubt the opinion expressed is their own, I do believe there's some bias when you don't have to pay out of your own pocket.  Also, many reviews are also written within the first 3 months, when newborns are generally good sleepers and haven't hit their first major sleep regression.  I was concerned about creating a sleep dependency, thus I've waited to share this review until we went through its full lifecycle.
The Backstory: Why We Purchased the Snoo
One word: sleep!  In all honesty, the Snoo was an emergency panic buy.  Before Ava was born, I researched all the latest baby gadgets to see what (if anything) we might need to upgrade since pulling Bash's old gear out of storage.  The Snoo had initially caught my eye, especially considering I was already a Happiest Baby on the Block (book and DVD) devotee.  However, we decided to first try having Ava sleep in her UPPABaby bassinet for the first few months just like we did with Bash.  But going on day 5 with increments of 2 – 3 hour sleep sessions, I became a desperate zombie.  While newborns are generally great sleepers, one night, it took about 45 minutes of dance-rocking her back to sleep (mind you, this is after nursing and an initial bedtime rocking routine).  I panicked that she might be one of those babies who needs motion to get to sleep.  Desperate times call for desperate measures, so without hesitation, [cue dramatic music…dun dun DUN….] we immediately purchased a Snoo.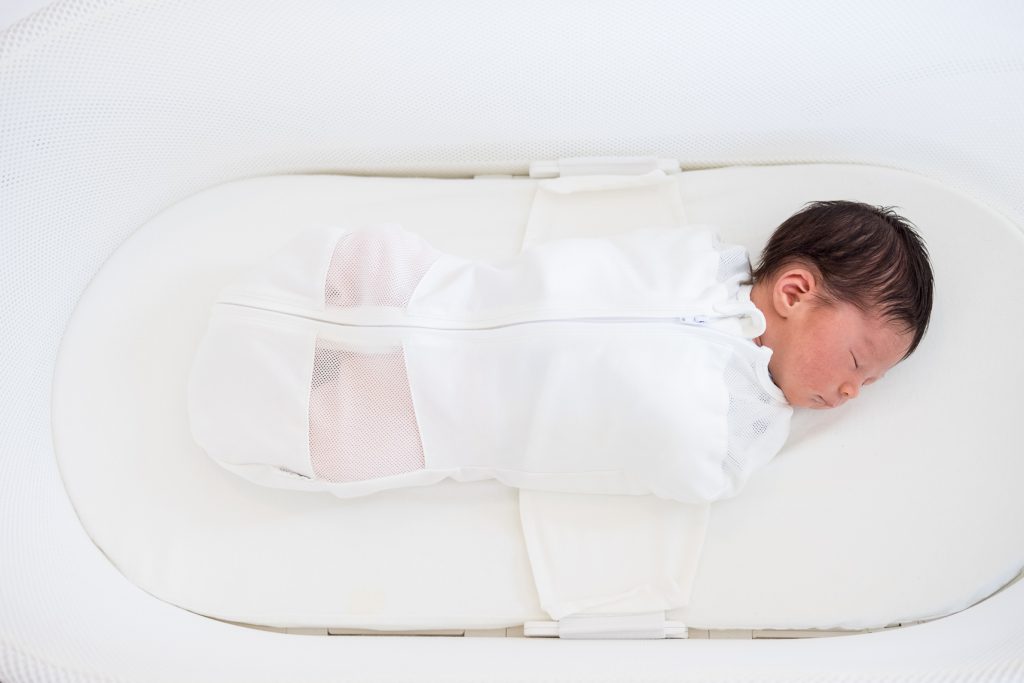 The Basics: How We Use the Snoo
I'm assuming you have likely read a few reviews and already have a basic understanding of what the Snoo does.  Basically, it promises "Safer.Better.Sleep. At the touch of a button" through a high-tech and design-worthy bassinet that soothes via white noise and responsive rocking.  For more of the basic, check out the Snoo product page here and this NY Times article on Dr. Harvey Karp.  Here's how we have used the Snoo:
0 – 3 months: After buying the Snoo in panic mode, I then became nervous that I'd create a sleep dependency on its motion (Snoo promises your baby won't become addicted to it; this was just my anxiety kicking into high gear).  So I alternated between the UPPABaby and Snoo for naps.  At night time, I put Ava down in the Snoo, where the gently rocking would help soothe her to sleep.  When she would wake for night feeds, I would return her to the UPPAbaby bassinet since she pretty much passed out milk drunk.  Looking back, I realize I didn't need to use the UPPAbaby at all, as I could've just put her down in the Snoo and left it off (yes, I just now realized this…thanks, mom-brain!).
Having the Snoo at this stage was nice, but I didn't feel that it extended her sleep anymore than usual as newborns sleep pretty well.  For context, Ava was pretty consistently sleeping 3 – 4 hour stretches as a newborn and 5 hour stretches at night after Month 1.  We even took a break from the Snoo at Month 3 and had Ava sleep solely in her UppaBaby bassinet while we were on a camping trip and she slept just the same (though I assumed the physicality of rocking her before putting her down).  I will say that having the Snoo at this stage made me feel more comfortable putting her down drowsy but awake.
3 – 6 months: This is when I began to use the Snoo exclusively and really started to reap the benefits, so much that I started lovingly referring to her as "RoboMom" and we even took her on vacation with us this summer!  She was a lifesaver during Ava's 3 – 4 month sleep regression and, while it didn't reduce the number of wakeups, Ava's regression period seemed much shorter (lasting 2 – 3 nights instead of 1 – 2 weeks with Bash).  At around 3 – 4 months, we also introduced the Baby Merlin's Magic Sleepsuit as Ava "Houdinied" her arms out of the Snoo Sleepsack and would flop her legs up and down like a whale tail inevitably waking herself.  This is probably a major no-no in SnooWorld, but Merlin was a lifesaver with Bash and we needed arm-stifling reinforcement.  I wrapped the Snoo Sleepsack's wings around Ava to prevent rolling.  Note: the new Snoo Sleepsacks were redesigned so that the Medium and Large sizes have arm holes that allow the baby to sleep with his / her arms outside the sack.  We had the original design, hence, our makeshift solution with the Merlin.
For her morning nap (about 1.5 hours after waking up for the day), RoboMom works her magic on the Intro Level when Ava's still awake after nursing.  This nap usually lasts about 1.5 – 2 hours.
For her afternoon naps, Ava's usually so tired having been up for about 3 – 4 hours that I don't need to turn it on while putting her down.  Occasionally, she will wake crying at a sleep cycle change, in which case, I level up the Snoo to 3 and she's back down in a few minutes.  This nap usually lasts about 1.5 – 2.5 hours.
At night, Ava is very tired and drowsy, again having been up for about 3 – 4 hours.  She's been sleeping through the night now usually ~7:30 / 8 PM to 7 / 7:30 AM.  Sometimes, she will quietly moan / coo (not a loud cry).  If it's a sleep cycle change (usually within 30 – 90 minutes of bedtime), I'll let the Snoo handle it.  However, if she wakes in the middle of the night, I'll nurse her since she's exclusively breastfed and might just be hungry (and it's just 6 minutes on the boob and everyone's immediately back to sleep!).  This usually happens in clusters of 2-3 nights in a row, leading me to believe it's a growth spurt as she returns to her regular full night of sleep.
Weaning at 6 months: So, the Snoo promises that babies don't become addicted to it, but there's no mention of parental dependency, hahah!  I was initially worried we were just creating a sleep dependency, but in reality, I was the one forming a major attachment to RoboMom!  We started weaning a few weeks ago and it was going well with no major issues; Ava slept just the same with the Snoo on "weaning mode" (where there's no initial motion, just white noise and responsive rocking tailored to any cries).  We did have one setback when Ava caught a cold, resulting in one cheat week back in regular mode.  In the past week, we've been back to either weaning mode or I just don't turn it on.  I figure we will continue like this until I stop procrastinating my crib-buying trip.
The Accessories:

Pros: RoboMom for the Win
Safe sleeper: Touted as the "safest baby bed", its sides are breathable mesh and the clipped in sleep sacks keep baby sleeping on his / her back, giving this tired and anxious mom some peace of mind (especially helpful to first-time parents when you worry about

every

little thing).
RoboMom is an extra set of hands when you are dealing with multiple kids.  The Snoo helped me juggle a coordinated afternoon nap.  If Ava started crying, I could amp up the Snoo while still reading to Bash.
RoboMom eased the burden of sleep training.  Yes, there were many occasions when Ava cried trying to get to sleep or waking early from a sleep cycle.  The Snoo gave me peace of mind that she was still being comforted while I waited in the wings, allowing her to "self-soothe" a little longer than I normally would.
Extended sleep: While she may wake during a sleep cycle transition, a quick level up to 3 gives an extra boost that quickly calms her back down.
Built-in white noise: Customized white noise sounds to mimic the womb.  We were worried that the constant sound might be too loud but we tested it with a decibel meter (side note: I have no idea why we own a decibel meter?) and it measured 69.8dB.  We also reached out to Snoo's customer support and confirmed that on the low setting the the white noise is 68-70dB, and at the higher setting, the sound increases to approximately 86dB.  To put this in perspective, a normal conversation is about 60dB and a baby's own cry can reach or exceed 100dB.
Easy to set up and use: Super easy to set up out of the box and intuitive to use (i.e., press the button to start and press up / down arrows on the app if you prefer to micro-manage RoboMom like I do).
Beautiful design: The cream and wood tones are suitable with any décor and its soft, clean lines coordinate well in our master bedroom.  It even matches Larry, our cow hide rug!
Helpful customer service: There's a host of online tutorials and baby development / sleep related content on Snoo's website.  The blog has great advice from Dr. Karp but its chronological organization makes it difficult to navigate; just search for specific topics or keep scrolling through.  The FAQs are very helpful with simple videos for most steps.  If you can't immediately find an answer, I've found they are very responsive via email.

Considerations:
Inflated expectations: While the Snoo delivers on its promises, please don't expect a magical 12 hours of consistent sleep for the next 6 months.  On a few occasions, I've been overly dependent on RoboMom.  Nick likes to tell everyone the story of how I was texting him, frustrated that Ava wasn't calming down and I told him I was "doing everything" by "trying all the settings…Level 1, Level 2, Level 3…and nothing was working".  He of course responded by telling me to pick her up and calm her down…the old fashioned way (d'oh).  Parents must climb the steep learning curve of baby sleep 101:

You will need to determine when baby is tired and the accompanying optimal drowsy times.
Your baby will cry and if you let RoboMom work, you still have to listen to the crying, which can be excruciating at times.
Your baby will likely go through sleep regressions, where you'll have to readjust.

First world tech problems: Just some minor annoyances / suggestions for improvement:

The app is slow to load and often disconnects (usually right when I need it the most, doh!).  When your baby's crying, every second feels like an eternity.  Watching the little wheel spin when all you want to do is micromanage RoboMom is annoying.
For an expensive, "high-tech" baby device, I would appreciate a built-in camera / monitor.  Sometimes, it's a pain to switch back and forth from my Nest monitor app to the Snoo app.  Plus, we have the Snoo at the foot of our bed, where there's no wall or table to mount a baby monitor.  Nick DIY'd a clamp so we could attach one of our Nest Cams to the Snoo.  It would be nice if this feature came with the Snoo, especially considering many people will room-in with their baby for the first few months and would likely install the baby monitor in the nursery, not their master bedroom.
Personally, I didn't find the Snoo Log feature very helpful.  It automatically records "sleep" time based on the Snoo settings, but if you don't turn on the Snoo, it appears as awake time.  The output is only as useful as the data inputted and there's no way to manually override the inputs, so I continued using my Sprout app to track sleep and feedings.  (Then again, I'm a sucker for data and exported Bash's Sprout sleep data to Excel for "analysis" of sleep trends).

Cleaning: While the mattress is water resistant, I wasn't going to take any chances, so I added this American Baby Waterproof Sheet Saver in between the mattress and sheet.  The Snoo mesh is a little difficult to clean.  It isn't removable for safety reasons, limiting it to spot cleaning only.
Expensive:  This is a high ticket baby item, especially taking into consideration it is only used for 6 months.  You can purchase the Snoo on Amazon which usually coordinates with the Snoo website's promotions (usually around 20% off).  While Amazon makes it easy to add the Snoo to your registry, purchasing from Snoo's website allows you to time shipping with your due date.  If cost is an issue, be sure to look for a used Snoo as the secondhand market for these bassinets is likely to be heating up.
The Verdict:
I think there are really 2 separate questions to be answered:
Does it work?  While every baby is different, I've been a believer in Dr. Karp's 4th Trimester and soothing techniques.  The 5 S's work and the Snoo basically automates the 5 S's, applying them based on baby's escalating cries.
Is it worth the cost?  The Snoo is expensive, especially considering it's only used for about 6 months.  Overall, I have absolutely no buyer's remorse and would I buy it again, yes.  While every baby is going to be a different kind of sleeper, and Ava seems to be a pretty normal / easy baby (at least by comparison to Bash who continues to be not the greatest sleeper), the Snoo gave me an extra set of hands leading to precious minutes that add up to more sleep, more sanity, and more time spent productively.
My Favorite Sleep Resources
If you want to give it a go first without the Snoo, I hear you.  While this time around, it was a luxury having RoboMom, the Snoo wasn't invented when I had Bash and we all survived (though I did go to a parental support group when Bash was 4 months) when the light at the end of the tunnel was looking pretty dim).  A few of my favorite sleep resources (with or without the Snoo) include:
Have you used the Snoo?  I'd love to hear your thoughts on the Snoo, baby sleep advice, and / or questions about our Snoo experience in the comments.