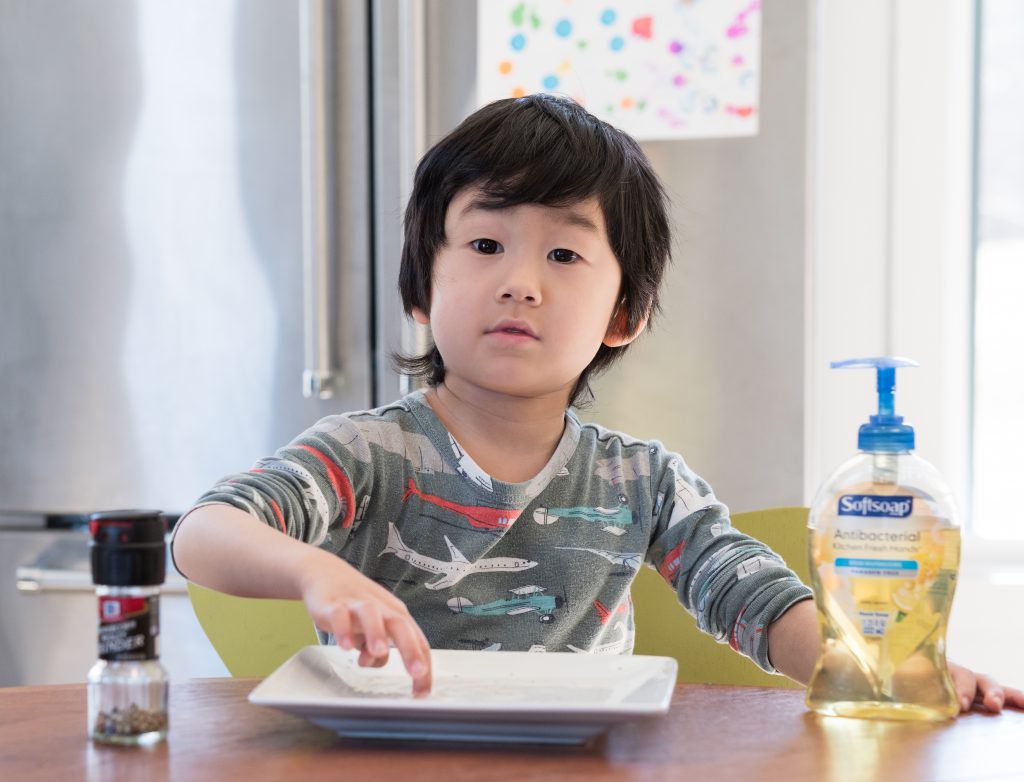 As our beloved New York City, the "city that never sleeps", comes to a grinding halt and the whole world pauses to fight this pandemic, we, as parents, are faced with the challenges of educating our little ones without overly scaring their impressionable minds, adapting ourselves and our little explorers to an isolated lifestyle, and keeping our families safe and healthy.  While we didn't initially intend to sit down with our kids (Bash 5 and Ava 2), to specifically discuss COVID-19, Bash surprised us a couple of weeks ago when he suddenly started playing a made-up game about the coronavirus.  He built a lego structure, calling it his "coronavirus detector", which he would use to magnify the "microbugs" and then zap them.  Ensuing pow, boom, and zap actions commenced shortly after.  Clearly, he had been listening to our "adult" conversations.  We sat down to find out what Bash already knew of the virus, how he was feeling about it, and explain some of the changes we would be making over the next few weeks: Nick basically built a decontamination chamber in our apartment's foyer, we cancelled our spring break plans, and we temporarily moved upstate and are living in the country for the next couple of months.
But, one day, after screaming, "don't touch that!" in my panicked mom voice as Bash went to rest his face on the Wal-Mart checkout counter, I decided we should help him better understand why we sing happy birthday while washing our hands, why "hanitizer" (hand sanitizer) is our new best friend, and why we keep our outings to the yard and woods without friends or neighbors.  In addition to explaining about the virus and the steps we are taking to stay safe, we also used it as a broader learning opportunity to talk about germs and the human body.
For those stuck at home with preschoolers, I thought I'd share some of the resources and activities that articulated the message in an easily digestible, age-appropriate form (for reference, Bash just turned 5 and is in pre-kindergarten), captured Bash's attention and imagination, and (let's be honest, most importantly) kept him busy!
Video Lessons
We love Mystery Science / Mystery Doug videos for simple explanations to real kid questions.  The videos are very well tailored to the younger set and Bash has been fascinated by them, often rewatching them a few times.
We liked the following 2 videos:
Activity 1: Soap Repelling Germs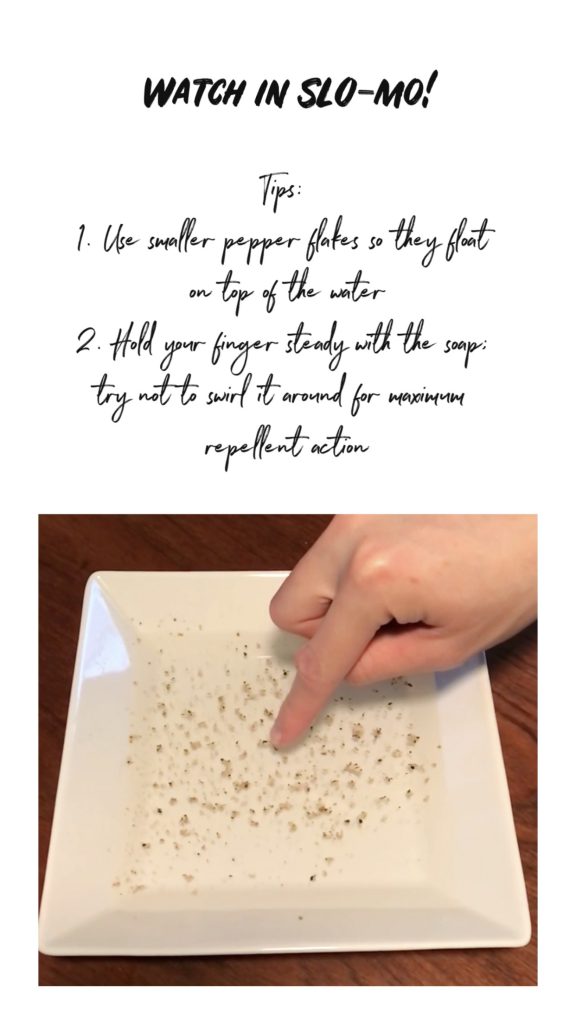 This was a super simple, very minimal prep / clean-up experiment that provides a wonderful visual around why it's important to wash hands with soap.  Bash and I did it at breakfast and then again at dinner to show Nick.  I've saved our video to the @bashandco_ny Instagram stories highlights (Kids' Projects).  Thanks to @blondieandbears for sharing this experiment with us!
Materials
Plate or shallow dish – a light colored background works best
Pepper – smaller, lighter flakes work best
Water
Soap
Instructions
Set-up: Fill shallow dish with a little water and then sprinkle lots of ground pepper flakes on top.  Explain that the pepper flakes are like germs (in Bash's case, he likes to call them microbugs) and float on the water just like germs sit on our skin.
Step 1: Stick your finger in the pepper water and see what happens.  Does most of the pepper sit on top of the water?  Swirl your finger around in the mixture.  Do some of the pepper "germs" stick to your finger?
Step 2: Put a dollop of soap on a clean finger and stick it slowly back into the pepper water.  (Pro-tip: try to go straight down, don't swirl it around quite yet).  Watch carefully!  What happens to the pepper?  Do the germs scatter and run away from the soap?  Does the soapy finger repel the "germs"?
In reality, the soap doesn't really impact the pepper.  Rather, it's the water around the point of the soap's impact that "scatters".  While older children may better understand the scientific properties and lessons about water tension, this was a great visual for younger kids.
Activity 2: Straw Painting Germs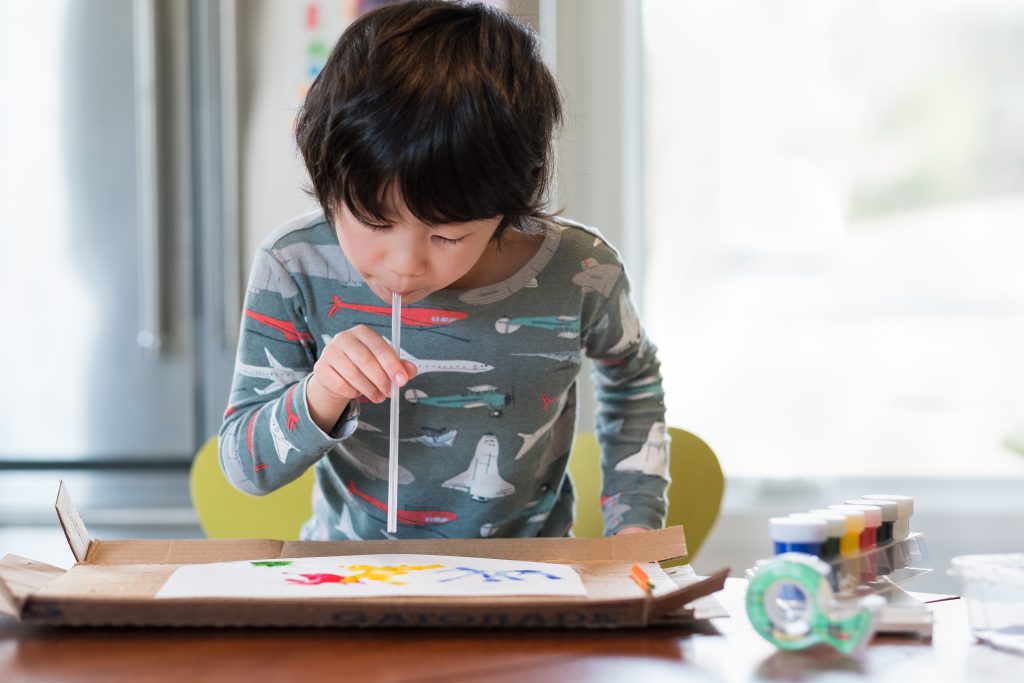 We were inspired by SimpleEverydayMom.com's Germ Blow Art and decided to give it a try.  It kind of reminds me of the I'm Not Just a Scribble art concepts that Bash studied at school.  Side note: if you're not familiar with this book, we highly recommend all of Diane Alber's books – we are huge fans of the messages and the projects!
Materials
White paper
Washable paints: watercolors or water-based paint
Straw
Tray / cardboard / newspaper as a backdrop to contain any paint mess
Black marker / googley eyes / stickers
Instructions
We first read the book, Germs! Germs! Germs! to get ideas on how "personified" germs might look.  A free reading of the book is available on YouTube by Stories for Kids.
Set-up: Place paper in a tray or tape paper to a cardboard backdrop to prevent paper from moving around.  Dab a little bit of various colors of paint on the paper.  We used both watercolors and water-based washable paint.  The thicker washable paint needed to be mixed with a few drops of water to make it spread easier.
Allow kids to blow the paint around through a straw.  Once dry, add googley eyes, spikes, extra antennae, etc. as you wish.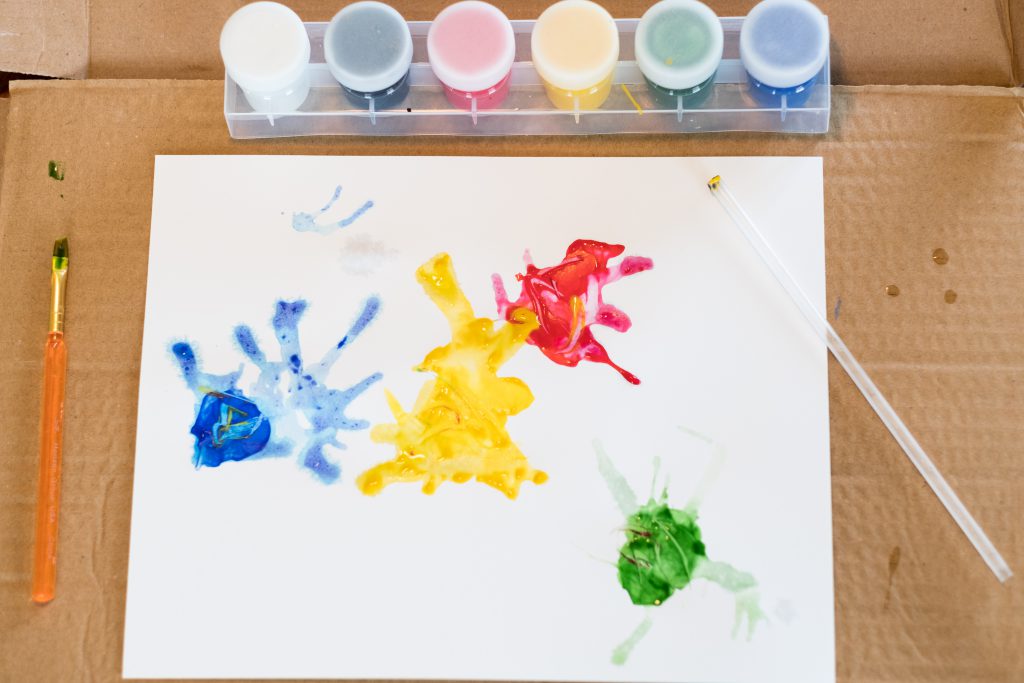 Activity 3: Bacterial Bread Experiment
Note: experiment in progress, pictures to follow shortly.  Bash really wanted to recreate the germ bread experiment in the Mystery Science How Do Germs Get Inside Your Body video.  We decided to recreate it using the extra bread ends that no one really likes to eat.
Materials
3 pieces of bread (one more slice if you want to do the bonus step)
3 plastic bags (one more bag for the bonus step)
Soap
Water
Instructions
Step 1: Set-up the control bread by placing an untouched slice of bread into a plastic bag.  Label this one "control".
Step 2: Go outside, play!  Before washing your hands, wipe them all over one slice of bread.  Wash you hands.  Place bread into bag.  Label "germs".
Step 3: Wash your hands with warm, soapy water.  Wipe your freshly washed hands on a new slice of bread.  Place into bag and label "clean".
Bonus: Wipe a slice of bread on your electronics (if they haven't yet been fully sanitized by now).  Place into bag and label "electronics"
Step 4: Leave bags of bread in the same area.  Check them after a few days and compare bacterial growth.
Hope you enjoy these activities!  I will try to post some of our favorite activities and resources both on Instagram and on the blog.  In the meantime, I'm breaking out these 5 of our favorite indoor activities from last year.  Now, go wash your hands, stay safe, and stay healthy!