Heading into my last trimester, I'm super excited to share my favorite maternity "must-have" products to keep you healthy, comfortable, and stylish during your nine months.  Especially during my first pregnancy, I tried everything that was recommended for pregnant women and got a little carried away with shopping (I totally blame it on the hormones because it couldn't have anything to do with my shopping addiction).  I'm excited to share what worked and what I'm skipping the second time around.  I'm going to divide up this up into a few posts: (1) Maternity Style, (2) Maternity Wardrobe Essentials, (3) Health & Beauty, and (4) Education.  Up first, how to keep your style while accommodating your changing body, featuring my favorite non-maternity and maternity brands and stores.
While your growing belly might be a great excuse for a shopping spree, you don't need to rush to the nearest maternity store for bulk buys of trapeze dresses, swing shirts, and stretchy jumpsuits.  Just as your body will be undergoing a million changes throughout the next nine months, take it slow and build your wardrobe as you go.  While maternity shopping, look for comfortable, well-made pieces that will:
Grow with you – think stretchy fabrics; you don't need to shy away from body conscious styles (often, accentuating the bump is more flattering than trying to hide it)
Pull double-duty during the post-partum / nursing phases
Be easily altered – continue investing in non-maternity brands that will last you a lifetime by taking the next size up (especially great for special occasion and work looks).  Look for side seams and darts to help make post-baby alterations easier.
During Trimester 1, your body will be changing, but you can likely get by with a few tricks as everyone pops at a different rate.  During my first trimester, I pretty much wore most of my regular clothing.  Pants and skirts started becoming a little tighter, but I held out using the rubber band trick (loop a hair elastic through the pants' button hole and then stretch it across to connect with the button) and the Bellyband (basically, a stretchy piece of fabric that sits over the waistline of your bottoms, allowing you to keep them undone).  You'll just want to make sure you have a longer top or don't need to tuck in your shirt.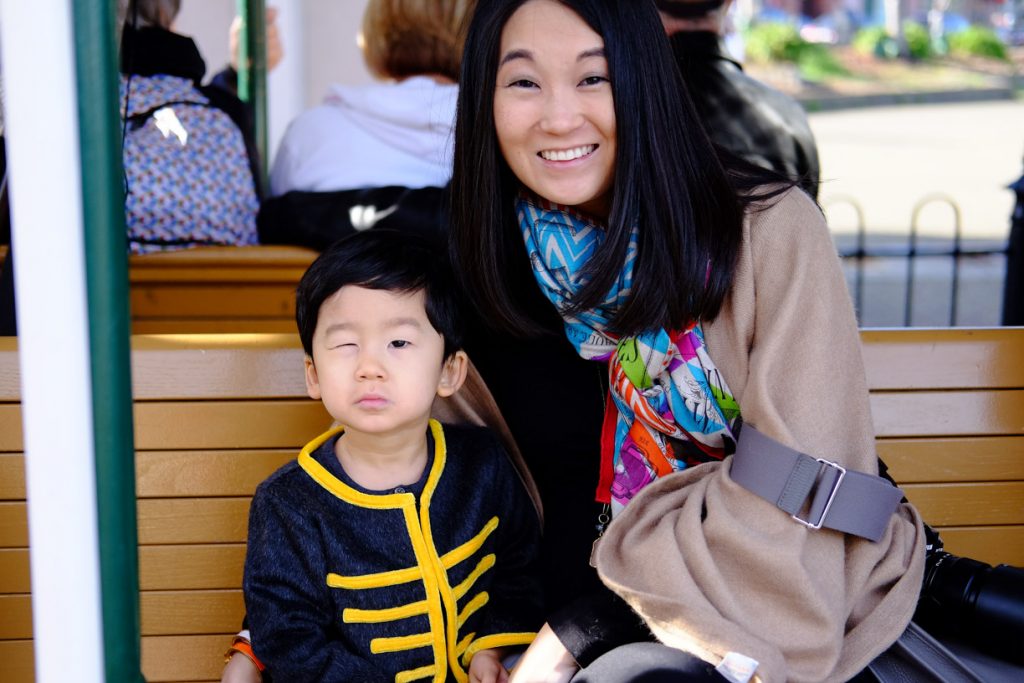 I didn't really start shopping until Trimester 2, when pants started becoming uncomfortable.  During my first pregnancy, I gained most of my weight early on in my hips and butt (lovingly referred to as my "counterweight") and finally the bump popped.  This time around, I've been able to comfortably fit into my regular jeans up until the beginning of Trimester 3.  You also may start to notice that your hips and feet are getting wider during this time as your joints and ligaments start stretching out.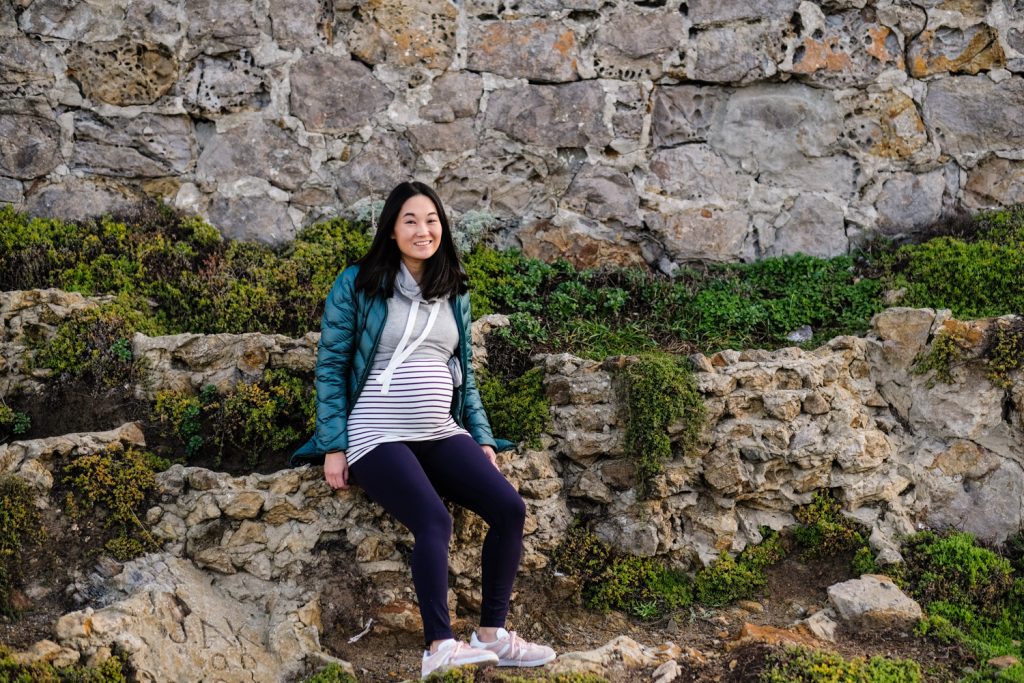 Trimester 3 is all about comfort and this is really when I started living in leggings and also hitting up the unavoidable maternity brands. Specifically, I needed longer, basic maternity shirts that stretched comfortably over the bump.  I highly recommend maternity tops that will pull double duty for nursing as I literally lived in these throughout Trimester 3 and at least the first 3 months post-partum.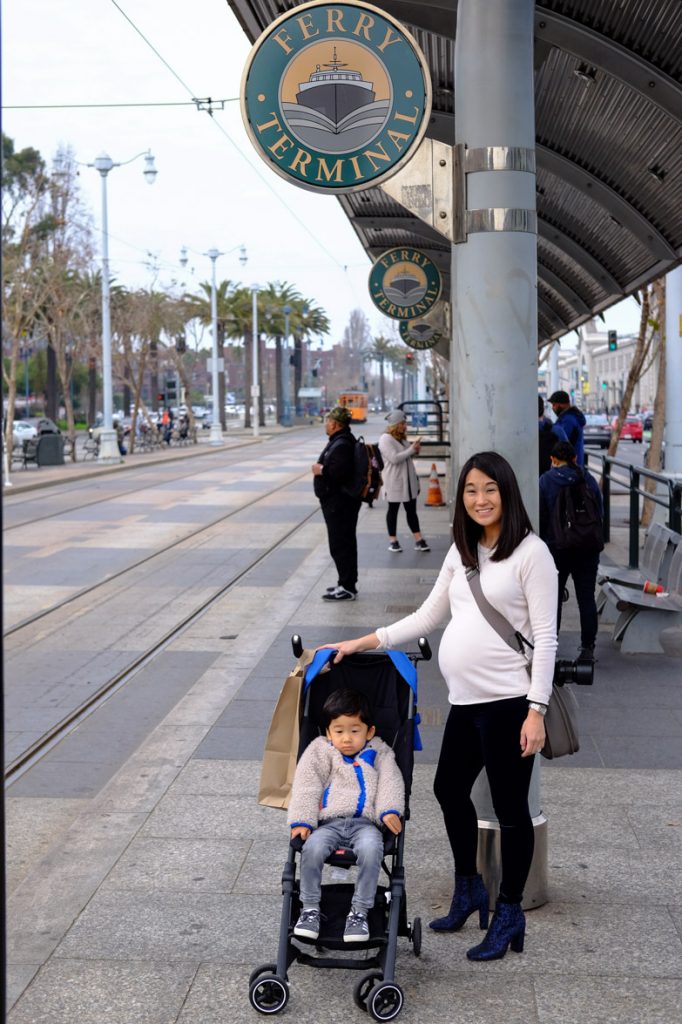 In terms of style, I didn't really change much during pregnancy.  I'm petite and the oversized look isn't naturally flattering on me (even pre-baby) and I'm just not into flow dresses, empire waists, or bohemian styles.  So, I stuck to form-fitting basics in a neutral palette and then accessorized with more colorful and fun shoes and scarves.  Much to the surprise of my family, friends, and co-workers, I did happily trade in my signature 4+ inch heels to start building a collection of much more mommy-friendly flats!  This time around, since I don't have to get dressed up for work, my go-to uniform usually consists of jeans / leggings, a layering shirt underneath a cashmere sweater, and topped off with a scarf or cape.
While maternity fashion has certainly come a long way, I made every effort to accommodate my everyday wardrobe and then add new pieces that I will continue to wear post-partum and beyond.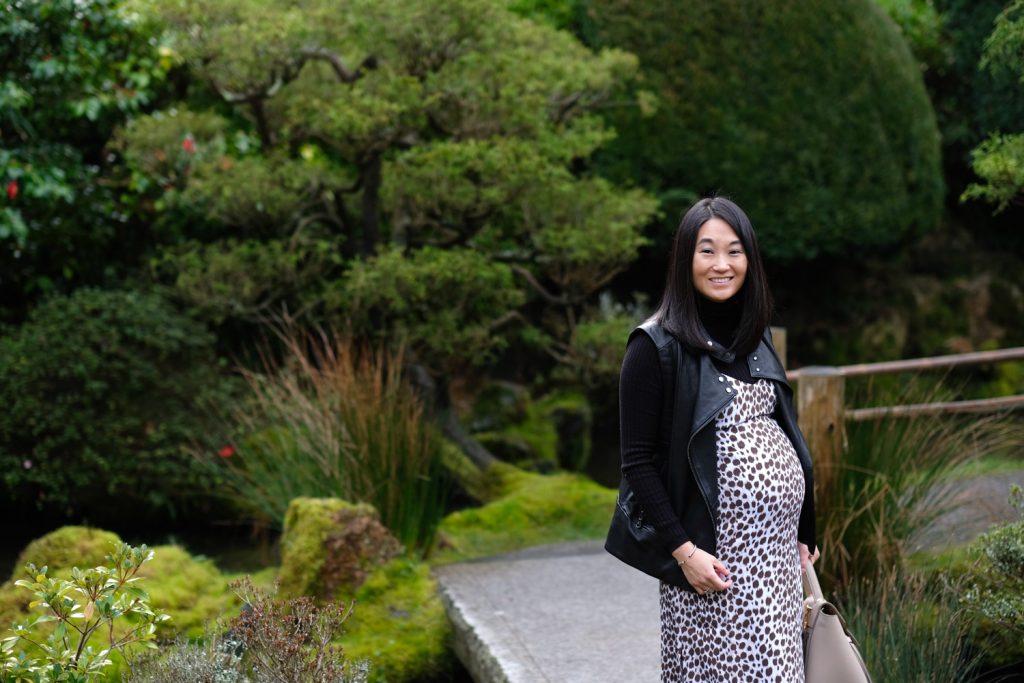 My favorite non-maternity brands that I've found accommodate the bump:
Vince and Joie: for great everyday basics in comfortable, stretchy fabrics and a wide selection of silhouettes (slip dresses, jogger pants, leggings, longer sweaters) that accommodate the bump
J.Crew and Club Monaco: for cozy knits and sweaters
ATM, Velvet by Graham Spencer, Enza Costa, Rachel Pally, James Pearce, and Susana Monaco: for comfy knits and stretchy, casual dresses
The Row: for high-end trapeze and architectural (baggier yet structured) silhouettes and luxurious wrap / blanket coats
Theory: for work clothes (look for the elastic-waisted pants and button downs with adjustable side vents)
Gap and Lou & Grey: for super soft loungewear
Monrow, Lululemon, Athleta, and Beyond Yoga: for workout clothing and athleisure looks
Tilden and Nine in the Mirror: online shops specializing in a curated selection of contemporary and high-end designers that are bump-friendly.
My favorite stores for their maternity collections:
For more maternity style inspiration, check out our Pinterest boards.  I also love how 9to5chic maintained her classic style during pregnancy (especially great ideas for summer maternity looks), and TheFashionBump.com for their weekly "Bumpshells" inspiration.  Next up, I will be sharing my favorite Maternity Wardrobe Essentials and recommendations for specific tops, bottoms, and accessories.