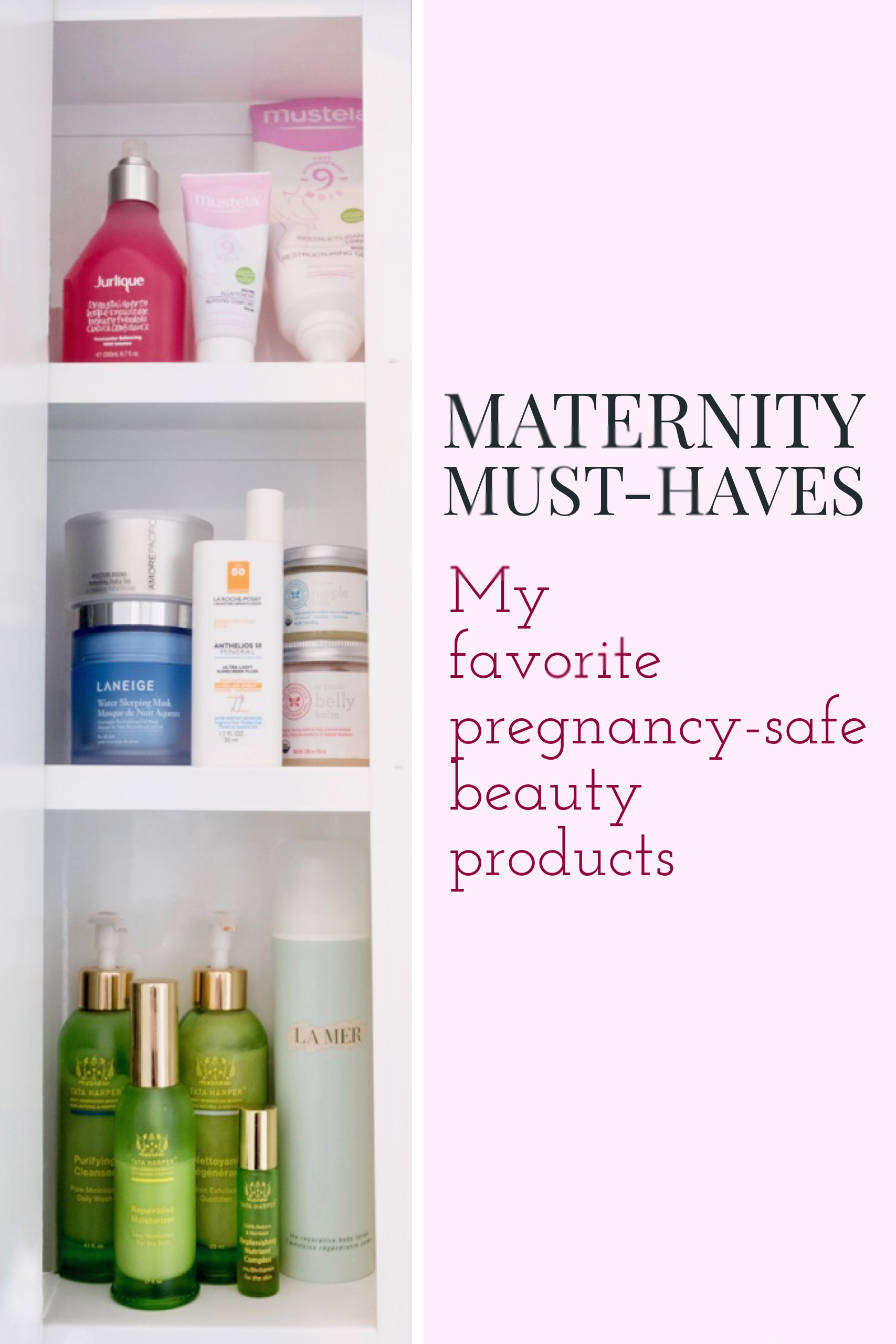 Hope our Maternity Must-Haves series has been helpful and thanks for checking in again as I'm delighted to share my favorite pregnancy-safe beauty products for pregnancy and beyond! For expecting moms or those starting to try, this is a great time to reassess your beauty products, especially considering that some common ingredients like retinoids, hydroxy acids, phthalates, and parabens may be considered unsafe during pregnancy. While the research is still a bit limited, now is a great time to become a little more conscientious of how you are treating your body's largest organ.  Along with your doctor, Babycenter and EWG Skin Deep are great resources to check on safe skincare ingredients.
As a tired, pregnant, Manhattan-dwelling mom who likes to sleep in as long as possible before starting the day, efficiency is critical in my daily routine so I can maximize sleep and shared bathroom cabinet space.  I'm pretty low maintenance (if I choose my outfit the night before, I can shower and get ready in half the time it takes Nick in the mornings, hah!).  But I do enjoy indulging in luxurious treatments that maximize effectiveness.  (The former consultant in me is dying to draw a 2×2 matrix comparing sleep and product efficacy)!
Face
I use mostly natural skincare products on a regular basis, so I don't change up my skincare regime during pregnancy or breastfeeding too much.  During these times, I stop using my Mario Badescu Drying Lotion as the active ingredient is salicylic acid.  Instead, I worked with my dermatologist during my last pregnancy to find a topical product (Neutrogena Clear Pore Cleanser / Mask) with low amounts of benzoyl peroxide to help prevent occasional breakouts.  And despite all the extra fluid intake, I still find I need to over-moisturize multiple times a day as baby seems to deplete me of all my nutrients!
I couldn't live without my Tata Harper skincare products.  I discovered these natural products during our winter babymoon at Twin Farms in Vermont while pregnant with Bash and have been a huge fan ever since.  I use the Regenerating Cleanser at night (I love how the apricot seeds form a gentle exfoliating scrub to remove any lingering makeup and city grime from the day).  After this cleanser, I always follow-up with the Repairative Moisturizer.  I like the Purifying Cleanser for mornings that don't start with a shower.  I also try to use the Resurfacing Mask and / or Purifying Mask once a week.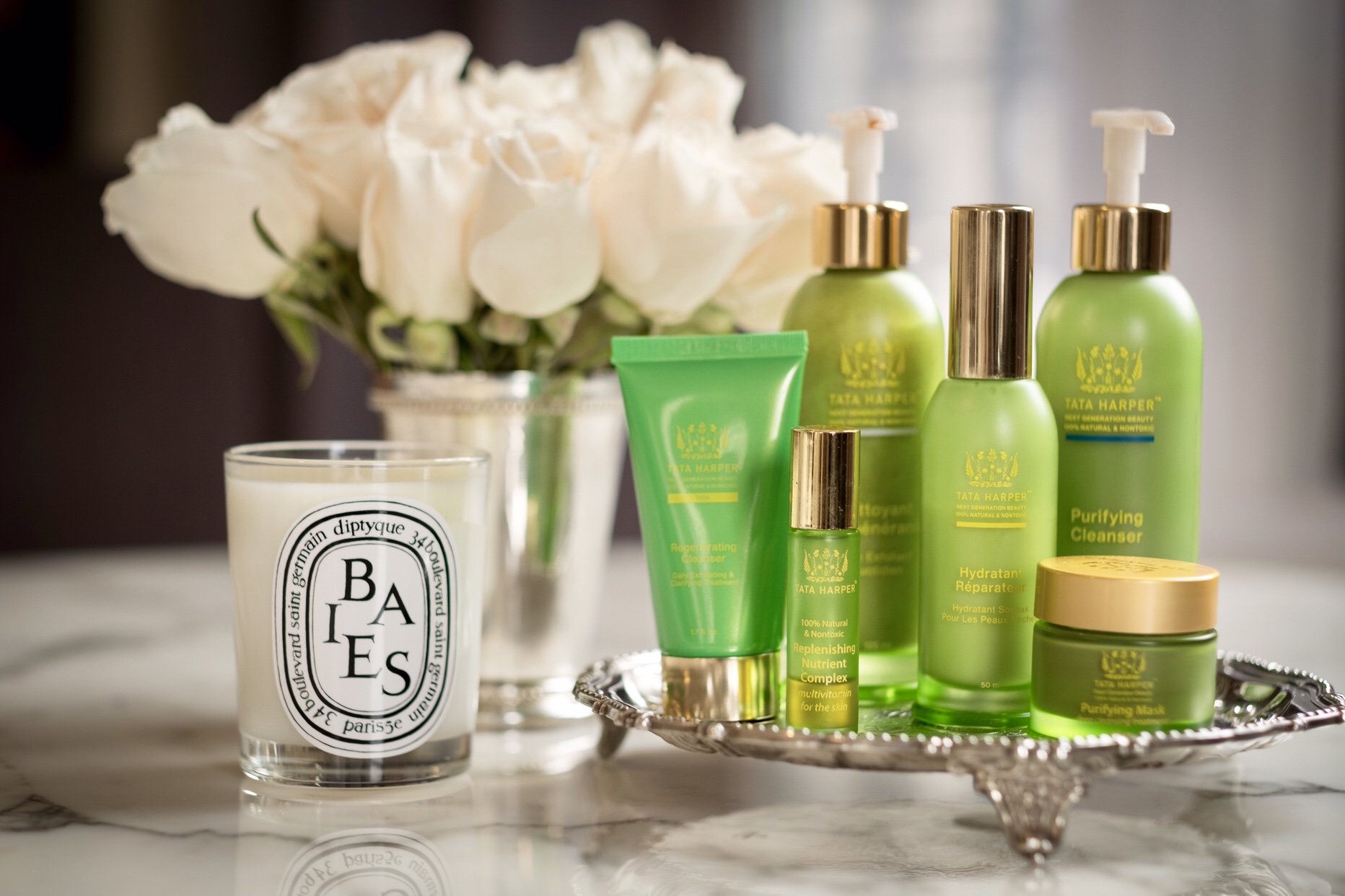 Forget "pregnancy glow", I'm just trying to keep my skin from peeling off, especially during the winter!  To keep my severely dry skin hydrated, I start by misting my face with Jurlique Rosewater Balancing Mist and then slather on Amore Pacific's Moisture Bound Rejuvenating Crème.  While it's not an "all natural, organic" product, it is free of parabens, sulfates, and phthalates.  I love this bamboo-based cream for its texture during daytime and I'm addicted to the smell.  I also like their sister brand, LaNeige's Water Sleeping Mask for extra hydration at night.  On the more indulgent side, I love SK-II Facial Treatment Masks.  While pricier, these sheet masks make my skin feel great and help stretch time in between facials.  (A quick side note: I love getting facials but a few words of advice when pregnant.  When booking, let the spa know you are pregnant (or breastfeeding) and remind your aesthetician at the beginning of the appointment as she can help check ingredients that you may have extra sensitivity to or are worried about safety.  I avoid peels as these usually contain stronger hydroxy acids.  I also request extra pillows to be propped up as you want to avoid lying flat on your back).  Finally, I generously apply La Roche-Posay Anthelios Ultra Light SPF 50 Face Sunscreen to help prevent dark spots, which I'm prone to especially after even the slightest pimple or scratch.  Sunscreen is pretty much the only "anti-aging" stuff I use, though I really need to try out some heavier serums as my teenaged tanning bed phase is starting to haunt me.
Body
The biggest change I make during pregnancy is giving up those great smelling body washes as my body becomes super sensitive, especially in the second and third trimesters.  I have mild food allergies, which I've outgrown for the most part, but pregnancy seems to cause more extreme reactions.  While my allergies to almonds and citrus are usually only triggered by ingestion, last pregnancy, I found out the hard way that body washes with almond oil or higher concentrations of citric acid caused a mountain of itchy hives.  (By the way, if you are severely itchy or experience hives, check with your doctor immediately as these can be signs of more serious conditions like PUPP and Cholestasis).  Now, I swap out my good-smelling Molton Brown for Cetaphil Eczema Calming Body Wash and the seriously sexy Grandpa's Pine Tar Soap. While pregnant with Bash, Nick ran out to every store within a 5-mile radius late at night to track down this stuff as we had read that it provided relief for those with PUPP, which I thought I had since I was covered in the most painful wheels of hives.  I may smell like a campfire, but the stuff really works!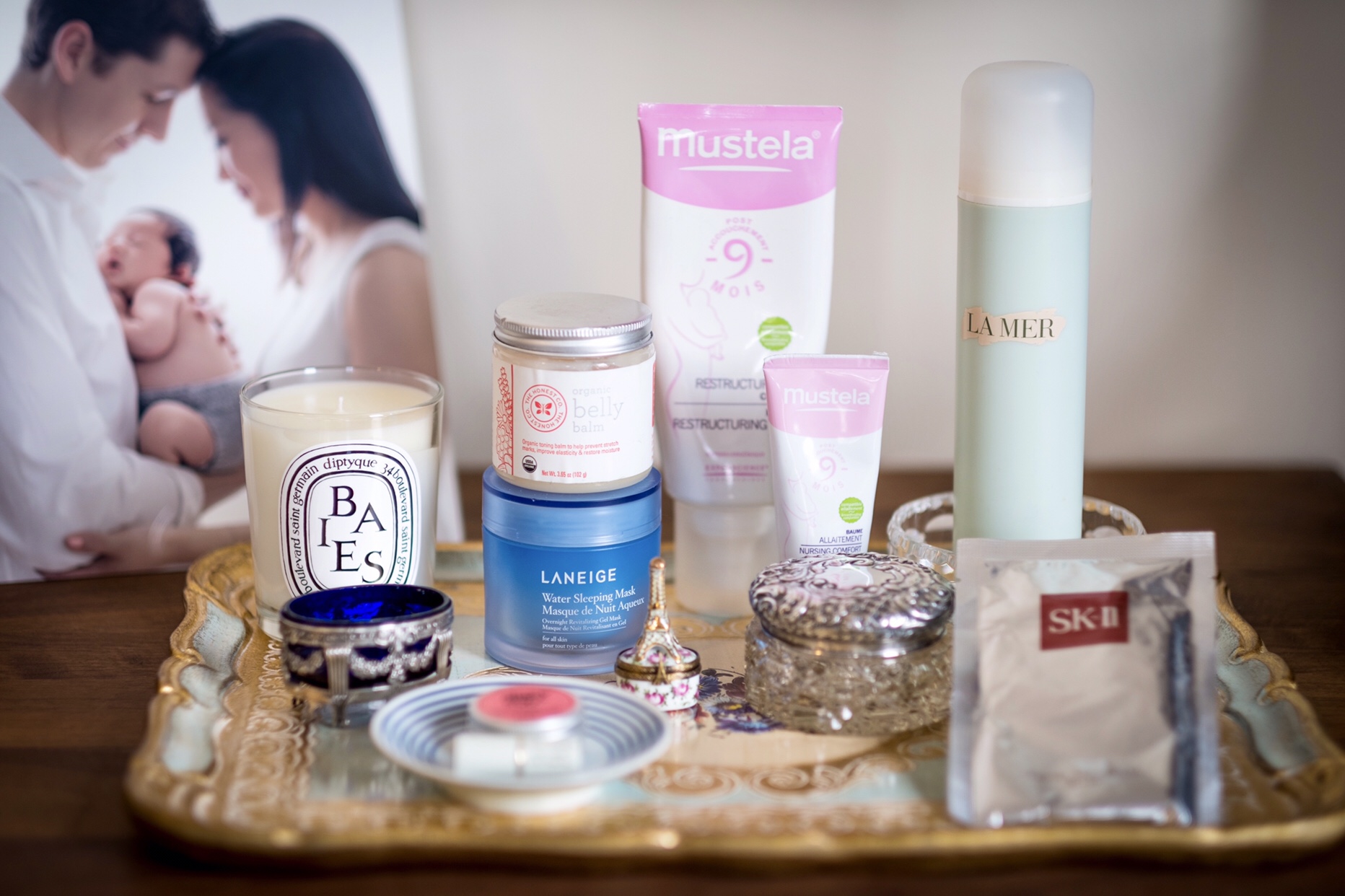 To prevent stretch marks, I am constantly moisturizing my entire body at least 3 times a day.  I splurge on La Mer's Reparative Body Lotion and then use The Honest Company's Organic Belly Balm at night (it's quite sticky and has a strong smell) to help prevent stretch marks.  Thanks to all the extra estrogen surging through your body (and the weight gain), the appearance of cellulite can become exaggerated during pregnancy.  I swap my Clarins Body Lift for Mustela's Maternity / Postpartum line of Body Firming Gel during pregnancy and postpartum.  Luckily, I found that most of the extra dimpling went away and I'm hoping for the best this time around.
What are your favorite pregnancy-safe beauty products to help bring out that pregnancy glow?