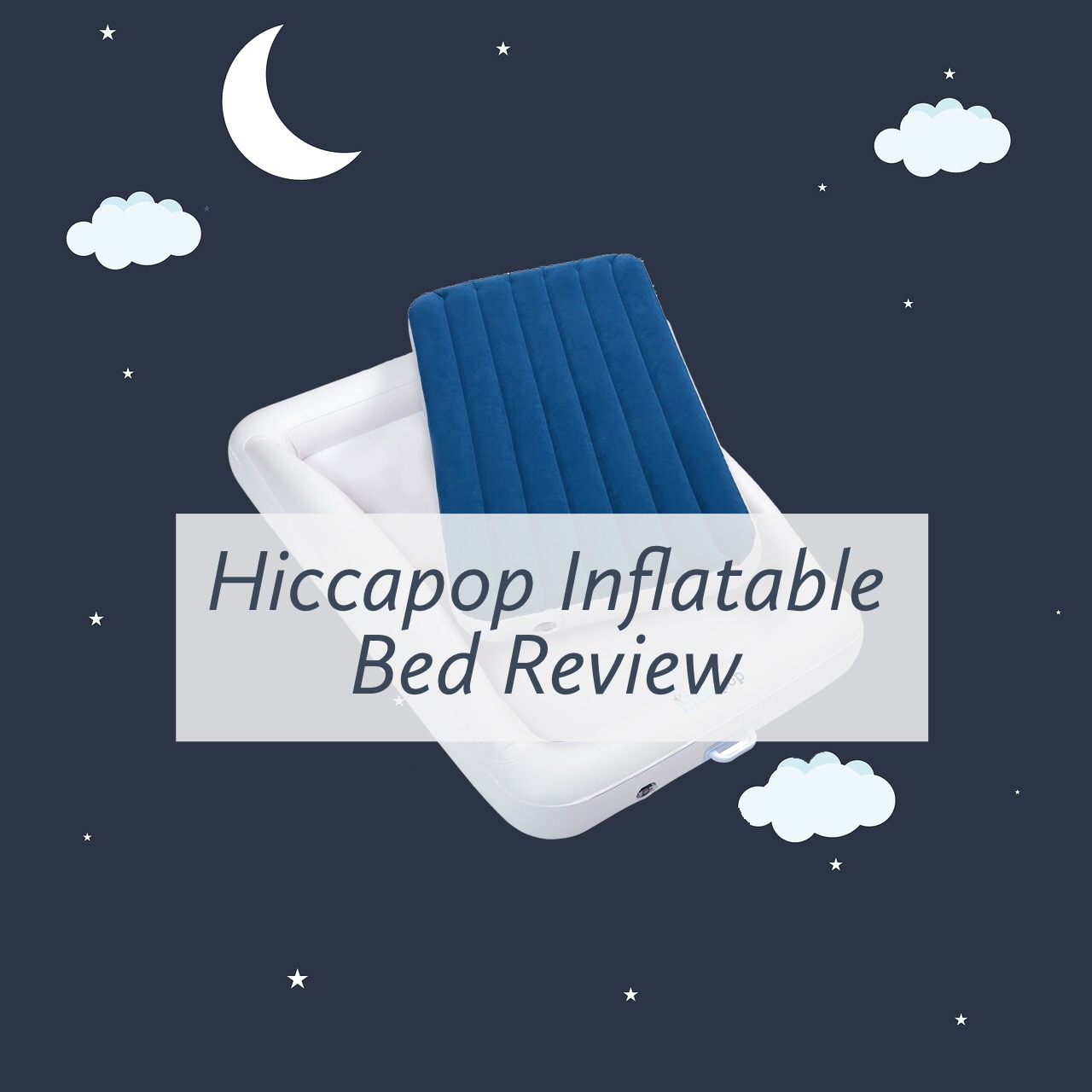 After spending the last two weeks soaking up some sun in California, we are finally getting back into our daily routine and adjusting back to the East Coast time zone. I've come to the realization that vacations are far from our leisurely, freedom to explore at our own pace, DINK (dual income, no kids) days. While our "vacations" have morphed into family "trips," beholden to nap schedules and the never-ending call of parenthood duty (no matter how much family and help surrounds you), it's so much fun to explore destinations through the eyes of your child, play tourist, and bend the rules to sneak in some relaxation. Travel has also been getting easier as Bash becomes more independent and having the right gear certainly helps add to the rest and relaxation for all of us.
Packing for this trip, we were at a loss for what to do with sleeping accommodations. Bash is currently still in his crib at home. He's managed to escape once and can get his leg over the rail, but he's a pretty cautious character (even at his gym class), so I've been keeping him in the crib for as long as possible. In the past, we've usually relied on hotel cribs or our trusty Lotus Guava travel crib / playard, which we used as recently as this past September when Bash was 2.5 years. However, he was barely fitting lengthwise and I'm pretty sure he could've easily crawled over the top. Plus, hotel cribs aren't the most comfortable (yup, I've had to test them out on several desperate occasions). Most recently when we traveled to Newport, we had Bash in his own king bed with rolled up pillows and towels stuffed under the sheets as makeshift bumpers. But one of us wound up sleeping next to him just for our own sanity as he's a squirmy sleeper and he's night potty trained and will wake us up to help take him to the bathroom. So, for this trip, we decided to give a toddler travel bed a try.
After a lot of research, we decided to go with the Hiccapop Inflatable Toddler Travel Bed with Safety Bumpers. First, it is pretty compact, easily fit in our suitcase, and is relatively lightweight (about 8lbs.). Second, its two-part construction easily fit our regular crib sheets, which we always like to bring since it adds a little comfort and familiarity of home. Third, I like how it has long, raised bumpers and a larger sleep surface area, especially good for our squirmy sleeper. Fourth, it is very durable: they use a thicker vinyl than all the other beds we looked at (a lifetime guarantee also helps ease any fears) and Bash had a delightful time using it as a daytime trampoline! The longest duration we used it for was 5 nights in a row and we never had to re-inflate it!
Hiccapop Inflatable Toddler Travel Bed, $65

Details
Dimensions (in.)
Weight

Lifetime guarantee
Thick 0.42mm, quality vinyl to prevent punctures
Includes travel bag, repair kit, and electric pump
BPA, phalate, lead free
Inflates in < 30 seconds
Larger dimensions and weight limit (300 lbs); higher / longer rails
Fits standard crib sheets

62x38x11

(sleeping area: 49×26)

8 lbs
The Shrunks Toddler Travel Bed, $65

Details
Dimensions (in.)
Weight

2 year warranty and repair kit included
0.30mm vinyl thickness
Includes travel bag and electric pump
BPA, phalate, lead free
Inflates in < 30 seconds
Several matching accessories available
Fits standard crib sheets

60x37x9

(sleeping area: 47×24)

6.6 lbs
Leachco BumpZZZ Travel Bed, $126

Details
Dimensions (in.)
Weight

No pump; does not inflate
Made of foam (fold and go) so not as portable

58x39x7

(sleeping area: 43×22)

11 lbs
AeroBed Air Mattress for Kids, $65

Details
Dimensions (in.)
Weight

States for ages 4+
Washable mattress pad included
Includes AC pump, inflates < 60 seconds
Supports up to 150 lbs
4 inch high all-around bumpers
Made of PVC

50x25x10
11 lbs
While our little guy has never been the best sleeper (especially after a major sleep regression at 2), he's pretty adaptable while traveling and easily adjusts to new accommodations and schedules. And with the time change and some bending of our typical bedtime rules, he was usually so exhausted, he really didn't put up too much of a fight for nap / bedtime, which helped. But I couldn't believe how he immediately took to this bed! We called it his "big boy bed" and he was so proud of it. He loved showing off his bed to every family member who visited and he had them test it out. It seemed like he was getting better sleep on it too. He is normally a 1-2hr napper, but was now taking 2–3 hour naps and 9 AM wake-ups with this wonder bed! I also liked how he would wake up to have us take him to the potty at night, but instead of carrying him back, I started just telling him to walk back and he got back in bed by himself and went straight to sleep.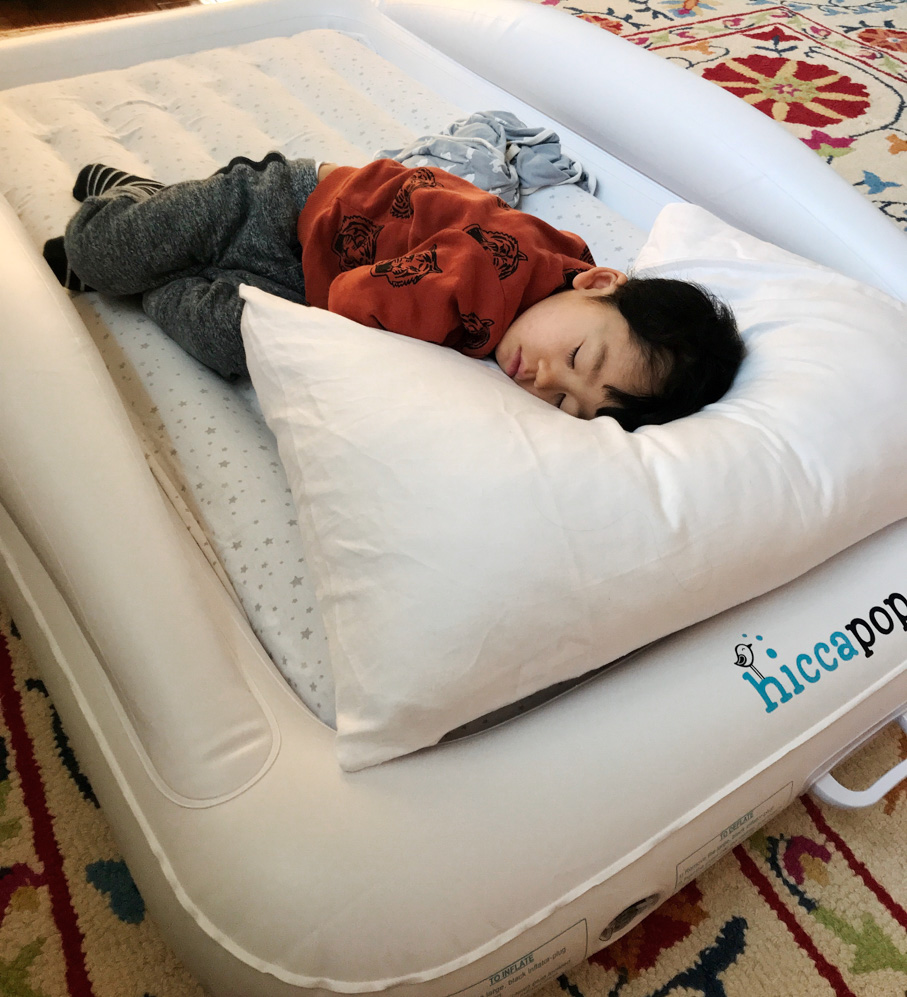 We plan to use the Hiccapop again as we transition our little one from a crib to a toddler bed. Before we finally make the transition and convert his crib into a toddler bed, we plan to set up the Hiccapop a few days in his room and use it for naps. While I've heard a lot of horror stories about how the newfound freedom impacts nighttime sleep, I'm hoping our practice in the Hiccapop helps ease this transition. Wish us luck!
We'd love to hear your tips on travel sleeping arrangements and transitioning to a toddler bed!