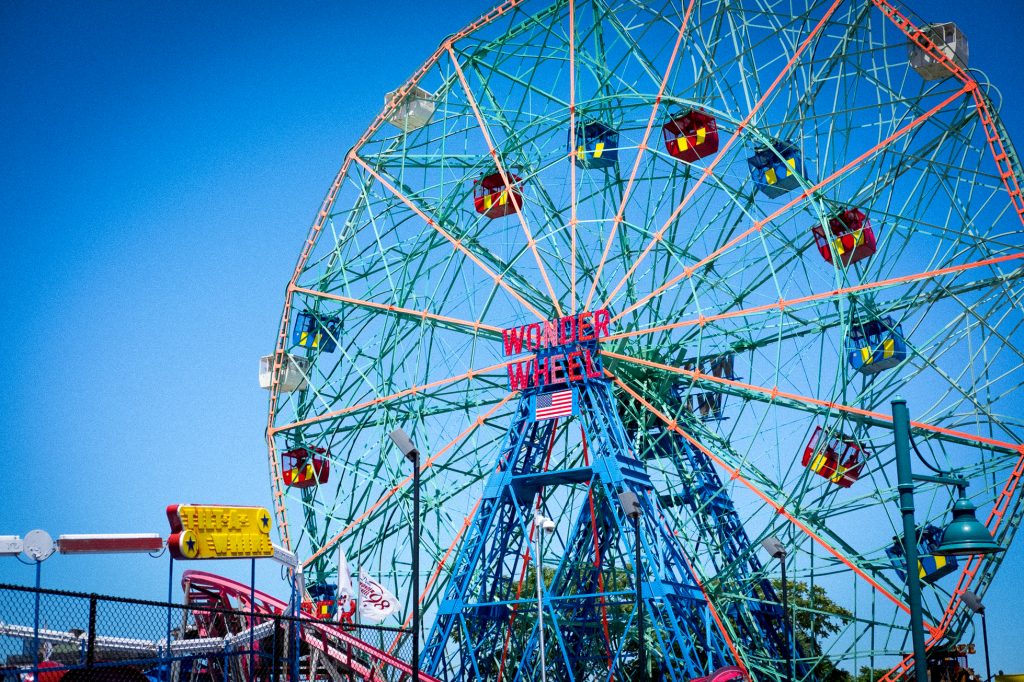 It was a gorgeous weekend in NYC, so we decided to start checking off some of our summer day trip bucket list items with a trip to Coney Island.  Despite it's close proximity to Manhattan, we had never been to Coney Island before and we were excited to check out the attractions!
Getting to Coney Island
We packed up the car and drove (about 45 minutes from the UWS), but Coney Island is just as accessible by subway, making it a very easy day trip from the city.
For the D & N trains, get off at the Coney Island – Stillwell Ave. Station.  The F & Q trains have 2 stops: Coney Island – Stillwell Ave. Station (which is closer to the amusement parks, boardwalk, and beach) and West 8th Street – NY Aquarium (which is a little further down, closer to the NY Aquarium).
We attempted to take advantage of the free / discounted WCS member parking at the NY Aquarium, but the lot (currently undergoing some construction so spaces are limited) was already full by 11:00 AM.  Since we didn't want to be limited by time, we opted for the Gargiulo's outdoor parking lot along Surf Ave. ($25 for the whole day).  We arrived around 11:15 (rides and attractions open around noon) and were literally the 3rd car in the parking lot, which was great because we got a shady spot.
What to Do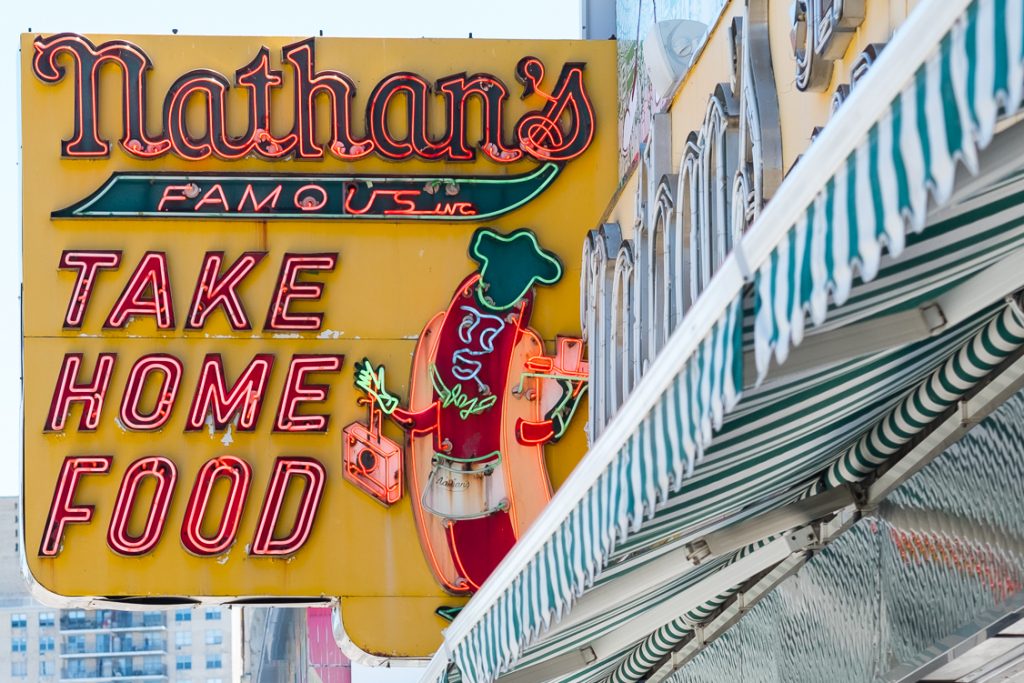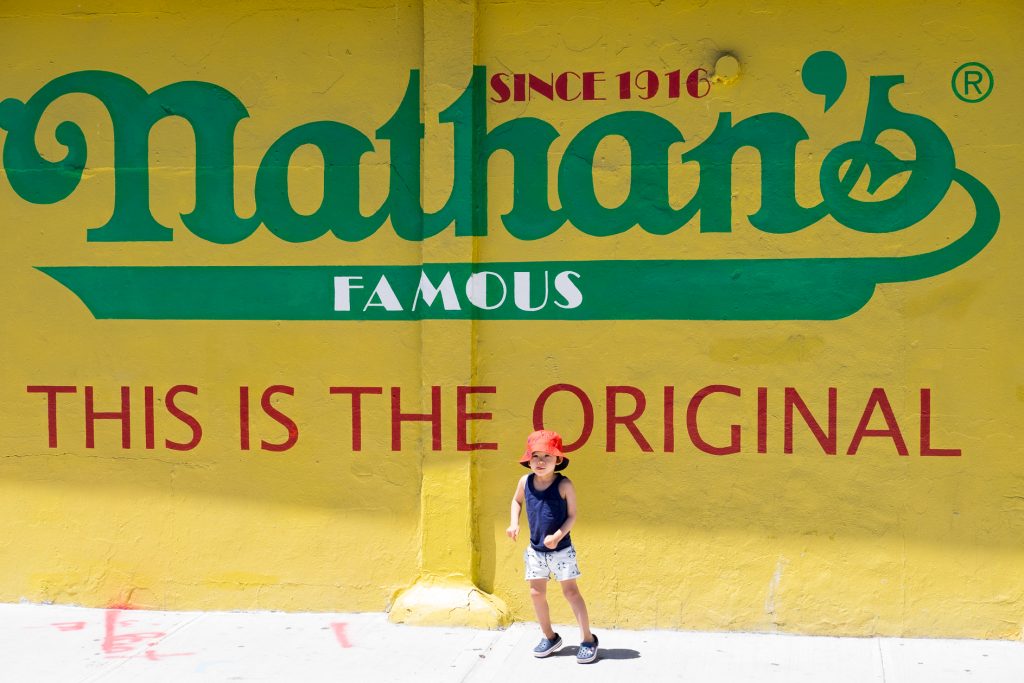 Eats: To kick off our Coney Island adventure, our first stop was chowing down on a famous Nathan's hotdog.  There are actually 2 locations, so you can get your fix on the boardwalk and one to go as you head back to your car / subway: 1310 Surf Ave. (corner of Surf and Stillwell) and 1205 Riegelman Boardwalk.  Next time, we'd like to check out a slice at Totonno's Pizzaria Napolitana (1524 Neptune Ave.), a James Beard American Classics Award winner, and compare hotdogs at Feltman's (1000 Surf Ave.), a reboot of the original.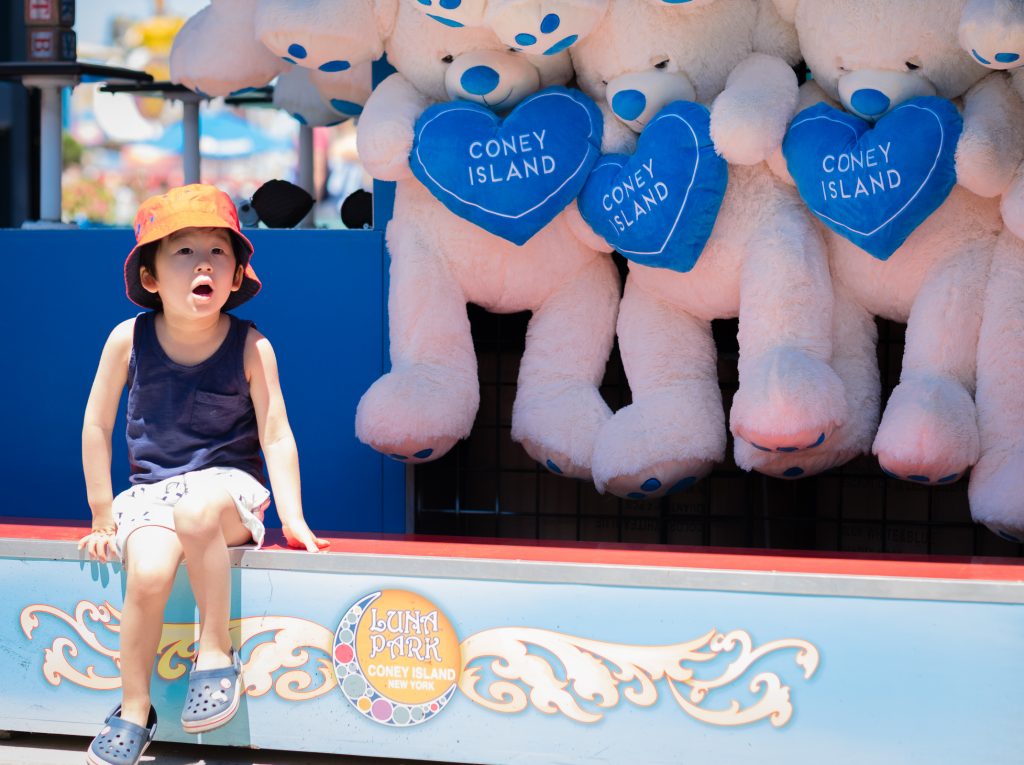 Amusements: Bash spied the Thunderbolt roller coaster from the parking lot and was so excited to ride his first roller coaster.  While Thunderbolt was a little out of his league, we made a beeline for the kiddie rides at Luna Park (most of the kiddie rides are located in the section between West 12th Street and West 10th Street).  While you can buy unlimited ride passes, we opted for credits as one of us had to accompany Bash on some rides, credits can be applied to both rides and games, and the credits don't expire (we'll be back!).  The park is stroller-friendly with ramp access to/from the Boardwalk.  But note that Deno's Wonder Wheel Park is located in between sections of the Luna Park amusements.  This is a separate park requiring a separate ticket purchase for its rides (including the ferris wheel).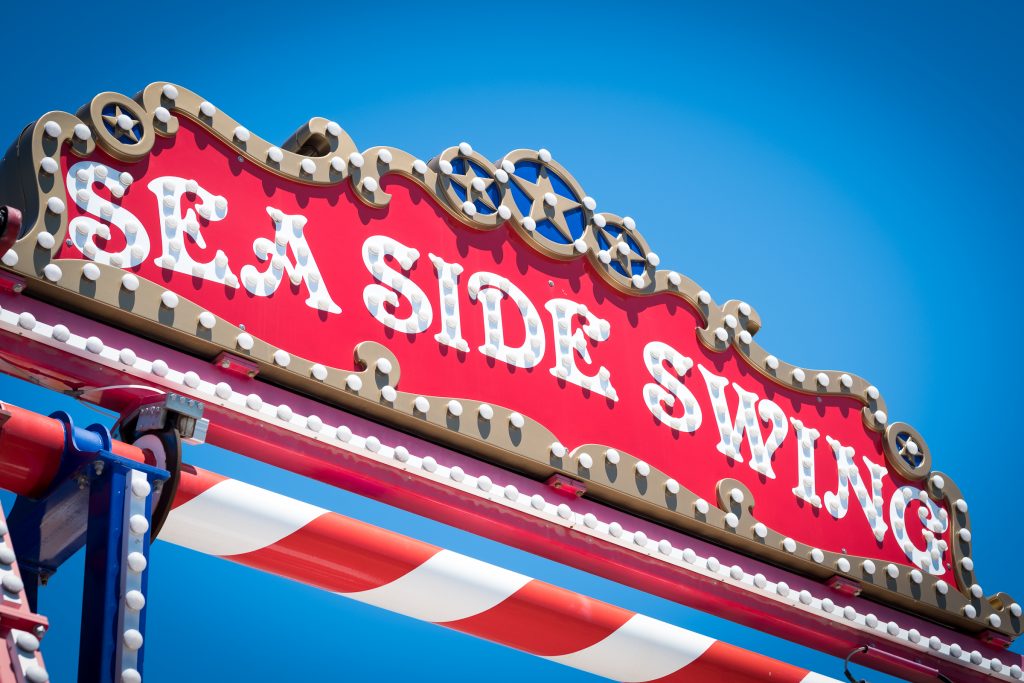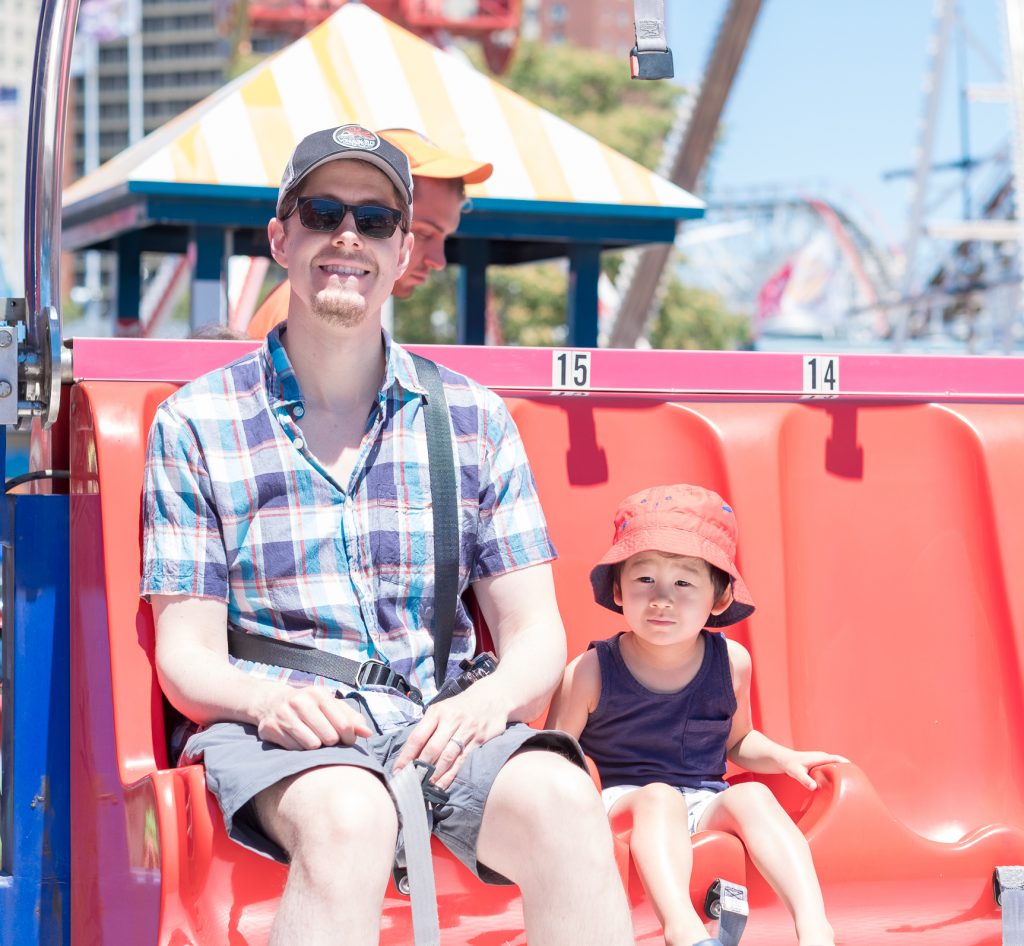 Beyond listing rides by height requirements, we found the Thrill Level indicator to be helpful when selecting appropriate rides.  We started off with the Circus Coaster, a "moderate" thrill level, that left Bash a little too scared.  So we toned it down to the "mild" rides and carnival games.  Bash's favorite ride was the Mermaid Parade, individual boats that float along a water track with a few easy ups and downs and a tunnel and he got to ride it alone.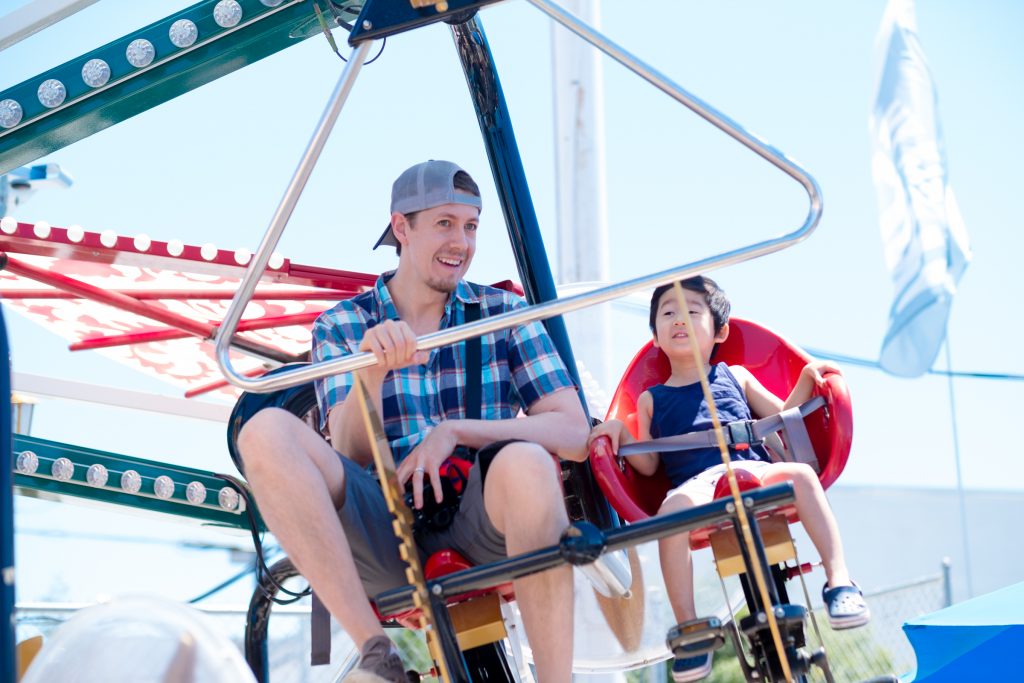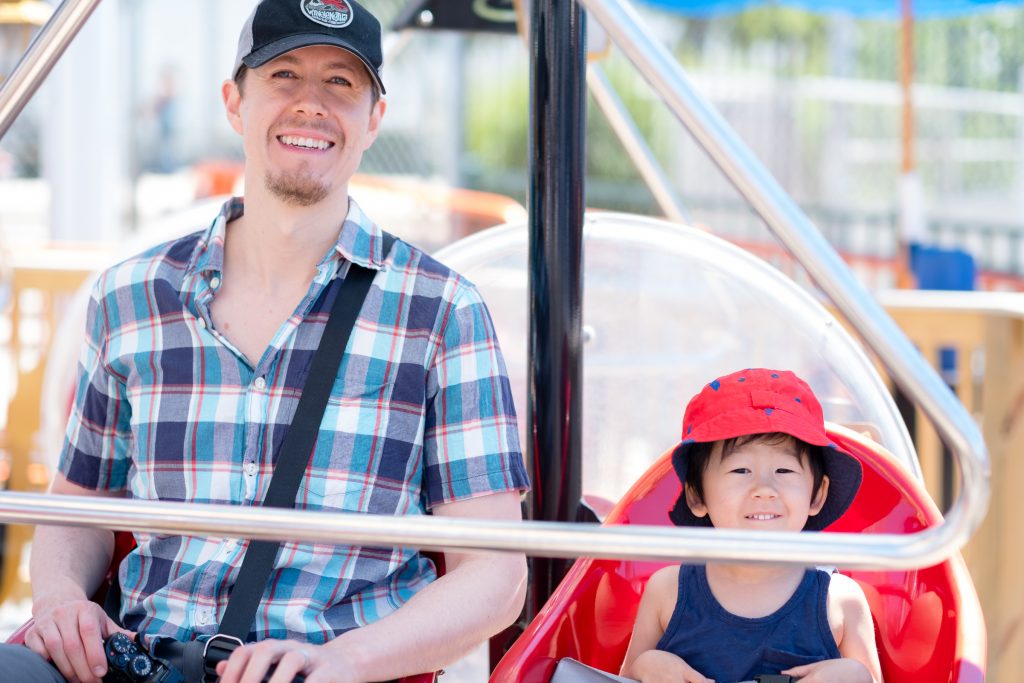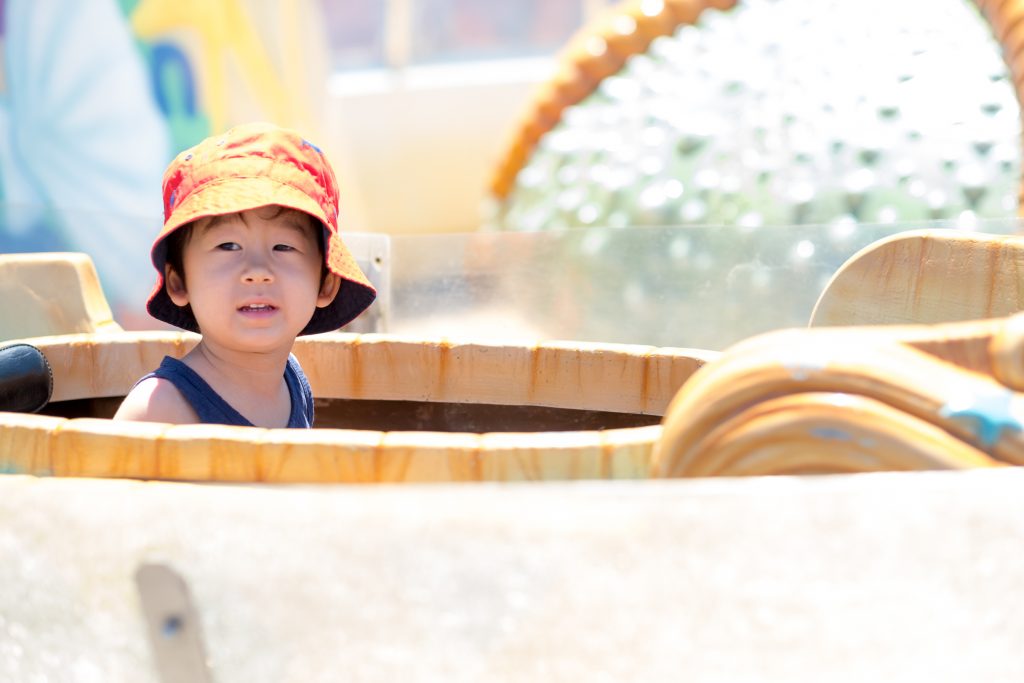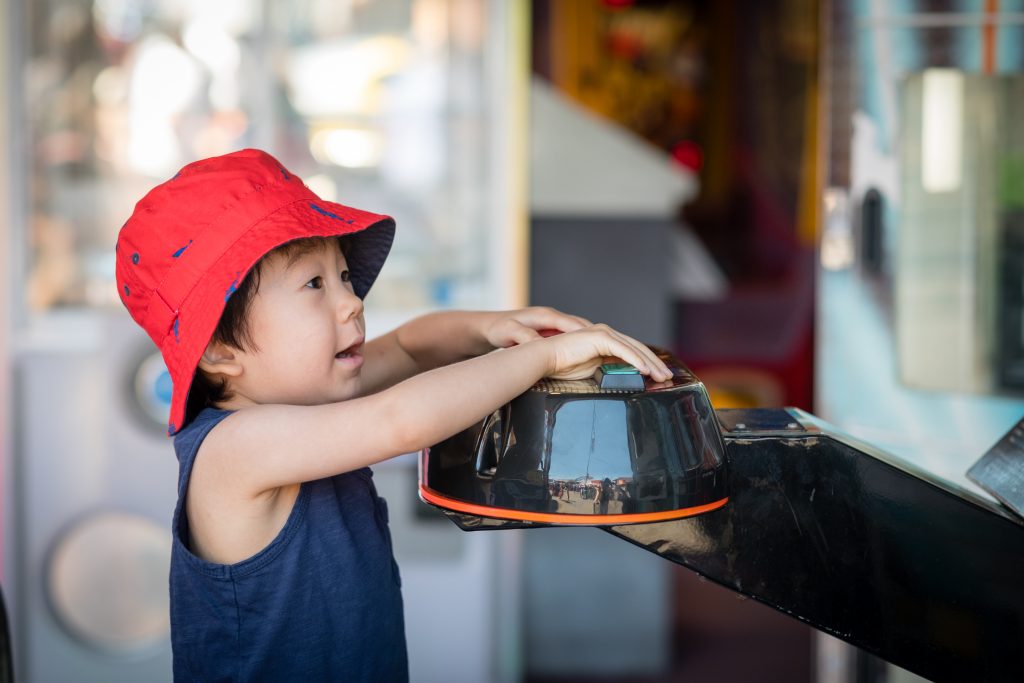 Beaches and Boardwalk: Strolling along the boardwalk and pier was full of great people watching.  There was a salsa competition along the boardwalk and locals drumming along to Latin music blaring from a speaker on the pier.  It was fun taking in the sights and sounds along the boardwalk.  The beach was pretty crowded with sunbathers, swimmers, a kids' splash pad on the sand, and beach volleyball.  But that didn't stop Bash from immediately going to work building his sand "castles" (more like mounds).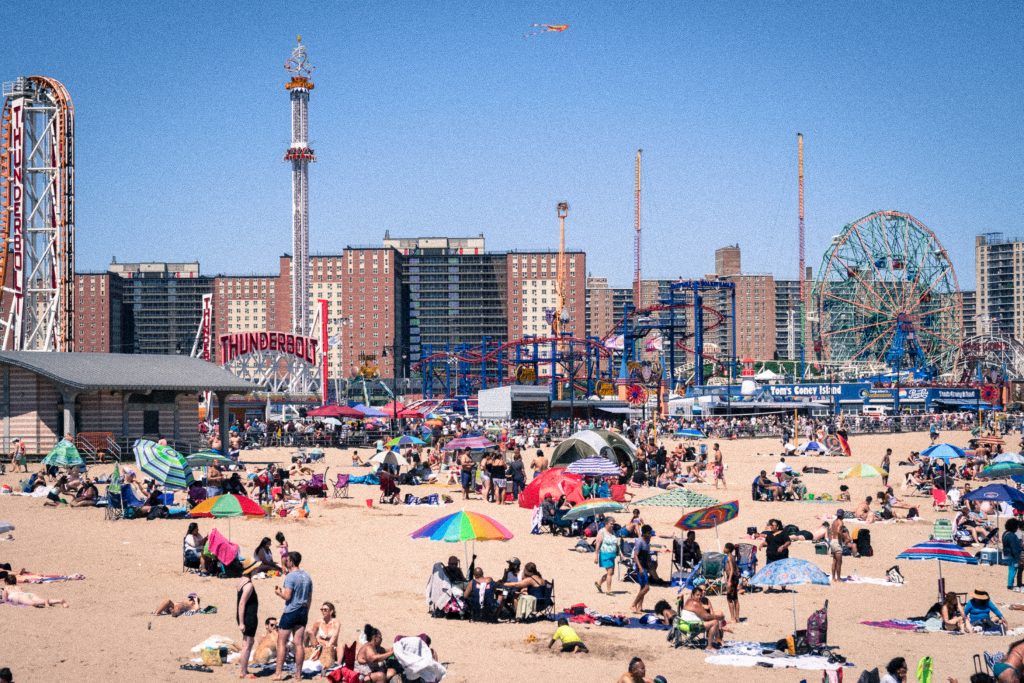 On our next visit, we'd like to walk along the boardwalk towards Brighton Beach to check out the neighborhood they call "Little Odessa" for an authentic Russian experience.  Plus what's not to love about a place where one said, "it's normal to drink vodka in the morning here", hahahh!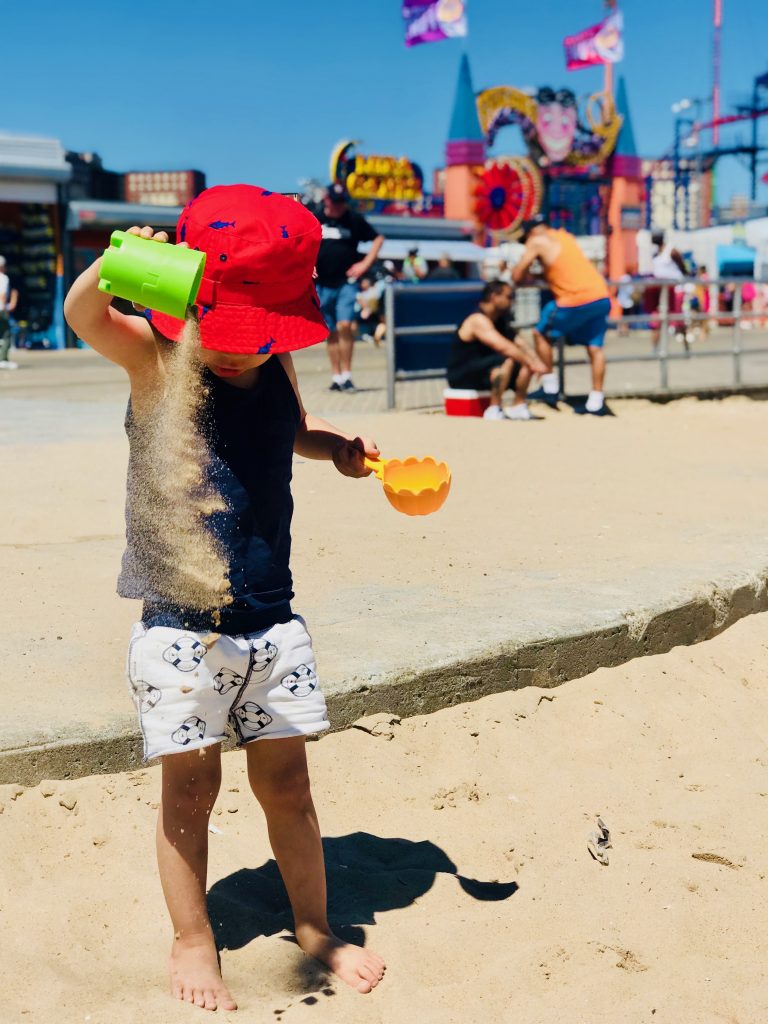 NY Aquarium: While our initial itinerary called for some cooling off at the NY Aquarium (as our WCS membership includes this facility), we got carried away with the rides and enjoyed the perfect weather building sand mounds.  We'll be back as their new Ocean Wonders: Sharks! exhibit has been getting good reviews.
Good to Know Before You Go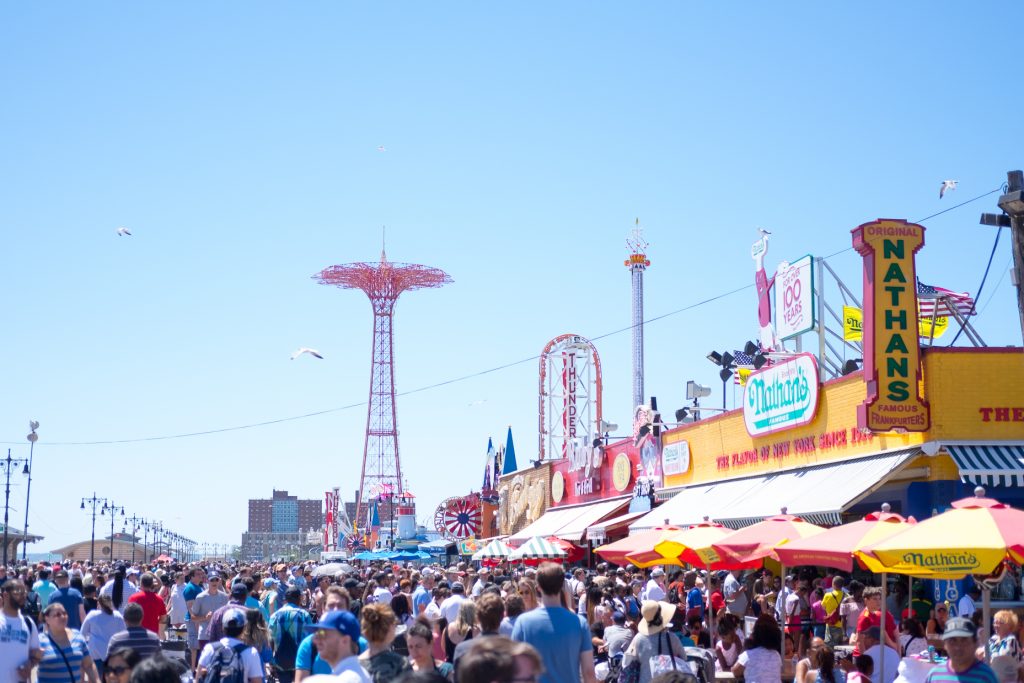 Go early!  Rides start running around noon on weekends and prime beach umbrella real estate starts filling quickly.  We arrived around 11 AM and the NY Aquarium garage and street parking were already at capacity, but we were one of the first in the outdoor parking lot we found.
BYO shade!  It's hard to escape the sun, even at the amusement parks.  I was constantly manuevering into the few shadows casted by the buildings while waiting for Bash to complete his ride.
Luna Park and Deno's Wonder Wheel Amusement Parks are two different parks requiring separate tickets
Discounted tickets (half price through September 3rd) to the NY Aquarium are available online
Friday Night Firework Series is back for summer (through August 31st) starting at 9:30 PM
Fun Facts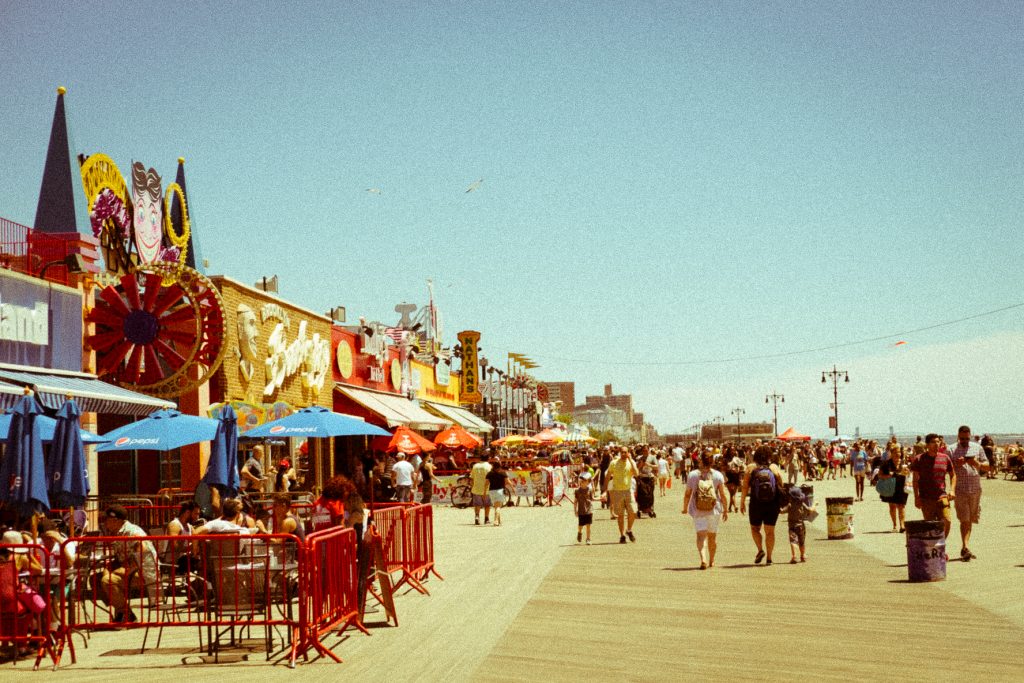 Oh how cool would it have been to see Coney Island in all its splendor back in its heyday!  I've been finding the history of Coney Island to be pretty fascinating as it has been an epicenter of pop culture, an incubator for innovation, a source of political intrigue, a riches to rags saga, and currently a post-hurricane comeback story.  Seriously, someone should make a movie about it!  A few interesting tidbits:
Coney Island used to be an island but is now a peninsula due to substantial land fill of the Coney Island Creek.
Coney Island is believed to be the birthplace of the hotdog, but it was Feltman's that sold the first "Coney Island red hot".  Nathan's was established several years later by a former Feltman's employee (read more about Coney Island hotdog history here).
The tall red structure dotting the Coney Island skyline is called Parachute Jump (also known as the Brooklyn Eiffel Tower).  Designed for the 1939 World's Fair and sponsored by Life Savers (wink wink!), it is no longer a working amusement but remains a New York landmark.
Coney Island has cycled through several amusement parks due to changing economic conditions and fires.  While Luna Park and Deno's Wonder Wheel remain today, Coney Island was home to Steeplechase Park, Astroland, Dreamland, and Sea Lion Park along with several vaudeville, circus, and theater acts.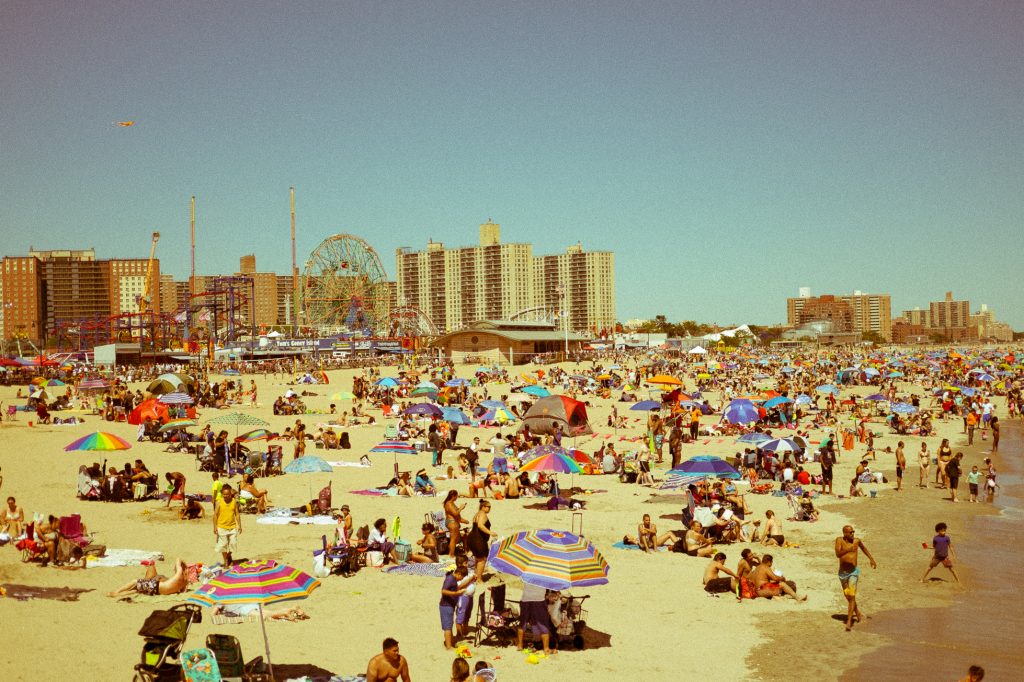 What to Bring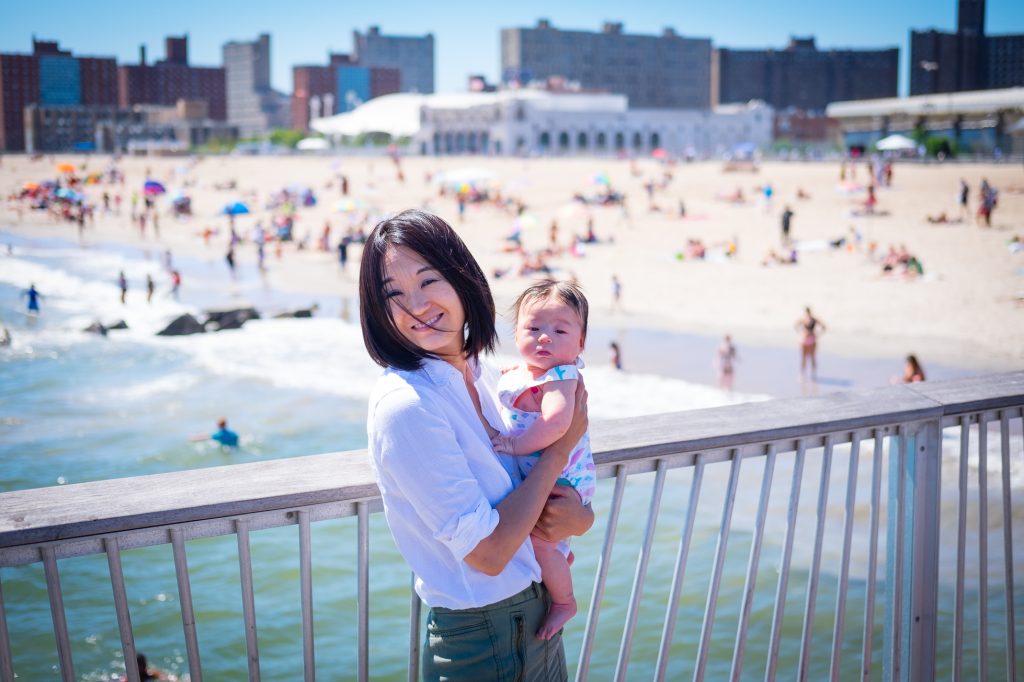 We brought our workhorse "SUV" stroller, the Uppababy Vista, to haul the kids, but mainly to carry all the gear!
Packing List:
Diaper bag (never leave home without it!)
Swim clothes (I read somewhere that you should wear your swimsuit underneath as changing in the bathroom supposedly isn't allowed, though I'm not sure how they would monitor this)
Change of clothes
Sunscreen (my favorite is Thinkbaby, but we just started testing Blue Lizard and really like it)
Cooling off: Sun shade/umbrella, stroller fan, hats, sunglasses
Sand toys (bucket, scooper, etc.)
Water bottles and snacks
Beach blanket and towels