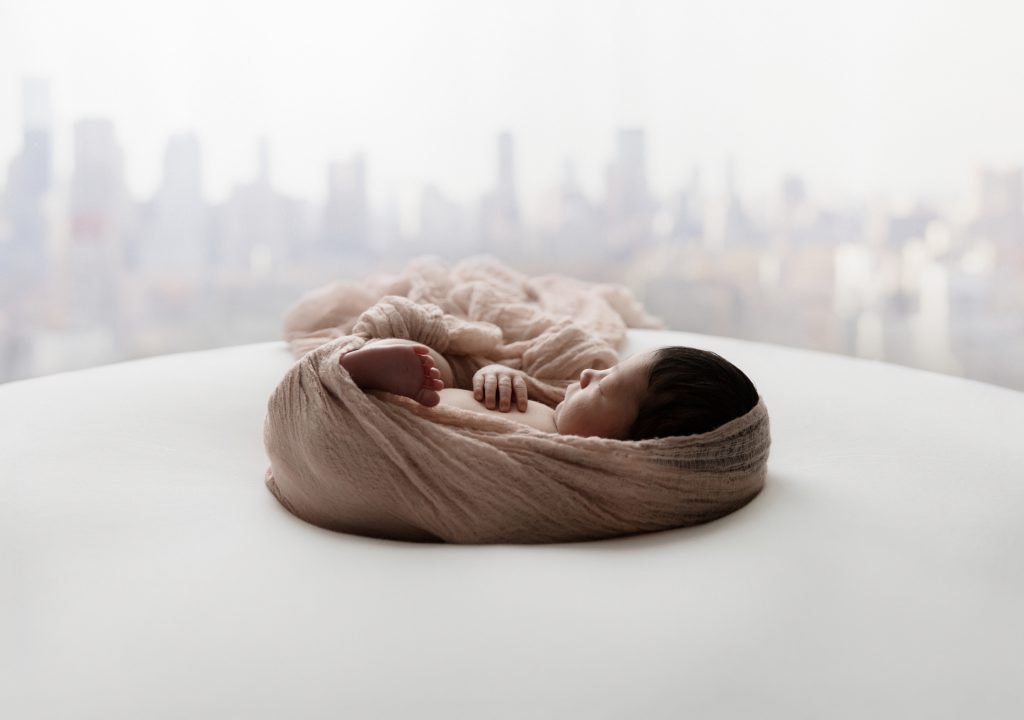 In honor of Ava's first birthday (I can't believe how fast it flew by), I've been reminiscing and looking through her newborn photos by the amazingly talented, Lola Melani!
When Bash was born, I meticulously researched photographers in the NYC area and luckily stumbled across Lola's work.  Lola is constantly rated in all of the top lists, has been featured in everything from Portrait Masters to People Magazine, and was recently selected to ClickinMoms' 100 Female Photographers to Watch in 2019 (my personal source of inspiration).  Beyond the glowing reviews, I immediately fell in love with Lola's elegant and classic aesthetic.  Her posing is timeless and she truly captures the love for our precious little ones.  In short, Lola's work is art.  So of course we immediately called Lola for Ava's newborn photos!   I still get teary eyed going through both Bash and Ava's albums and know that we will continue to treasure these beautiful images for generations to come.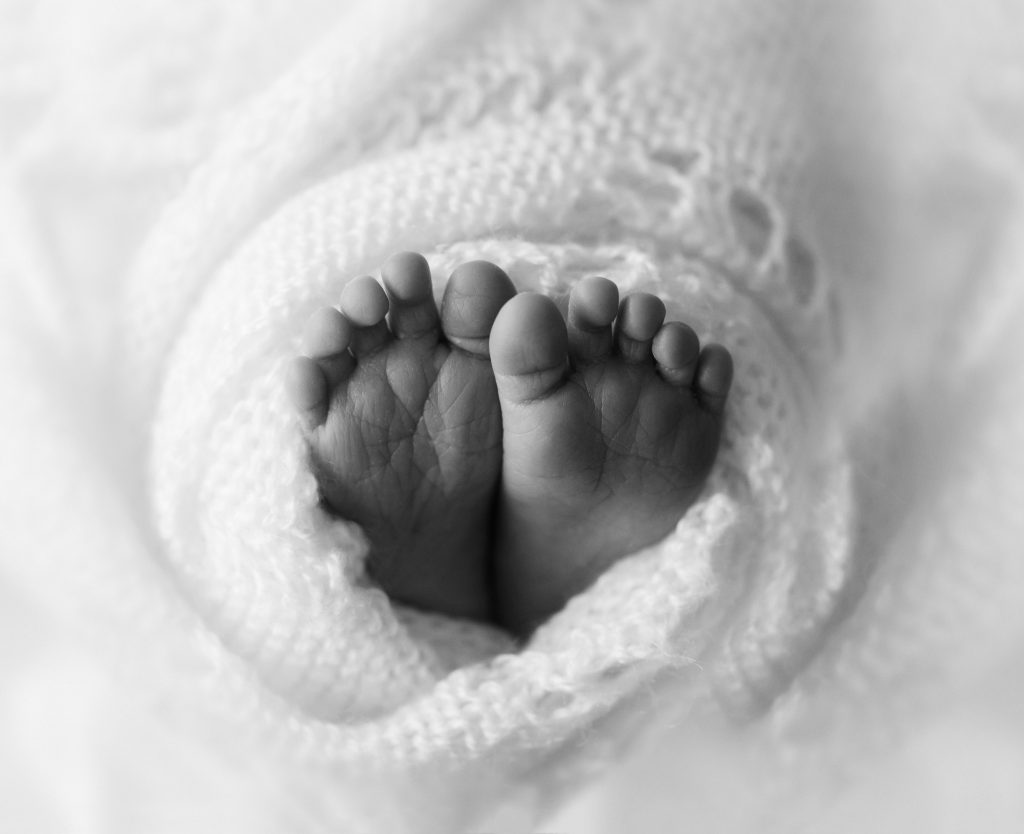 A Little Background on Lola Melani
I'm excited to share some of Lola's amazing work with our family. We also had a chance to sit down with Lola as she graciously shares her wisdom about all things maternity and newborn photography in the following Q&A.
How did you develop a love for photography?
I have always been an artistic person and I have always been drawn to different kinds of arts. However I never imagined that one day I would pick up a camera and get on this journey.

I moved to the U.S. from Russia and I was studying business and economics at the University hoping to graduate and get a stable job position in a reputable company. So one day, I was showing a friend of mine prints of the photos I took on a little Kodak camera and she said, 'Wow, you have a good eye'. So that's how it all started. Her words got stuck to the back of my head and never stopped thinking about it. And I decided to explore the world of photography and find out, whether I did have a good eye or not.

I got my first semi professional DSLR camera and I was taking pictures of everything. And little by little it became my hobby. By the time I finished my business degree and went to work in a finance department of a large hotel company, and I absolutely HATED it.

So that's how I became interested in photography and eventually obsessed with it. I always think now, what would have happened if my friend would never told me that. Would my journey be different?"
Wow, it's amazing how one comment can change the course we are on.  And, I'd have to enthusiastically agree with your friend, you have an incredible eye!  As soon as I saw the first image of your portfolio online, I was immediately drawn to your powerful imagery and those babies (and they weren't even mine, haha!).  I love how you capture the details I want to remember as a new mother along with the deep, loving connections between parents and baby.  You make it art.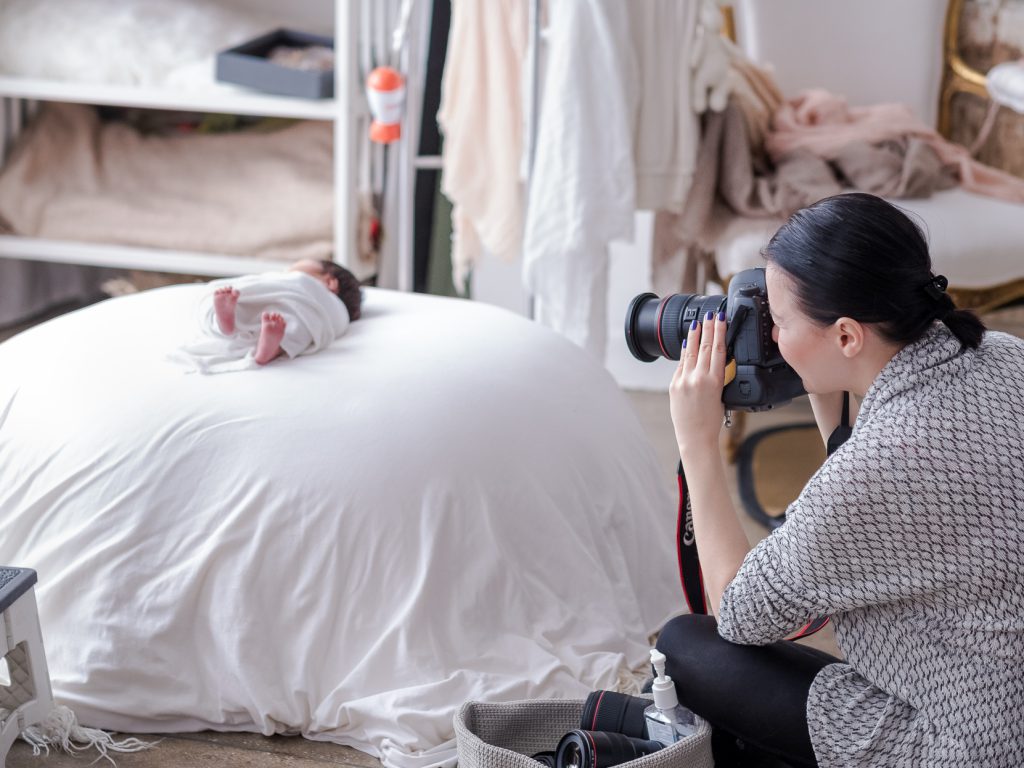 Of all of the photography genres, how did you get started as a maternity / newborn photographer?
I have always been passionate about working with women, capturing their beauty and strength with my lens.

Until about 6 years ago photography has been just a hobby, and I was obsessed with glamorous fashion photography. When I set up a simple studio in my apartment and invited my girlfriends to sit for me. That was when the concept of creating editorial style portraits for everyday women was born. It was exciting to witness the people I photographed unfold in front of my camera and watch how confident and beautiful they felt during and after this experience.

Six years ago, I stumbled across pregnancy work online. I felt it was calling my name and my concept finally came to life. Women, especially pregnant, do not always feel good about themselves and the changes their body is going through. They may feel uncomfortable, hormonal and simply not pretty.

Creating these experiences where they have a chance to be pampered, feel fabulous and confident, embrace, celebrate the features that make each of them unique, is what I am so passionate about.

I love helping women see their beauty and be proud of themselves, giving them the confidence that they can and will take on motherhood.  I love showing them how incredibly magnificent, powerful, strong and beautiful they are."
I love this and felt like this was exactly your sentiment during both of our shoots.  Ava was only a couple weeks old when we did her shoot, also meaning that I was still very much "post-partum" – uncomfortable, hormonal, still looking and feeling pregnant.  But, between makeup and hair by artist, Vlada Cozlova, your serene studio, the trust you impart as your images speak for themselves, I felt like the Goddess of Motherhood!  By the way, my mom also felt the same: she's always camera-shy and was initially hesitant, but she treasures how you captured her.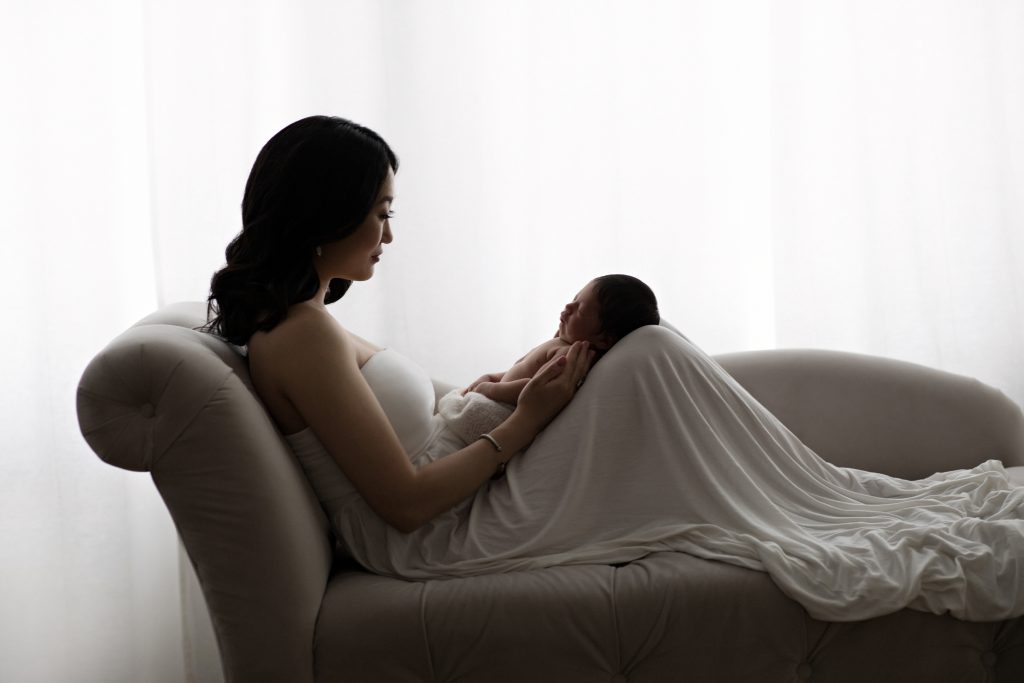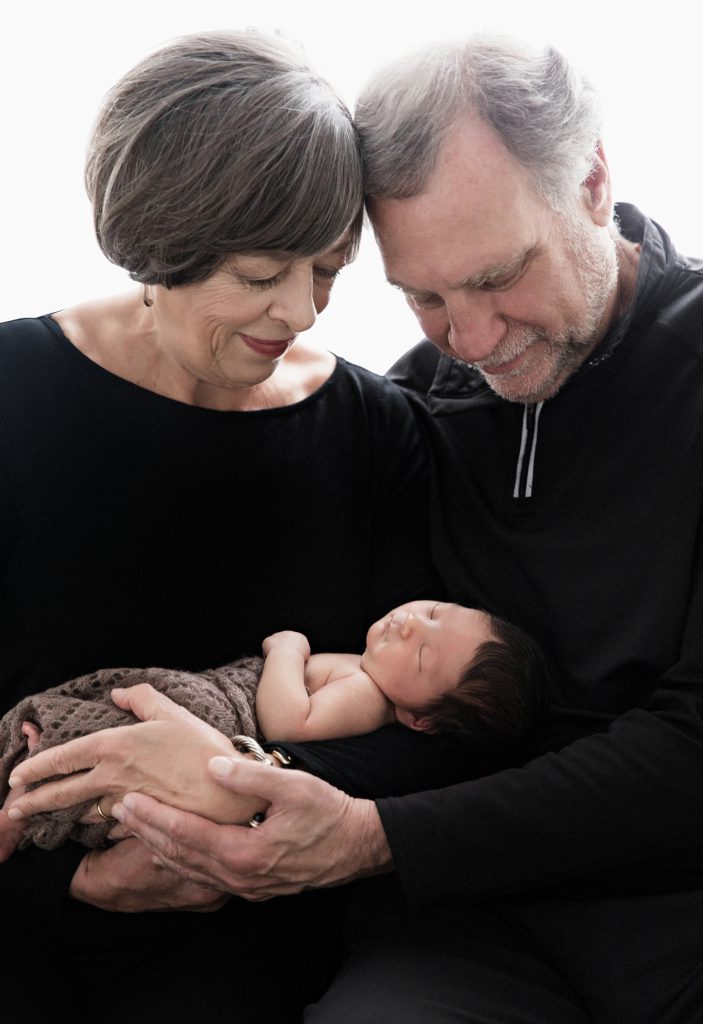 I also distinctly remember during Bash's shoot, as a first-time mom (tired and no clue what I was doing or should be doing), starting to panic that he wouldn't go to sleep to get all of those precious "curled-up tiny baby" photos.  You were such a calming, reassuring influence on me; I relaxed and we wound up getting a welcome surprise, my all-time favorite shot of Bash, eyes wide open!  I learned to embrace the chaos and even the best things can be born in the midst of the craziness of motherhood.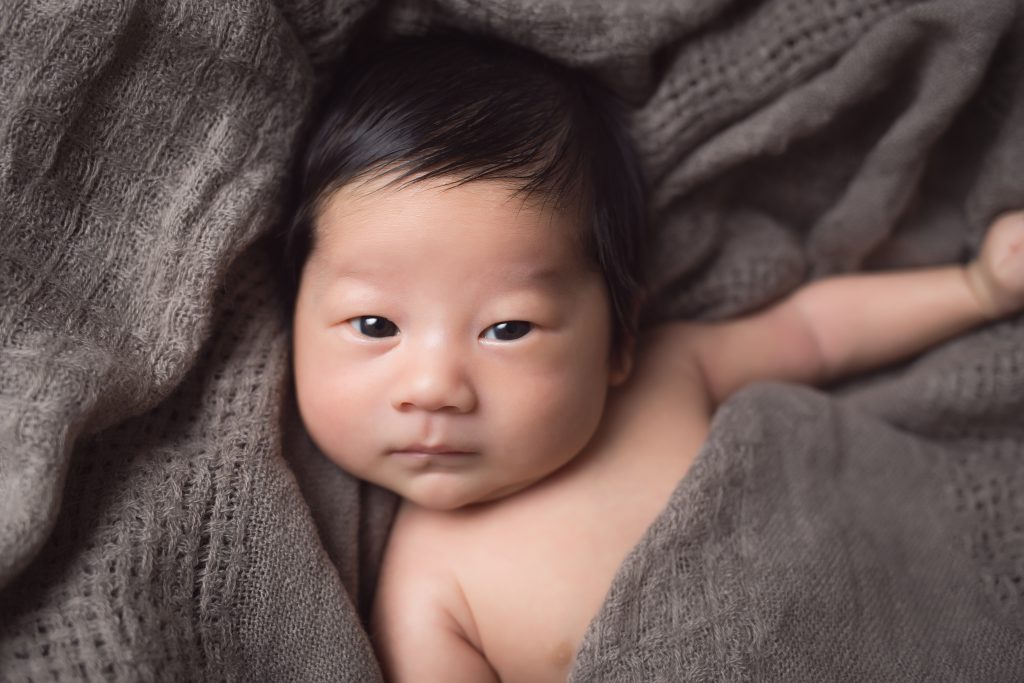 Describe your style / aesthetic?
My style is timeless, elegant and minimalistic."
I love your aesthetic.  It is so classic and simply timeless.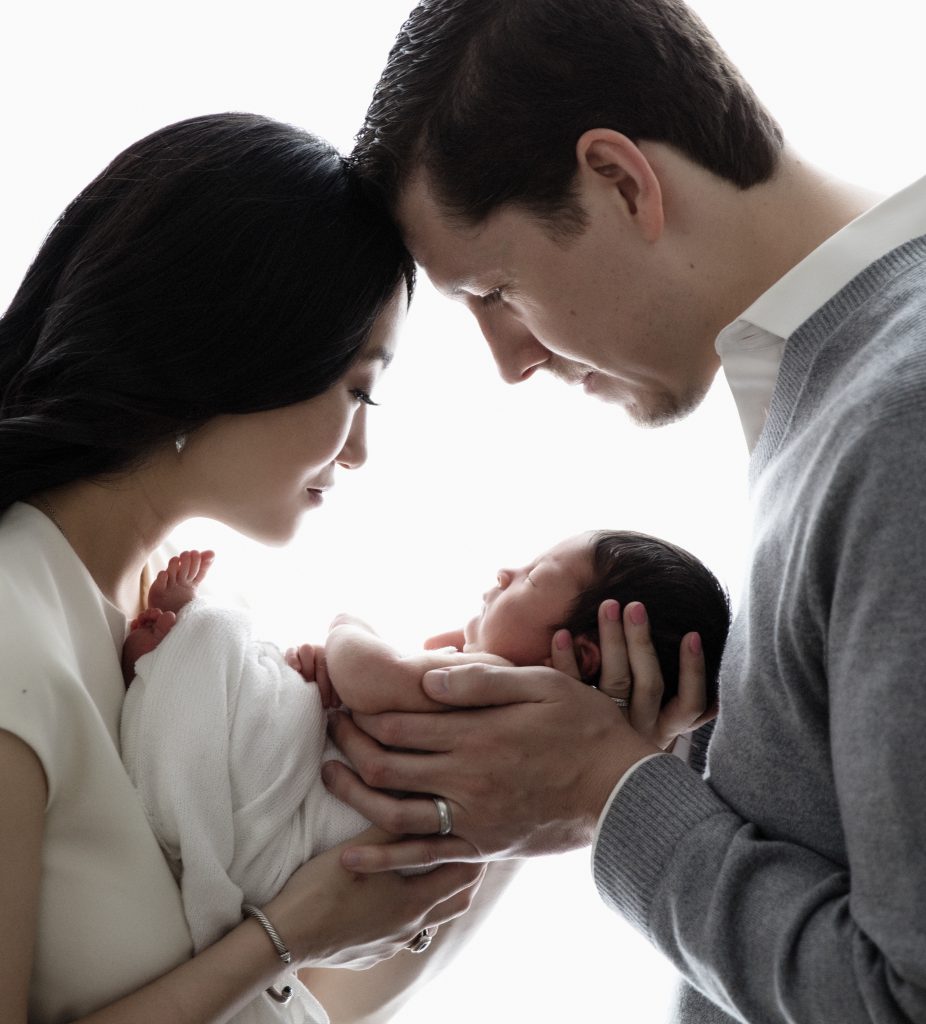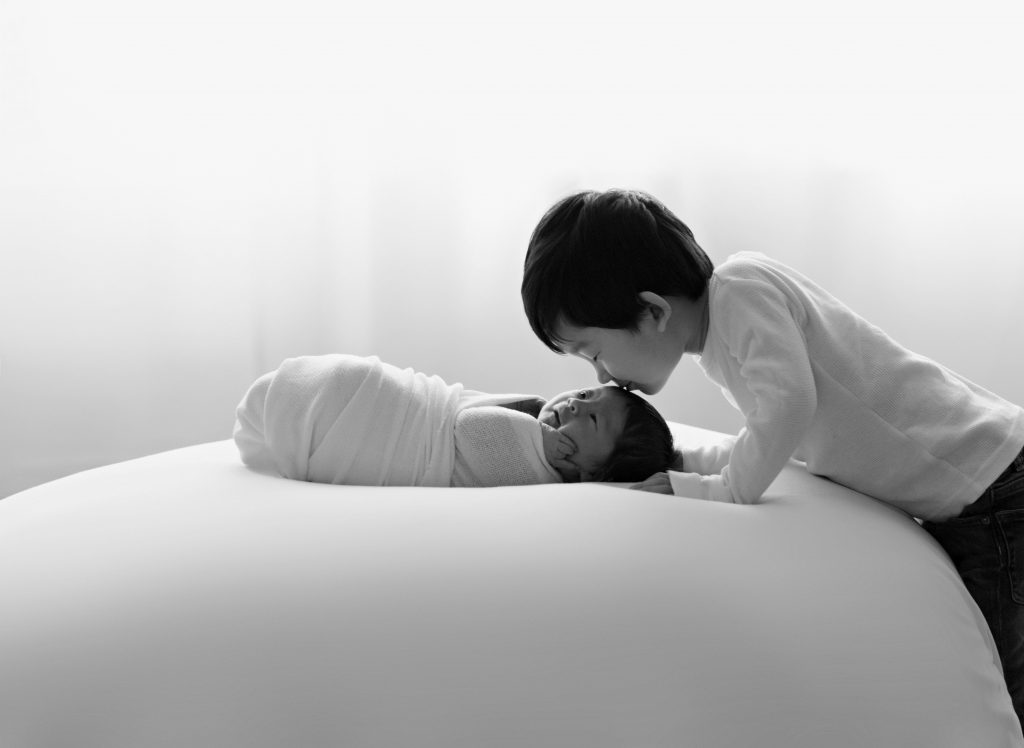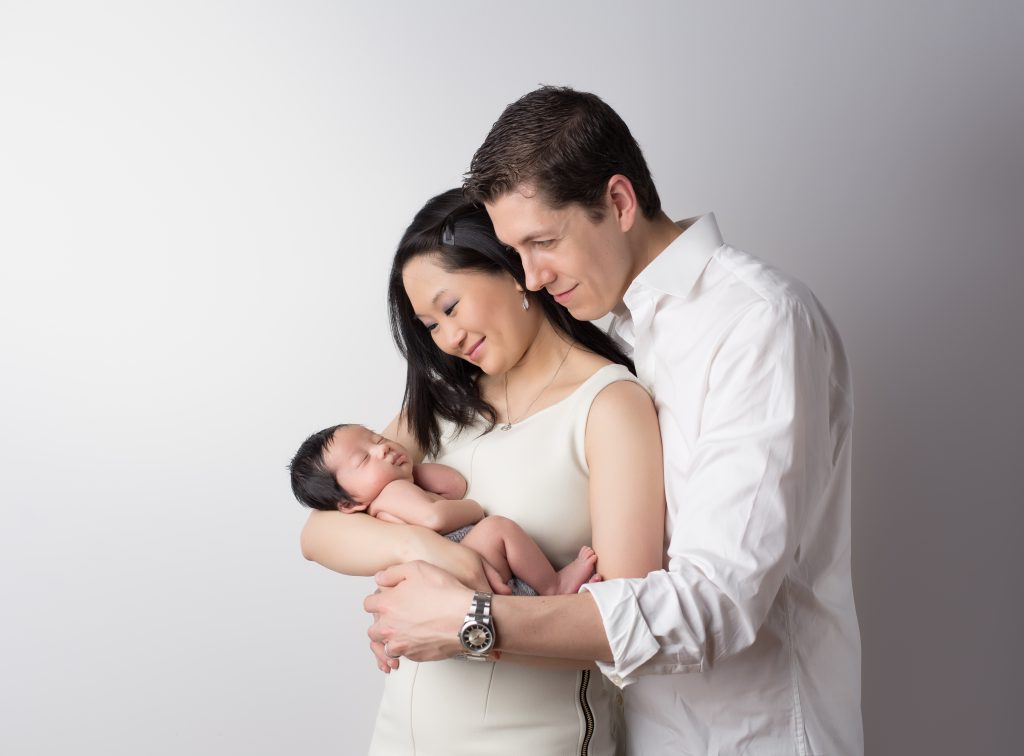 Where do you draw inspiration from?
I am inspired every day. I can be inspired by anything. We are surrounded by so much visual content everyday and inspirations are everywhere! It could be a cover of the magazine, color, fabrics, flowers, textures. I often look for inspirations outside the photography world – sculptures, old paintings that show the draping. I am inspired by the works of other photographers, mostly fashion photographers  – Peter Lindberg, Patrick Demarchelier, Irving Penn, Annie Leibovitz.

However, my biggest source of inspiration are women and their life stories. I work with women and every one of them has her unique, extraordinary story.  Motherhood is a journey, and for many women its a long and difficult journey. Learning what these women have been through and capturing the incredible strength and their true beauty – this is what I am so excited about.

Real people and real life stories are the most powerful inspirations you can get."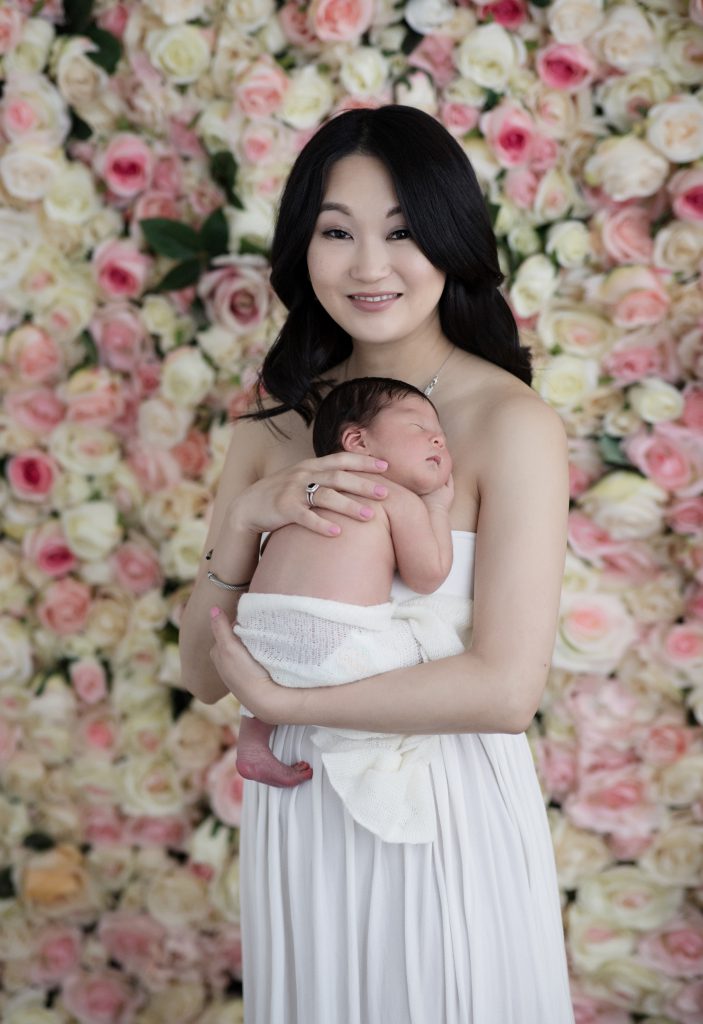 Tips for Preparing The Newborn Photo Shoot
How to select a maternity or newborn photographer?
You should find the photographer who fits your style – posed or lifestyle, traditional or modern, props or no props, studio or home.
Look for consistency throughout the portfolio. You don't want to hire someone who only has a few great photos to showcase.
Look for a photographer who specializes in newborns and maternity, has been professionally trained or has a lot of experience with babies. Newborn photography requires lots of knowledge about handing, soothing, wrapping and caring for your baby as well as posing and safety. No matter how amazing that fashion/wedding/family photographer may be, I would not hire someone who does not specialize in newborns or have little experience in photographing babies.
Please, be careful not to choose a photographer because you found a great deal online or photographer's prices are lowest in the area. It's not about finding the cheapest one, it's about finding the artist you connect with, you trust, who is experienced and insured and who shows consistent work."
When do you recommend is the best time to schedule a maternity / newborn shoot?
Maternity is best captured between 30-35 weeks. The best time to photograph a newborn baby is when they are under two weeks of age. During this time they sleep more soundly and they are still very flexible and curl up more easily into precious newborn poses. After 14 days babies tend to lose flexibility, they become more awake, harder to settle and things like colic and baby acne can develop. An awake or alert baby is much more difficult to work with. For babies that are born early and spend some time in the hospital I recommend to schedule a session within the first few days after they are sent home."
Photographers' schedules book up, so I'd recommend starting to research and book photographers during your second or early third trimester (here's my full pregnancy checklist).  But don't stress too much if something comes up.  We were able to do Ava's photos within the ideal stage.  Bash's photos were done a little bit later around 4 weeks (due to rescheduling for illness).  It took a little more time as he wasn't as sleepy, but we also have the most amazing eyes wide open photos.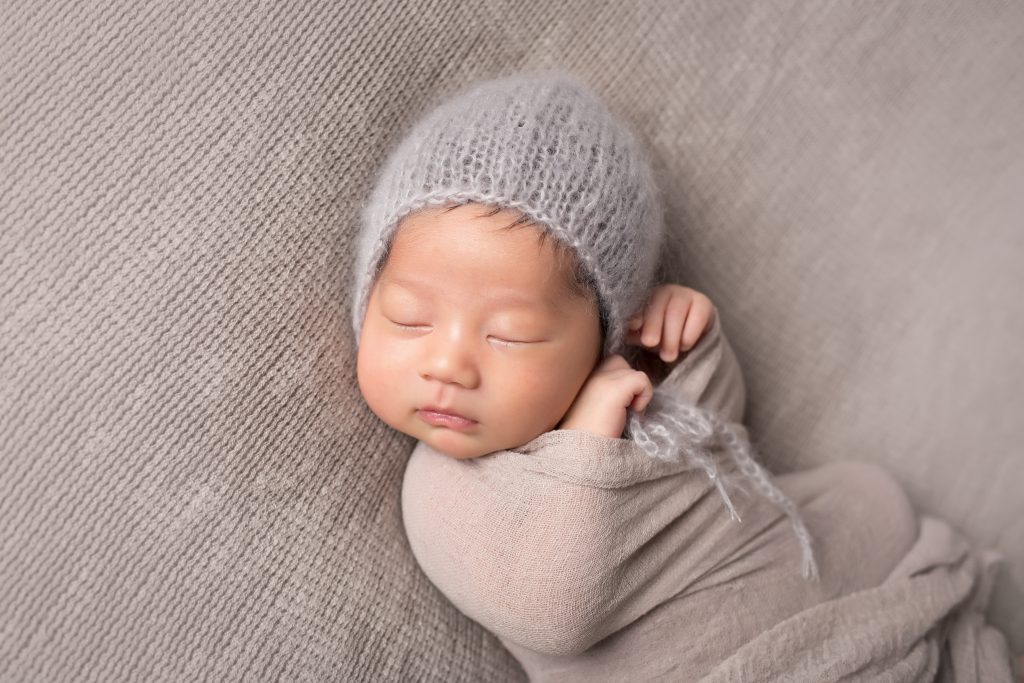 How to best prepare for a newborn session – prepping both the baby and parents, any must-have newborn props?
I love keeping newborn portraits simple without overpowering them with props and clothing. This is my style and vision as an artist. If my clients do want to dress their baby and use more props I let them choose from the collection that I have at the studio. Soft hand-knit outfits can look adorable and photograph beautifully and add more texture to the photo. For the snuggling parent and baby portraits a simple solid onesie, a knit diaper cover or cashmere newborn blanket can be great options.

I educate parents not to use/bring their own newborn outfits, as they tend to be too big and newborns are usually swimming in them. If parents want an outfit for the baby, snug fitting outfits in solid colors look best on newborns. If you want to shop for the outfits for your newborn session, look for handmade pieces, ww.etsy.com offers millions of options for newborns.

For mothers I recommend wearing comfortable clothing, solid neutral colors are best – creams, off-whites, soft beiges, light grays. Flowy dress or casual top and jeans can look beautiful. Think timeless when choosing wardrobe for family images – would you still love how the outfit looked in 10-20 years from now?

I am not a huge on props. Perhaps a knit teddy bear or bunny, hand-knit wraps. Of course I do use props and I customize each session to my client's liking, their vision and style. However, my favorite newborn sessions are the ones that are done with minimum props, using textured organic wraps, with many macro close ups, b&w portraits with negative space and womb-style silhouette shots. These are truly timeless."
You have the most beautiful baby wraps and diaper covers that are so cozy, yet compliment your elegant and timeless style.  I also love how you can add a pop of whimsy without compromising your style.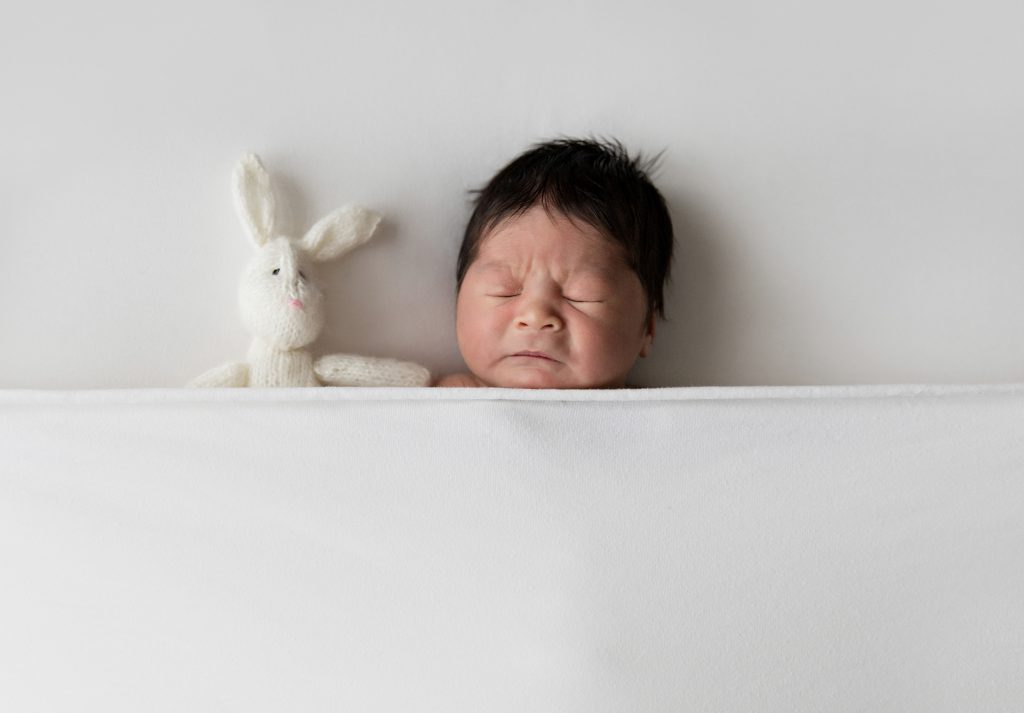 Why do you prefer / recommend in-studio sessions?
I love working at the studio because I want to have a precise to control of my lighting and set ups. I enjoy the lighting consistency that my space gives me. When working outside or at someones home you always depend on the weather conditions as well as the space size, ceiling height, surrounding colors, furniture, etc."
As a new mom, it can be a little daunting thinking about how you will spend hours in a studio with your days-old baby.  Personally, I loved being "on location" so Lola could create in her element. It also gave me a little excursion out of the apartment and I also didn't need to put that last load of laundry away or tidy up!  I got to indulge in a little beauty and pampering and relax, transported to your beautiful studio, which is stocked with everything!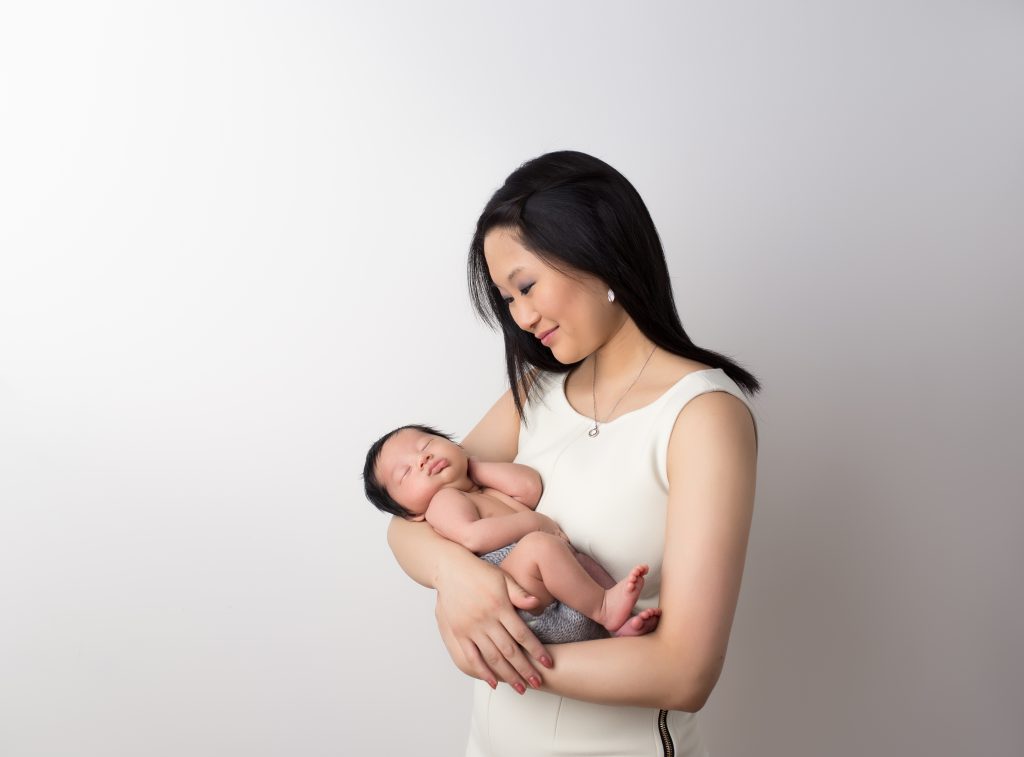 What are some things you recommend for soothing a baby?  How do you create a relaxing and comfortable environment for the shoot?
I learned that newborn soothing techniques are essential in photoshoot running smoothly.  If your baby gets fussy during the photo session, try these soothing techniques:

White noise: The sounds in the womb are very loud and they say it can be as loud as a vacuum cleaner. Some parents do not realize that, and try to keep quiet environment, keep voice low. Newborns will sleep much more soundly if there is white noise in the room therefore quiet environment isn't necessary, or even that helpful most of the time
A nice tight swaddle always seems to always do a trick and help newborn baby to relax
Keeping the room and baby warm
A pacifier can work wonders and sooth a fussy baby back to sleep
A little bouncing and rocking really helps in soothing babies
A nice and long very loud 'SHHHHHH' in the ear goes a long way and works like magic."
I remember with Bash, you introduced us to a baby shush app!  It was a game-changer!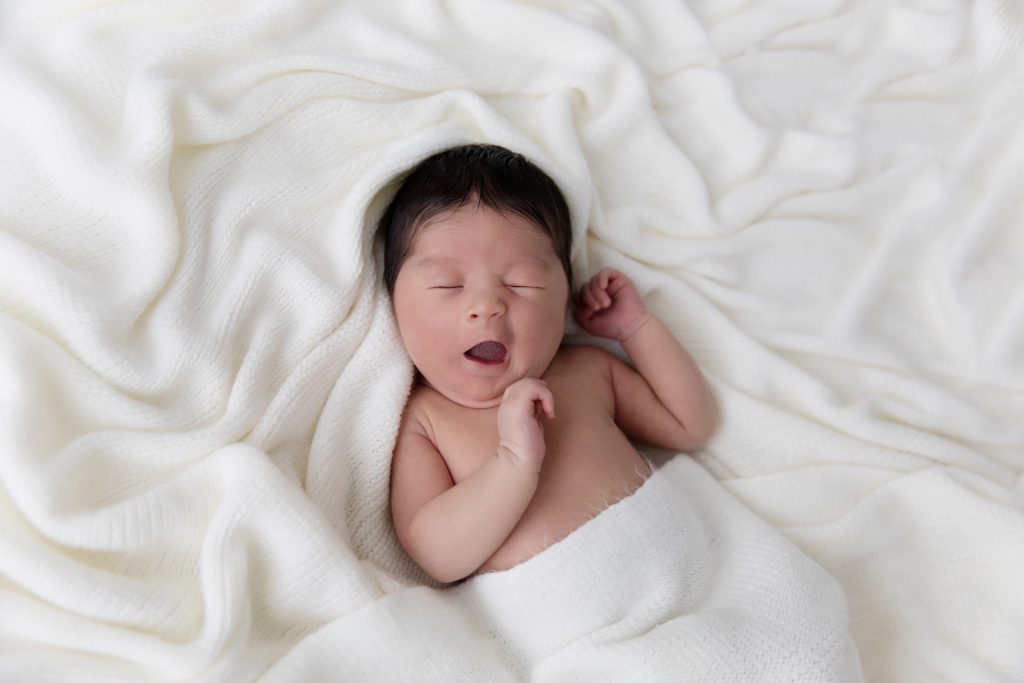 What are some of your favorite shots / poses?
Parents and natural baby images on a cream/white background."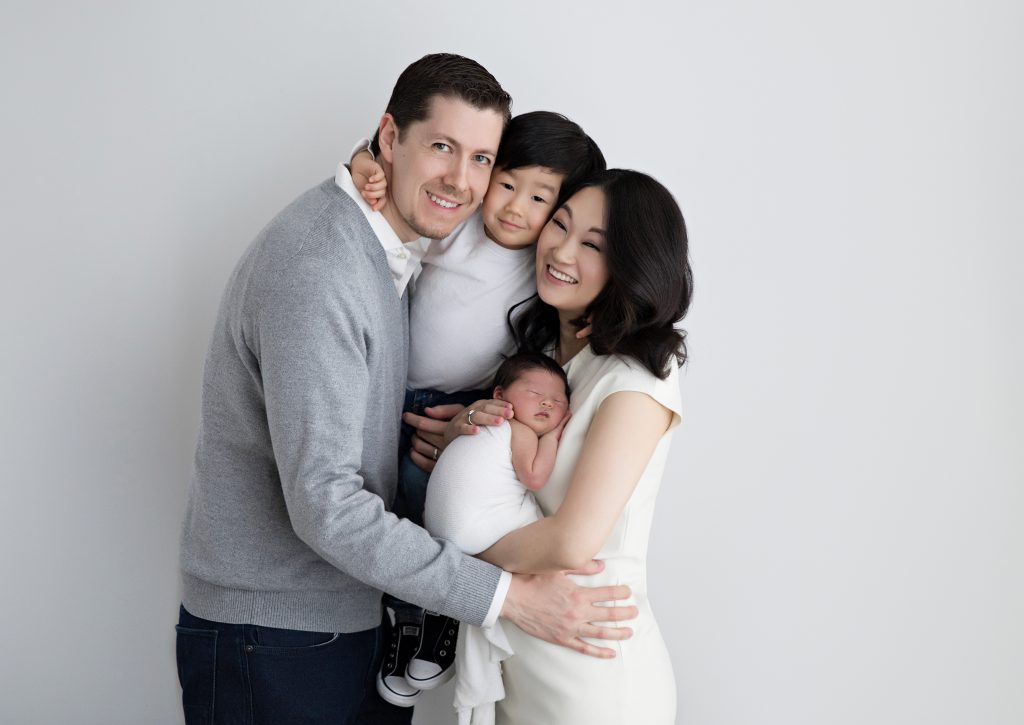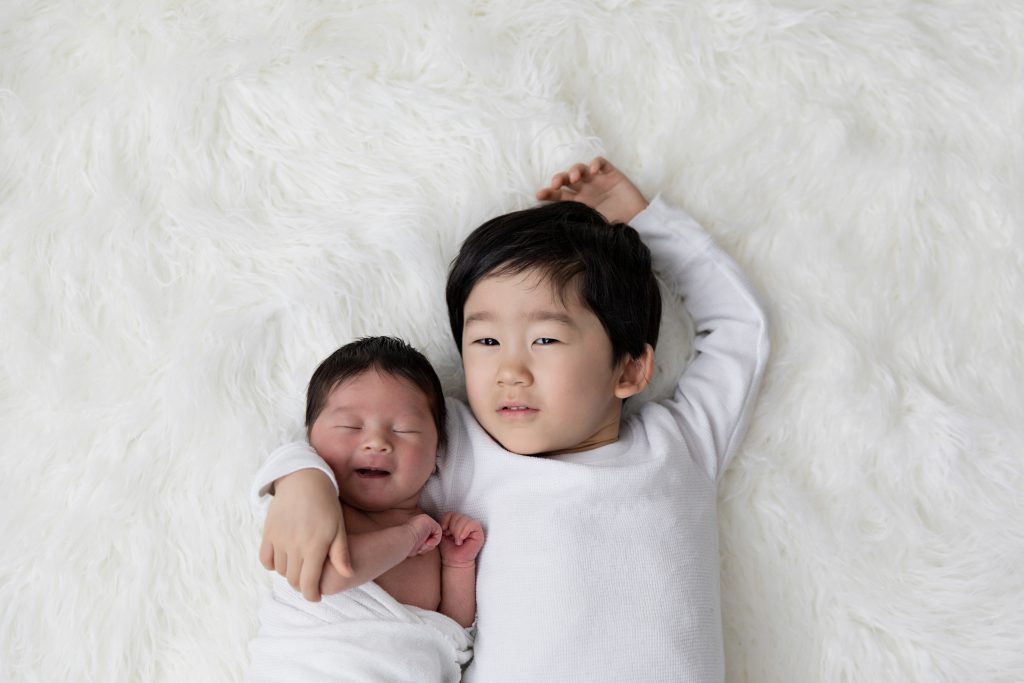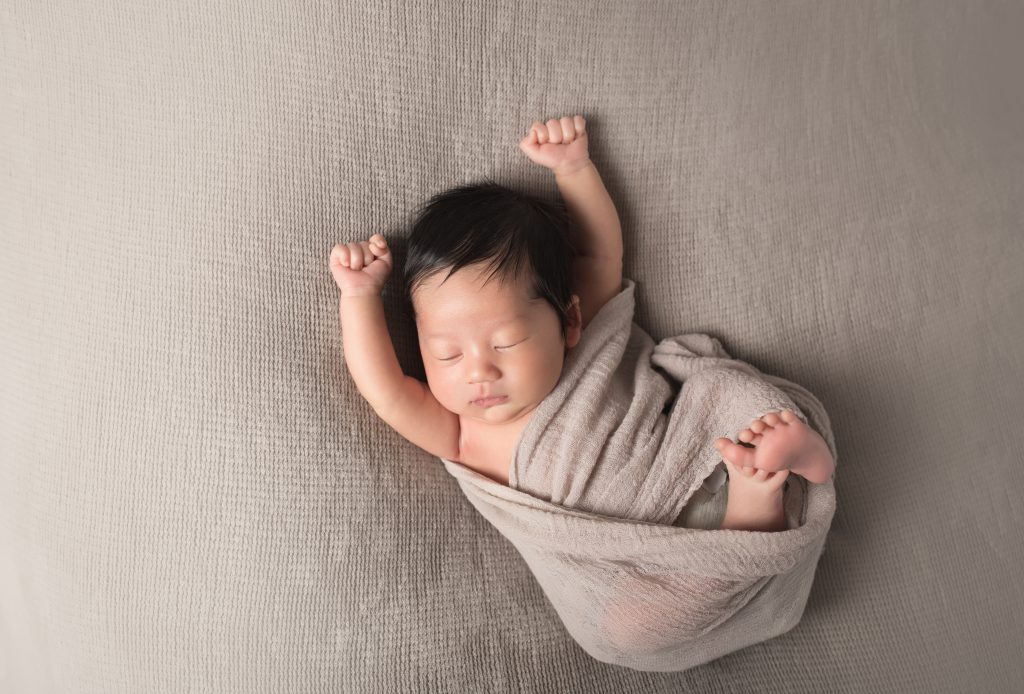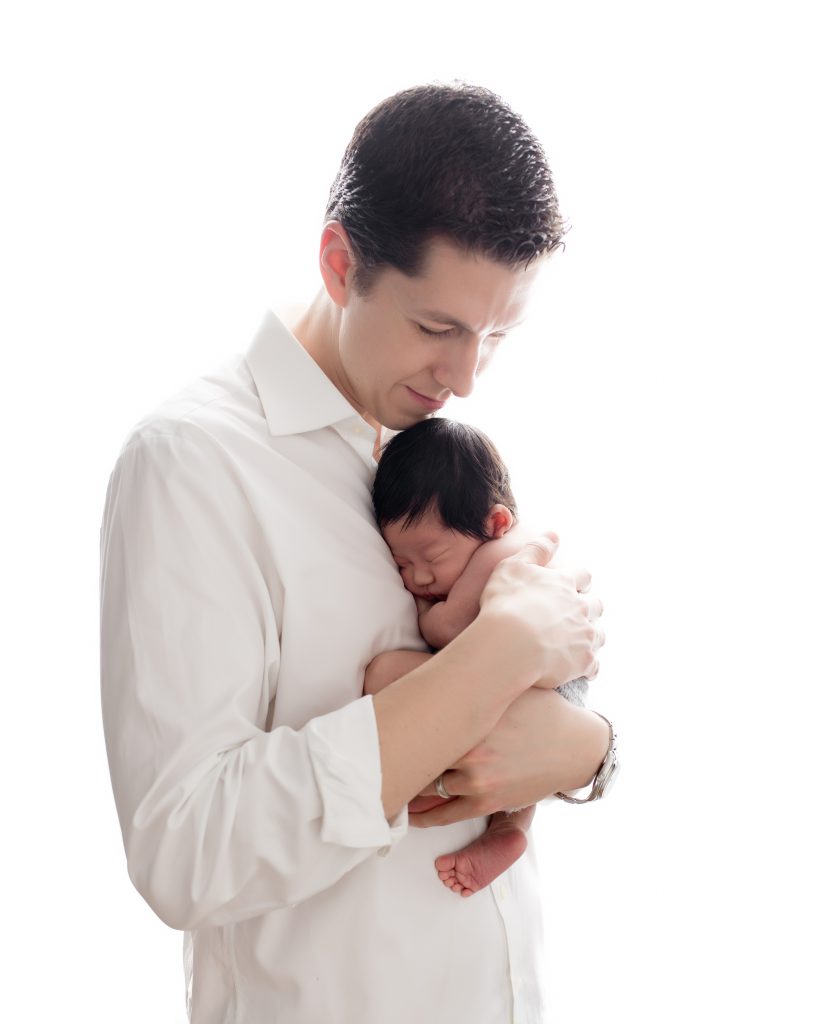 For more of Lola's amazing work, check out her online portfolio and Instagram @lolamelani.
Additional Tips, Inspiration, and Resources
Post-shoot, don't forget to splurge on prints and albums.  It's hard to find the time to get photos printed and your professional photographer will have access to the best photo labs for quality, calibrated color, and beautiful albums and accessories.
Some of my favorite newborn photo ideas on Pinterest
For maternity and newborn accessories, Sewtrendy, has a large selection
ItsyBitsyBlooms on Etsy has a great selection of newborn knit wraps and bonnets