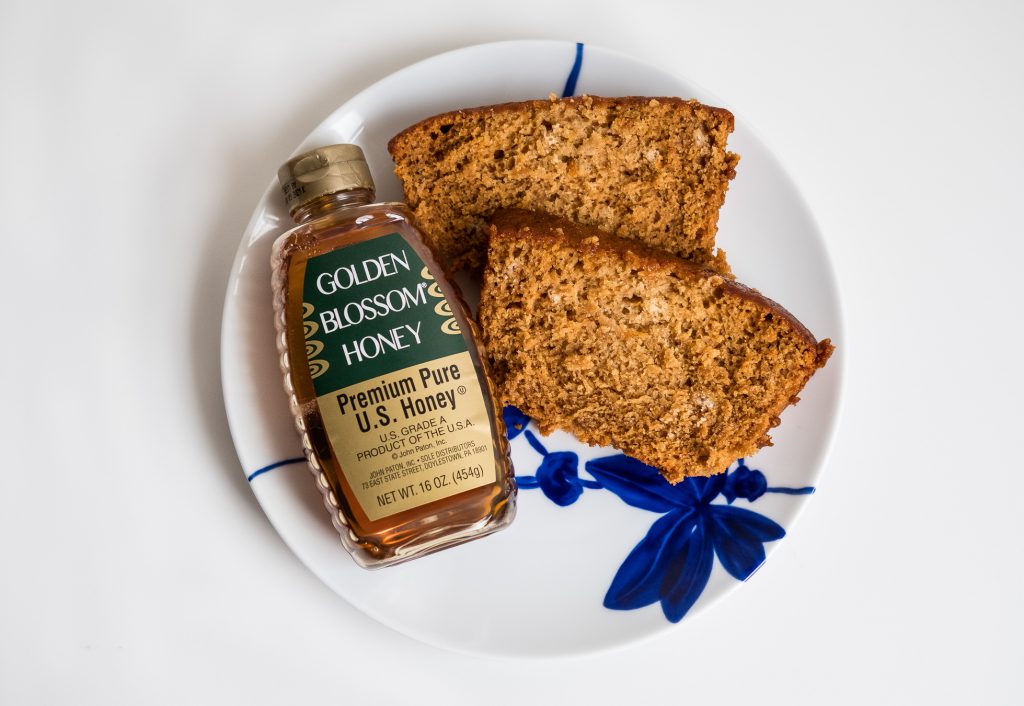 With Bash's severe food allergies (dairy, eggs, nuts, sesame), it's hard to find a suitable sweet treat. To top it all off, the kid doesn't even like chocolate, which he definitely didn't get from his momma! But, he loves honey: just a drizzle of sweetness on top of some Cheerios / granola / fruit and he's buzzin' with delight. Maybe it's the tangy sweetness or maybe he likes the concept that it's made by bees. Either way, it's nice to have "dessert" options that are safe for Bash.
So, when Golden Blossom Honey sent us some of their Premium Pure U.S. Honey, I immediately knew I'd try out a modified honey cake. While some traditional Eastern European honey cakes call for yogurt, I recalled that many Rosh Hashanah honey cakes are dairy-free. Plus, I figured that since apples and honey pair well together, applesauce would be an easy egg replacement. Now I have another go-to in my arsenal of food-allergy friendly treats!
Honey Cake
I adapted this honey cake recipe to accommodate Bash's allergies.
Ingredients
2 eggs (I substituted 1/2 cup of applesauce as an egg replacement)
1 cup sugar
1/2 cup vegetable oil (slightly less if using the applesauce as an egg substitute)
3/4 cup strong brewed coffee (I used decaf)
1 cup GOLDEN BLOSSOM HONEY
1 naval orange: zest and juice
1 teaspoon lemon juice
2 1/2 cups flour
1 teaspoon baking powder
1 teaspoon baking soda
1 teaspoon cinnamon
Dash of allspice (as preferred)
Instructions
Preheat oven to 350°F. Spray a 12-cup bundt pan or 9×5 loaf pan with non-stick baking spray.
Mix wet ingredients together:
Beat eggs (if using eggs) or add applesauce
Add sugar and beat one minute
Add oil, coffee, honey, orange juice, orange zest, and lemon juice. Beat one minute.
Mix dry ingredients together (flour, sugar, baking powder, baking soda, and spices) in a separate bowl.
Add dry mixture to wet ingredients and beat until just combined. Pour into prepared pan and bake for 50 minutes or until cake tests done (when a toothpick poked in the center comes out clean).
Remove to a rack and let cool 15 minutes. Remove from pan and continue cooling. Wrap tightly and let sit 24 – 48 hours before serving to allow flavors to come together further.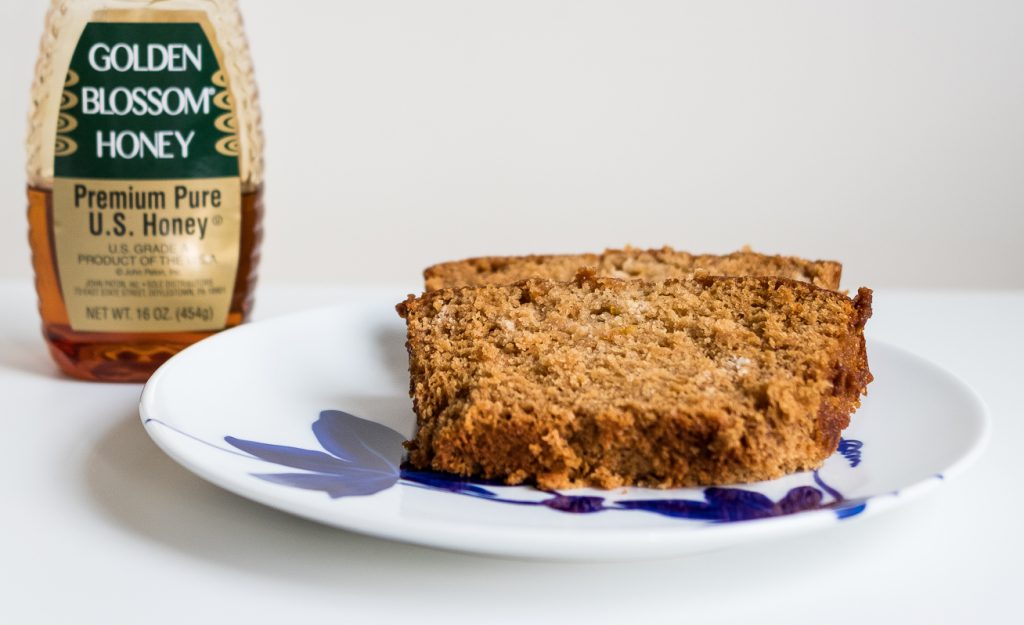 Additional Information
For more delicious honey recipes, check out Golden Blossom's website.