While I'm used to feeding Bash lunch everyday, there was something daunting about packing lunch for summer camp.  With some weekend menu planning, night-before preparation, and a few go-to pantry staples, we survived week 1!  And, surprisingly, packing lunch has actually been pretty easy and we are settling into a good routine.  Here's a recap and review of the preschool lunch boxes that I've selected to use for camp and the upcoming school year!
Lunch Box Review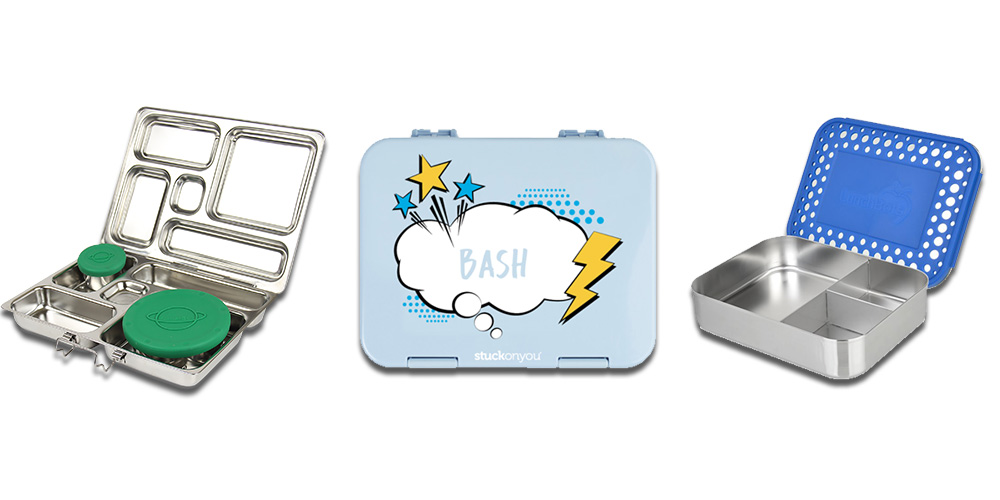 In addition to the LunchBots Trio, which we already owned, I stocked up and bought the Planetbox and Stuck on You bento-style lunch boxes.  Each has its own benefits and drawbacks, so it's nice to have a variety in the weekly rotation.
Stuck on You Large Personalized Bento (Kids):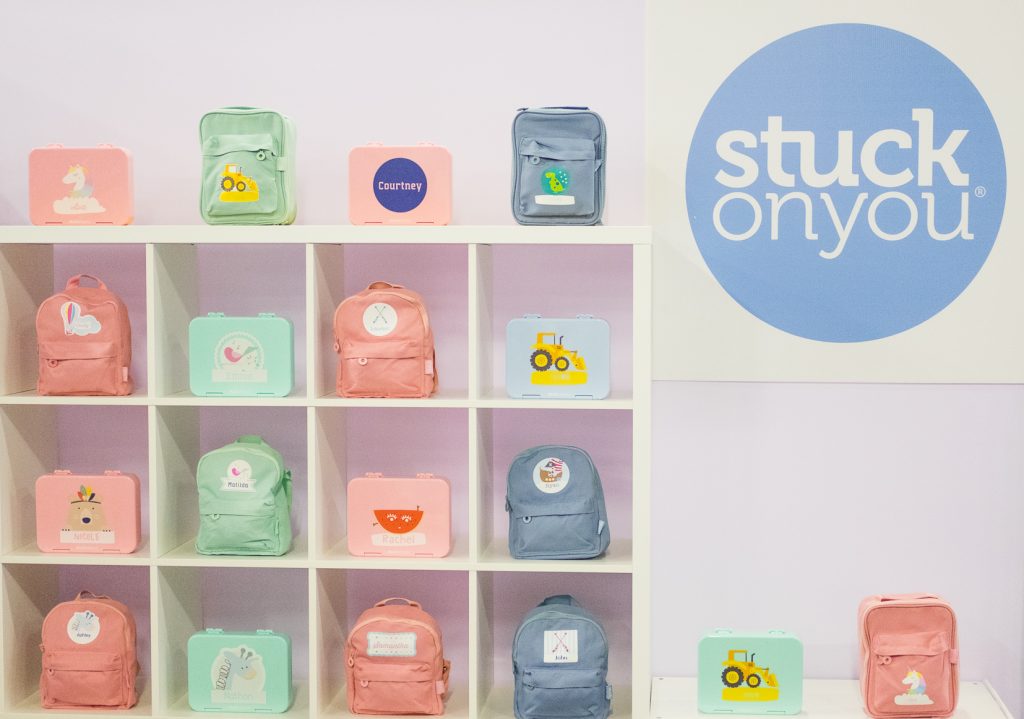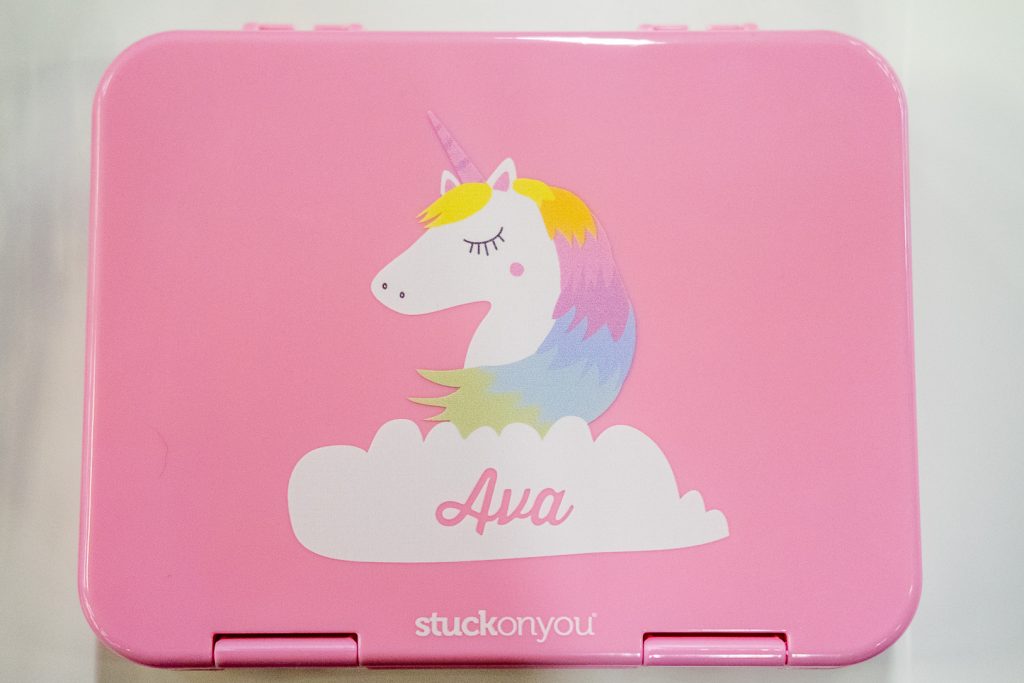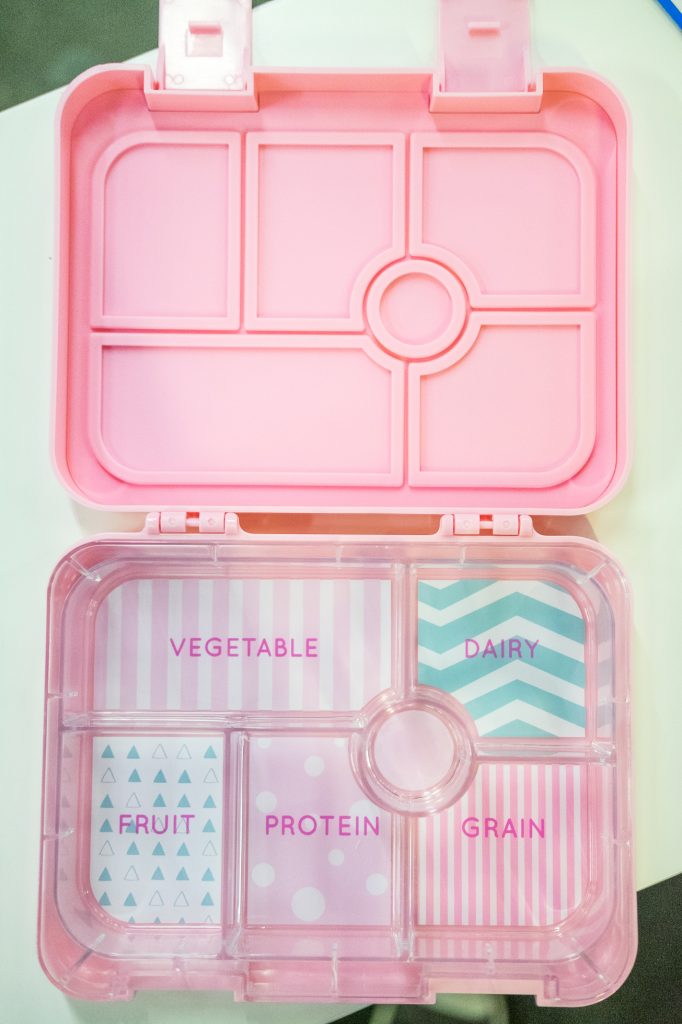 We were first attracted to this Stuck on You Bento Box lunch box at the NY Baby Show, spotting their wall of cute lunch boxes from across the room.  I love this bento-style lunch box, especially with its daily reminder to pack a healthy, balanced meal.  After testing out the lunch box, it has become one of our favorites and we even reached out to Stuck on You to share our enthusiasm.  Graciously, they are offering a 20% off discount off the Bento Value Packs (use BASH&CO18 promo code to redeem; good through September 2018).
In addition to the customizable, super cute designs, I love how it is a durable, easy to carry, sturdy lunch box.  The bonus: silicone gaskets on the lid make this bento box leakproof between the divided sections!  It's pretty easy to clean: just pop out the inner tray and toss in the dishwasher (top rack); the outer container is also top rack safe, but I usually hand wash using a brush to scrub the silicone gaskets on the lid.  While I usually prefer stainless to plastic, this box is free of BPA and phthalates.  With its slightly larger dimensions, (8.97in. x 6.88in. x 1.96in.), this lunch box doesn't fit into the PBKids or LL Bean insulated cooler bags we already owned (though it does fit easily into Bash's backpack).  So, we'll be buying the matching Bento Cooler Bag this week.
Planetbox Launch: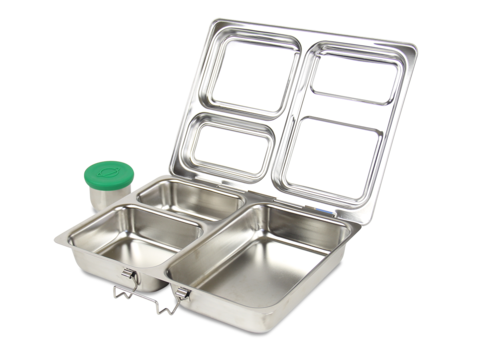 At $60, this stainless steel lunch box is the most expensive of the bunch, but may inspire some Instagram-worthy lunches.  We have the Launch, which consists of 3 compartments and includes a separate dip container for more liquid-based foods.  We also bought the accompanying Glass Satellite Dish, which fits into the large section of the Launch for foods that need to be reheated in the microwave.  I like this lunch box's one-piece construction, which fits in the dishwasher for easy cleaning.  This is also the largest lunch box (10 x 7.5 x 2 inches) and doesn't fit into our current insulated cooler bags, so yet another accessory purchase is in our near future.
LunchBots Trio: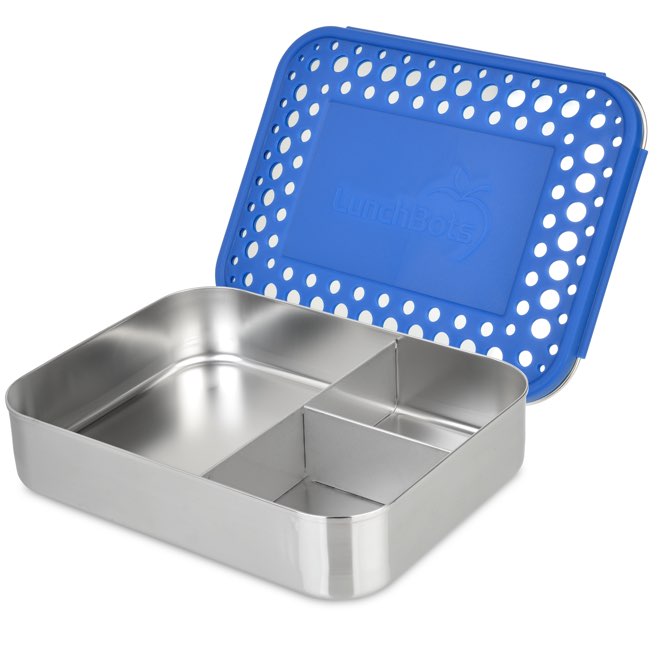 We've owned this LunchBots Trio bento box for over 2 years and have used it for picnic lunches.  Its durable stainless steel construction has held up great, is dishwasher-safe, and easily fits into our current insulated cooler bags.  It's a great lunch box for the weekly rotation, but this is one where you'll be limited to dry foods as it's not leakproof between the divided sections.  While it held up fine with fruit slices (think apple slices, not watermelon), skip the spaghetti with marinara sauce (speaking from experience!).
Accessories: We also like these LunchBots Rounds Non-Insulated Food Jars for snacks and these OXO Reusable Silicone Baking Cups serve a dual purpose when you need additional separation between foods.  For hot foods when reheating isn't an option, we like the LunchBots Thermal containers and the Thermos Foogo.
Final Comments
Having multiple lunch boxes on hand has really helped ease the burden of packing lunch everyday as we always have a clean container on hand.  Although each of these are different in both look and size, I would highly recommend investing in the bento-style lunch box as they accomplish their job of keeping Bash's food organized and ready to eat.