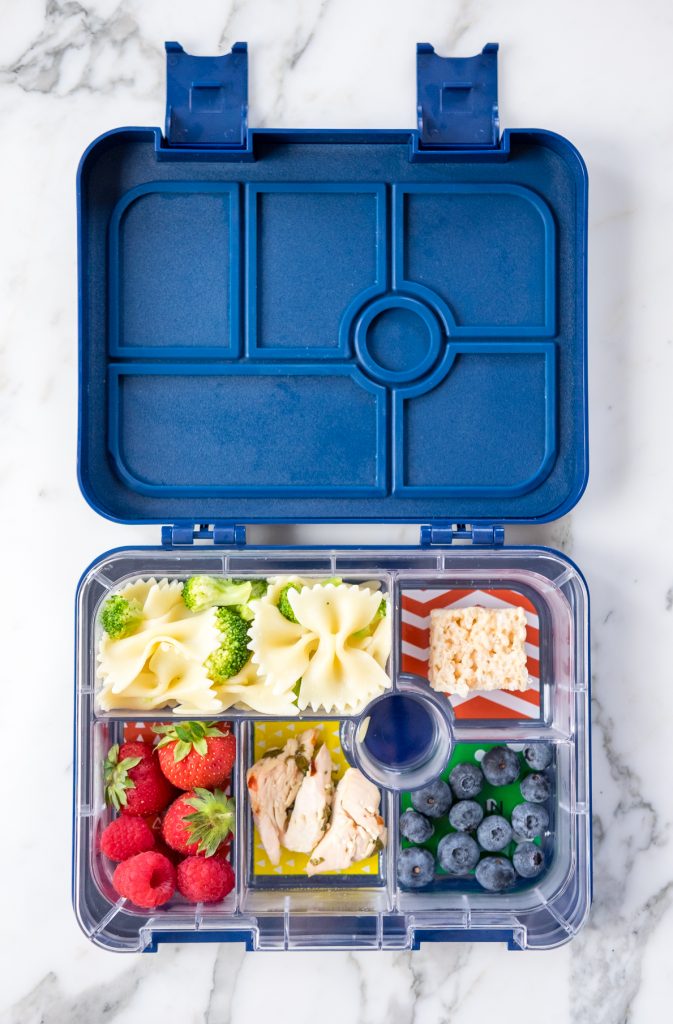 Since he was a baby, Bash has had severe food allergies to dairy, eggs, nuts, and sesame.  His dairy allergy is so severe that I had to use the Epi Pen after he had an anaphylactic response to less than a teaspoon of greek yogurt and we also had a scary episode where we needed to call an ambulance after he was exposed to almond flour and cheese particles in the air.  So we are sending lunch instead of the school-provided lunch and summer camp is our first test.
Thankfully, (allergies aside) Bash is generally a pretty good eater for a 3 year old.  While he can't get enough of french fries and bacon, he counts broccoli among his favorite foods (as it "will make me big and strong like daddy"), likes a healthy dose of spicy foods, and usually enjoys trying new things (at least sampling a taste and then giving his opinion).  For dinner, we never make him a separate meal and I'm not shy with spices and strong flavors; rather, he eats the family meal and I've tweaked our recipes to avoid the foods he's allergic to.
To make it easier during the week, I spend time over the weekend menu planning.  I've been doing this for our week night dinners, so it's a simple extra step to coordinate lunches.  I prep his lunch box (see our review of lunch boxes here) the night before and keep it in the refrigerator overnight so mornings are a breeze (okay, it's still hectic, but this helps control the chaos).  I try to make everything cold-friendly but have asked school to warm up a couple of entrees (in which case, I use the Planetbox Glass Satellite dish).
Here's a recap of our dairy-free lunches from our first week of summer camp!  And, if you're looking for a new lunchbox, our friends at Stuck on You are offering a 20% off discount off the Bento Value Packs (use BASH&CO18 promo code to redeem; good through September 2018).
Week 1 Lunch Menu
Monday: (Planetbox Launch)
Tuesday: (Stuck on You Bento Box)
Entree: Farfalle pasta with broccoli; cilantro-lime chicken (recipe here)
Side: Strawberries, raspberries, and blueberries
Treat: Rice krispie treat
Wednesday: (Planetbox Launch)
Entree: Turkey sandwich
Side: Carrot sticks and haricot verts
Dip Container: guacamole
Treat: Abe's vegan blueberry muffin (my friend told me about these vegan, no milk / eggs / soy / nuts, muffins found at Whole Foods and Bash loves them!  During the school year, we even left some packages in the school's freezer so Bash could enjoy them as a substitute for cupcakes during birthday celebrations).
Thursday: (LunchBots Trio)
Entree: Ham sandwich
Side: Blueberries
Treat: Veggie straws
Friday: (Stuck on You Bento Box)
Entree: Chicken and veggies (broccoli, bell peppers, carrots, and butternut squash noodles) recipe here
Side: Rice
Side: Apple slices
Treat: Clemetine
What are your kids' favorite lunches?