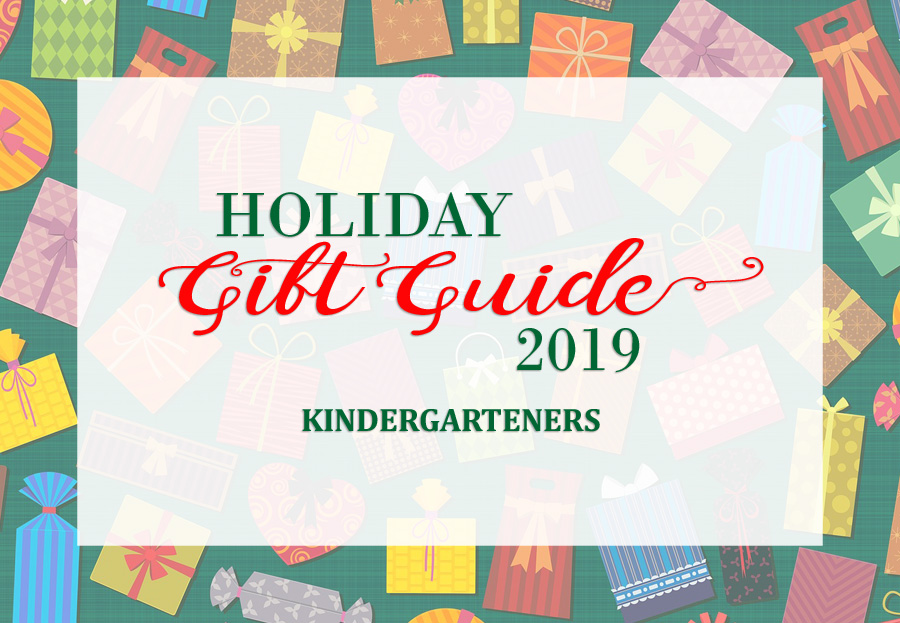 Tis the season for…holiday gift guides!  Welcome to our gift ideas for the Pre-K to Kindergarten set (4 to 5 year olds).  These are the toys and things that Bash has loved or is currently wishing for.  We've included character toys as well as more unique items that are well loved in our house (um, metal detector anyone?!).  We hope this list sparks creativity for you and your little ones!
Still need ideas for your other little ones: check out our previous posts of Bash's favorite things:
Stocking Stuffers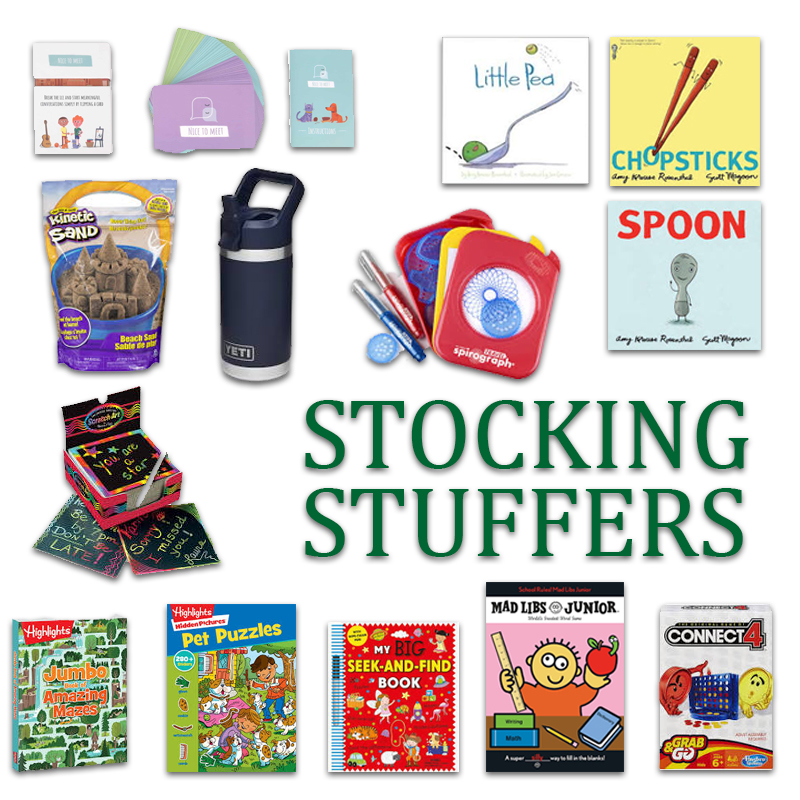 Feeloty Nice to Meet Conversation Starters: We love using these cards at the dinner table, especially when the standard, "so, how was your day…what did you do at school today?" topics get a little stale.  The gamificatation concept, simple illustrations, and open-ended objectives are perfect for the Pre-K set to understand and always generate some interesting family discussions.
Amy Krouse Rosenthal Books: Little Pea, Spoon, Chopsticks: Rosenthal's series of culinary-inspired books are highly entertaining stories that turn common child-related dilemmas into warm, heartfelt life lessons.  Bash appreciates their silliness and I find all the witty mom-puns hysterical.  Bash has adopted Little Pea's bite negotiation techniques and we find ourselves referring to Little Pea pretty much every night.
Kinetic Sand: While they may think this is a 3 lb lump of coal weighing down their stocking, once unwrapped, happiness will abound when they realize they can bring the beach indoors!  After Bash refused to leave the Kinetic Sand table at the TTPM Toy Fair (a toy trade show in NYC) this fall, I quickly realized this would be worth any potential mess.  Bash can play independently with this for hours, so that's a big win in my book.  Surprisingly, it's not as messy as I had expected.  Sure, Bash takes it out of the plastic box we store it in, buries all his toys in it, and makes sand sculptures on the floor of his room.  But, it's easy to clean – just clump it together to get the vast majority; anything else gets easily sucked up by the vacuum.
Highlights Book of Mazes, Highlights Hidden Pictures Puzzles Book, and Priddy Books My Big Seek-and-Find Book: These are great for independent play and on-the-go activities.  I keep one in the stroller at all times as it entertains Bash while I need to grocery shop, run errands, or when we need some adult conversation at the restaurant.
Travel Spirograph: This is already in my cart for Bash's stocking this year as his classmate's mom raved about how this kept her daughter entertained during their summer vacation.  Small enough to throw in a purse and fits standard post-it notes, so super compact and hours of fun = winning!
YETI Rambler Jr. 12 oz Kids Bottle with Straw Cap: Bash is always on the go, so he needs a water bottle that can keep up with his adventures.  Bonus: he will match Dad's cool gear!
Travel Connect 4: We may get a little over competitive with this game so clearly, we need a version to take on the go, all the time!
Melissa & Doug Rainbow Scratch Art Box: Bash got these last year and loves making scratch art.  They're great for restaurants, travel, and practicing writing.
Mad Libs Junior: Anyone else have a little goofball who loves telling jokes and making up silly stories?  Bash loves being a little jokester, though I have a feeling that every word is going to be "poopy"!
For Collectors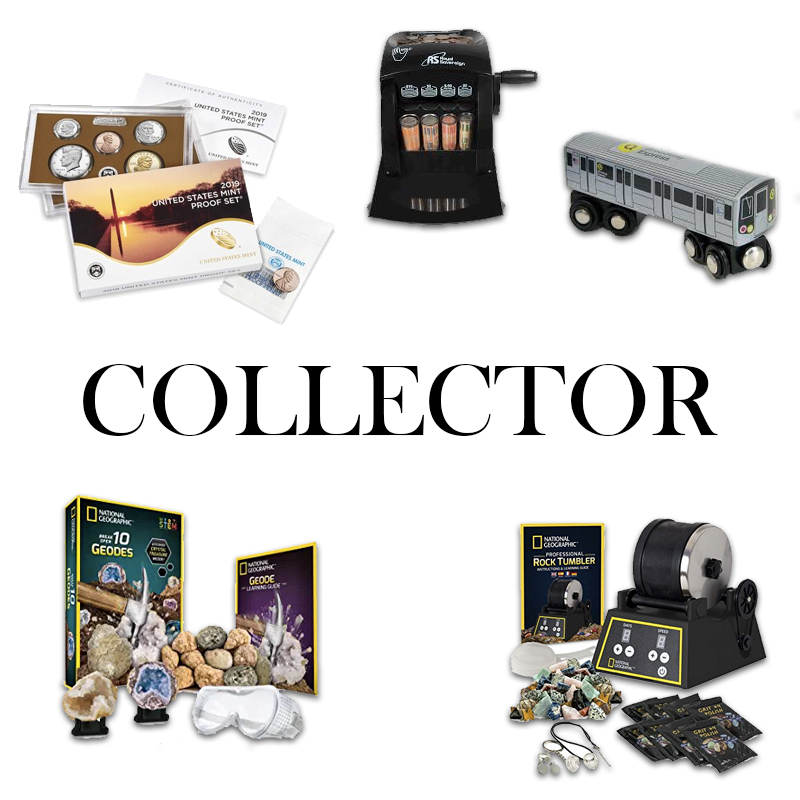 Coin Collectors: Bash is obsessed with coins and loves finding money.  Everyday, he comes home with change found in the subway machines or sidewalks.  (We carry a lot of sanitizer and wash the money)!  Bash likes to look through his money and find interesting coins (foreign countries, various years, and designs).  Last fall, we toured the US Bureau of Engraving and Printing in DC and learned how money is printed.  The gift shop had some really cool coins and bills collectibles, including this US Mint Proof Set (note: you can also request specific years, great for birthdays).  For the rest of the lot, we plan to get him this Coin Sorter so he can open up a savings account.
Wooden NYC Subway Trains: We continue adding to our 3 year old Brio train track with these NYC subway cars.  Pick up a free NYC transit map at any of the subway station info desks so you can see where each line takes you.  Or, better yet, visit the Holiday Train Show at the Grand Central NYC Transit Store or check out the vintage cars at the NY Transit Museum.
Rock Collectors: Bash is also super into collecting rocks and his bookshelf is starting to turn into a quarry!  I think he'd love this Rock Tumbler Kit and this National Geographic Break Open Geodes Kit.
For Adventurers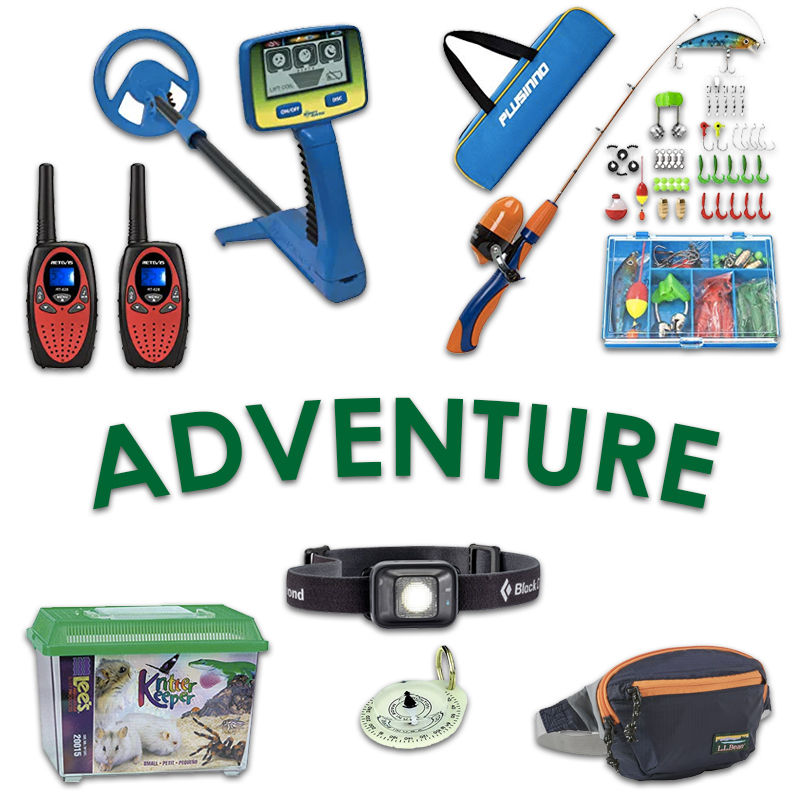 Metal Detector: Every weekend, we ask Bash what he wants to do and his first response is "metal detectoring" and then fishing (clearly he takes after his father!).  Bash has this Bounty Hunter Junior Metal Detector that he even brought to school for Show & Tell, Ask & Respond, along with some of the cool treasures he has unearthed.  A heads up for NYC residents, you need a permit to metal detect and should only dig in permitted places, or just be stealthy.
Kids' Fishing Pole: Nick and Bash have been on a fishing kick, spending every weekend fishing in the city or up in the Hudson River Valley (yes, they fish the Hudson River from the 72nd Street Pier; no, we don't eat the NYC fish!).  Bash has this fishing pole set and has caught striped bass, perch, and even an eel from the Hudson River!
Retevis Kids Walkie Talkies: Bash loves these easy to use walkie talkies.  We take them on adventures and also just play with them in between rooms at home because they add that much more to his imaginative play.
Kritter Keeper: We took this critter keeper ghost crab hunting in the Outer Banks this summer and we plan on using it for host Bash's class pet walking sticks over the holidays.  Just don't use it for fireflies; from our experience they can escape through the air holes in the top!
Little Explorer Bundle: Outfit your little explorer with a cool hip pack filled with exploring essentials.  Bash has this LL Bean Stowaway Hip Pack that he takes on all his adventures.  We keep it packed with the Black Diamond Iota Headlamp, compass, and magnifying glass.
For Builders and Tinkerers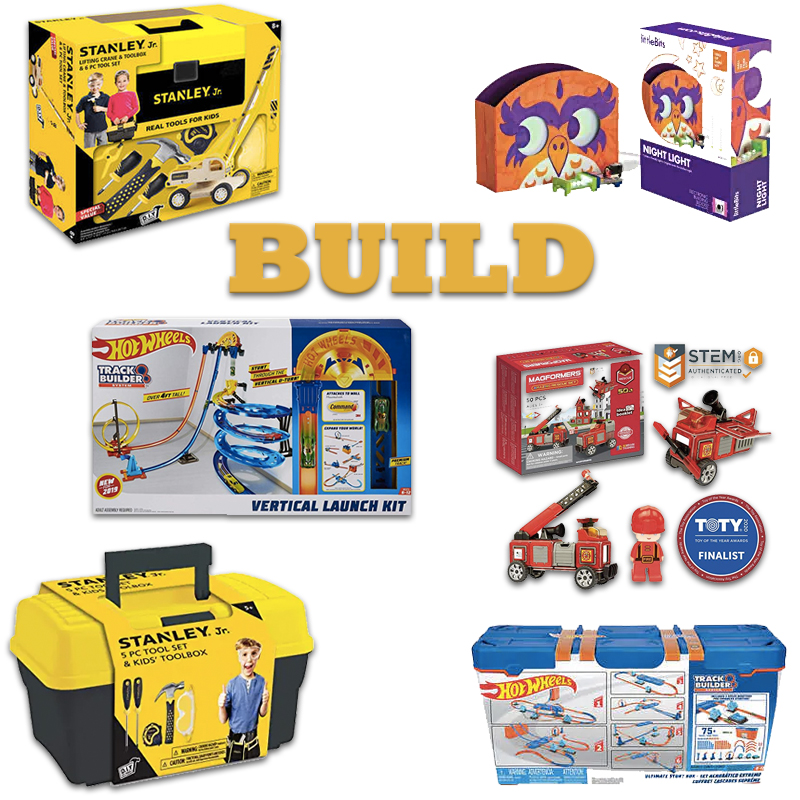 Little Bits: Little Bits was one of the coolest booths at the TTPM Toy Fair and we spent a good chunk of time building various gadgets.  These electronic circuit boards easily connect together via built-in magnets to create different gizmos that light up, power on, and amplify.  We have the Night Light Hall of Fame Starter Kit, which is a great way to introduce concepts of electricity, coding, and encourage little ones to create their own inventions.  The starter kits provide an easy introduction and can be supplemented by additional "little bits" which you can buy in sets or individually.
Magformers Amazing Rescue 50 Piece Set: We got to test out this Magformers Fire Rescue set and Bash loved it!  It's great for independent and imaginative play and also double as bracelets for Ava :).  Magformers has tons of different themed sets for various interests as well as various colors and add-on shapes.  So many ways to play with these!
Handyman Set: Bash loves being a helper and was probably the only one who was excited when a pipe broke under our sink one night, haha.  The next day when our Super came to fix it, he grabbed his toolset, shined the flashlight under the cabinet for him, and showed him where he had duct taped the hole (yes, he fully believes that tape will fix anything…so does his father!).  Teach them early how to build and fix things around the house with real kid-sized tools from Stanley.  Costco has a great Stanley Jr. set that includes the toolbox and 6 tools, plus a crane for kids to build.
Hot Wheels Tracks: Bash has a massive Hot Wheels collection, so what better way to put them to use and encourage his building interest than with this Hot Wheels Track Builder Vertical Launch Kit.  For Costco members with lots of room, this Hot Wheels Track Builder Stunt Box is pretty cool.
For Young Picassos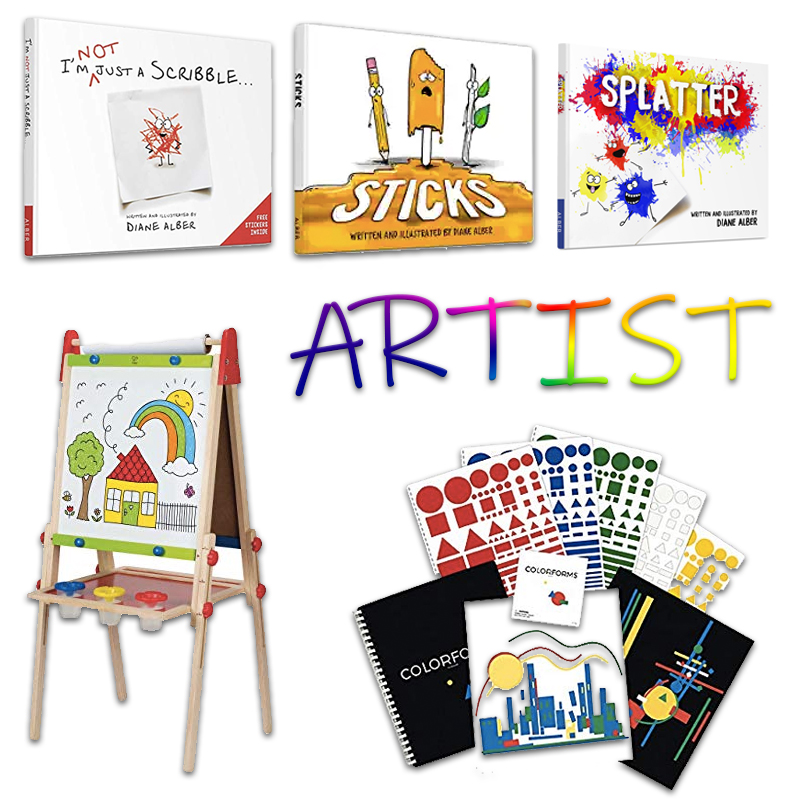 Diane Alber Books: I'm Not Just a Scribble, Sticks, and Splatter: These books are a wonderful introduction to art and also tell great, relatable stories of kindness, empathy, problem solving, and perseverance.  Add a few art supplies to the mix to make a great gift for budding artists.
Hape Easel: While we tried to stick with a tabletop paper dispenser for space reasons, we wound up getting Bash this easel a few months ago.  It has been a hit, easy for both Bash and Ava to use and we always have a masterpiece in progress!
Colorforms Original Set: I actually remember getting this Colorforms set as a kid and it was well loved for years.  Bash saw a few episodes of Charlie's Colorforms City while on vacation and was pretty enthusiastic about yelling out which shapes to use, so I think he will be really into these reusable sticker shapes.
For Stylistas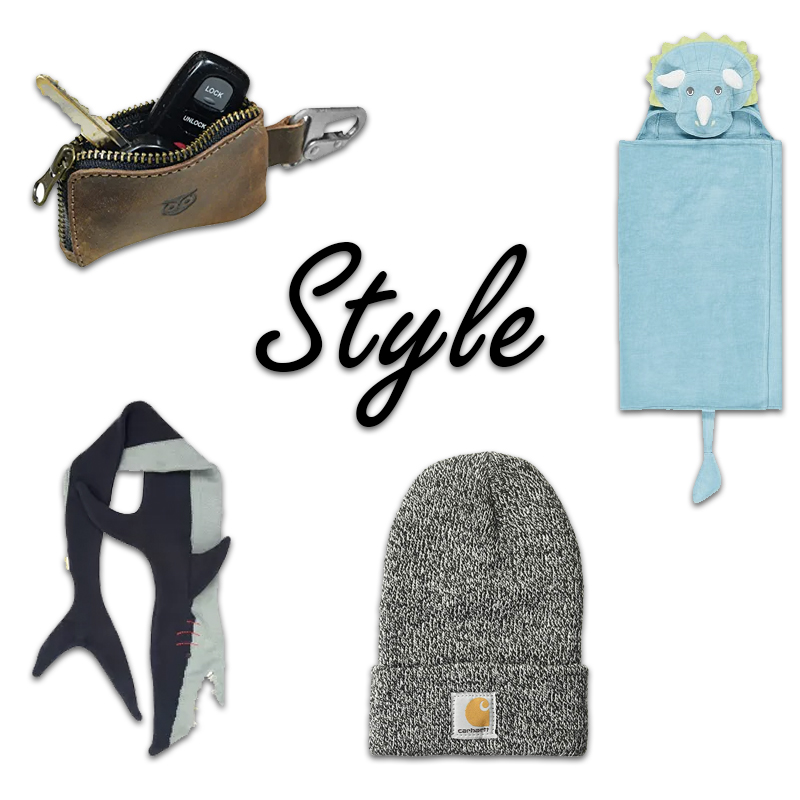 Wallet: Everyday on the way to and from school, Bash searches the sidewalks for money and surprisingly, he is always coming home with change.  We got him this small, leather keychain wallet which is the perfect size to store his treasures.  We keep clipped to his backpack or pants as he always checks to make sure he has his wallet before leaving the apartment.
Carhartt Matching Adult & Kids Beanies: You can never have enough beanies and the family that matches beanies together, stays warm together!  We like these for the color variety and that they are easily thrown in the washing machine and don't pill!
Meri Meri Shark Scarf: Keep them warm with these fun knitted fish / animal scarves.
Dino Kids Hooded Bath Wrap: This bath wrap is so cute and comes in a few different animal styles.  Our hooded baby towels are getting too small so we need to graduate to some kid-sized fun wraps.
For Character Lovers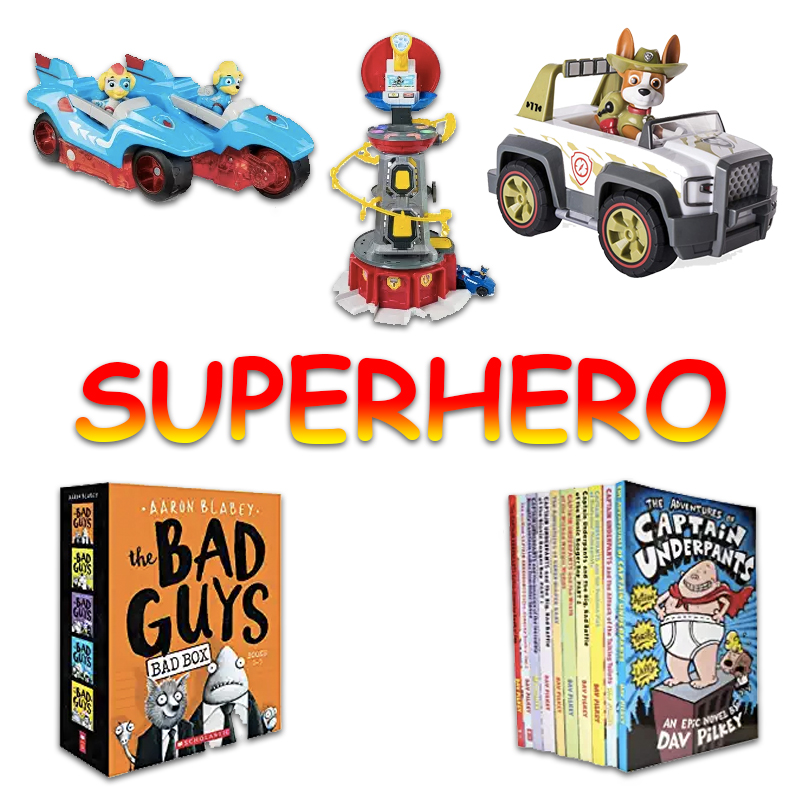 Paw Patrol: Bash and all his friends love Paw Patrol and even reenact pawesome adventures at the playground, so these are very high up on Bash's wish list.  We got to play with these latest Paw Patrol toys at the TTPM Toy Fair and even got them for Bash's best friends' birthday presents.  Bash has been begging for these ever since: Paw Patrol Mighty Twins Power Split Vehicle, Paw Patrol Mighty Pups Lookout Tower, and Paw Patrol Jungle Rescue Tracker's Jungle Cruiser.
Chapter Books: Bash has been really into chapter books this past year.  We've gone through The Bad Guys series (books 1 – 5 so far), which was a huge hit and we just finished the first of the Captain Underpants series.
For Gamers and Entertainers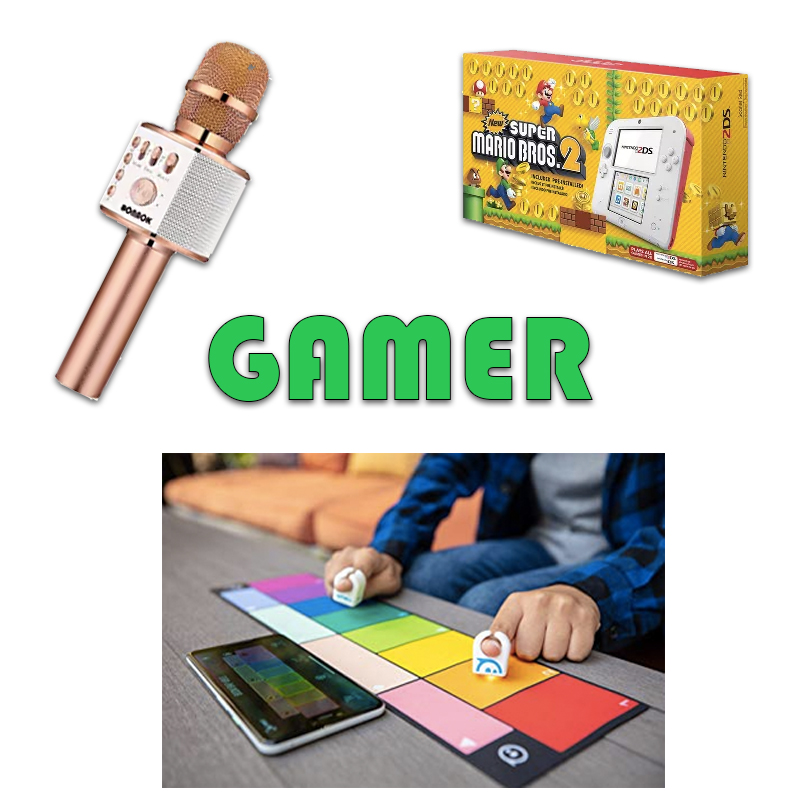 Nintendo 2DS: For travel and long car rides, this Nintendo will be a good alternative to Bash's Amazon Fire.  Or, very likely, Nick just wants this for himself, hahah!
Sphero Specdrums: We played with these at the Sphero / Little Bits booth at the TTPM Toy Fair and Bash couldn't get enough!  They are rings you wear on your fingers and can tap the color keyboard (or any colorful objects) as they transform color to sound.  The app allows you to record your sound and mix various beats.
Microphone: Bash loves belting out the latest Kidzbop hits along with a medley of old country tunes, folk songs, and classic nursery songs.  I can't think of anything that our neighbors will love more, haha.
For Movers and Shakers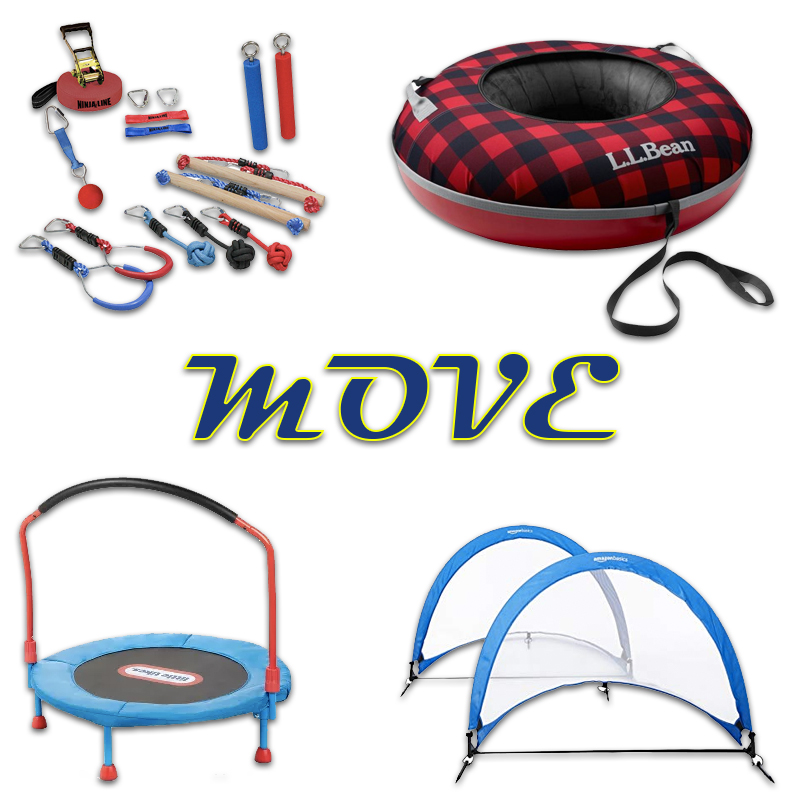 Slackers NinjaLine: If we had a backyard, this would be must have for Bash.
Little Tikes Easy Store Trampoline: Bash has been asking for this trampoline for awhile now.  I hope it will burn off some of his boundless energy!
Sonic Snow Tube: For our winter adventures this year, I think Bash will be old enough to enjoy some sledding and snow tubing.
Pop-Up Soccer Nets: Bash has been enjoying playing soccer at school, so these pop-up nets will be great to take along to the park once it gets a little warmer.
For Little Learners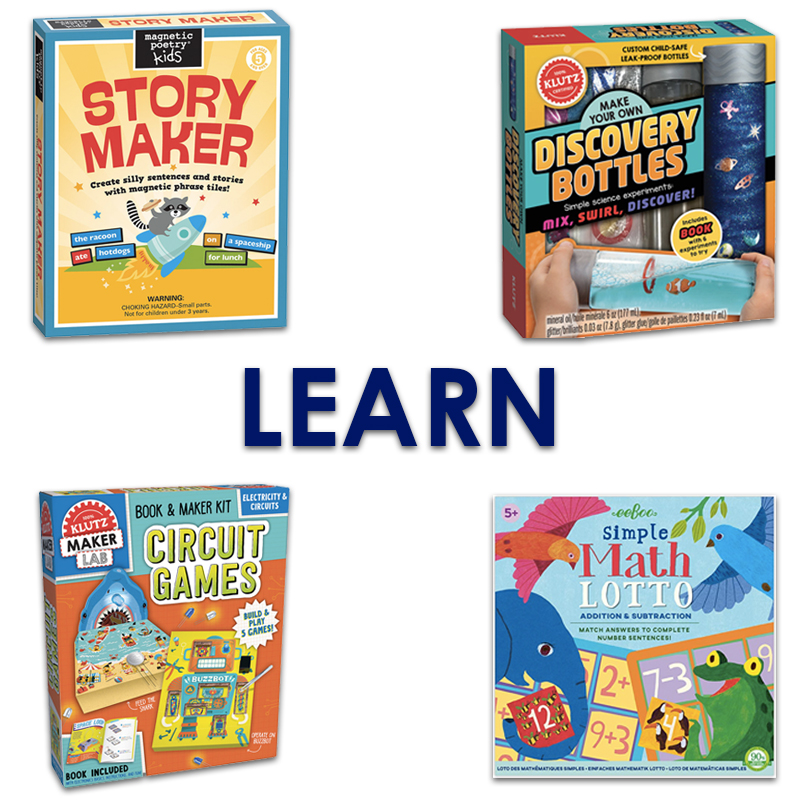 Magnetic Poetry for Kids: Bash loves making up his own stories and is learning how to spell and read.  This story-building kit will be a great reinforcement for learning sight words, grammar, and story composition.
Klutz Maker Lab and Craft Kits: We love having these Klutz kits on hand for rainy days.  From Make Your Own Discovery Bottles to Maker Lab Circuit Games, Klutz has great kits that are fun and educational.
Simple Math Lotto Game: Bash has also been really interested in numbers and math.  We love to teach addition and subtraction using his play cash register and I think this game will be a great addition to making learning math fun.
Tell us, what are your 4 – 5 year old kiddo's favorite toys, games, and activities?  What's on your list this year?