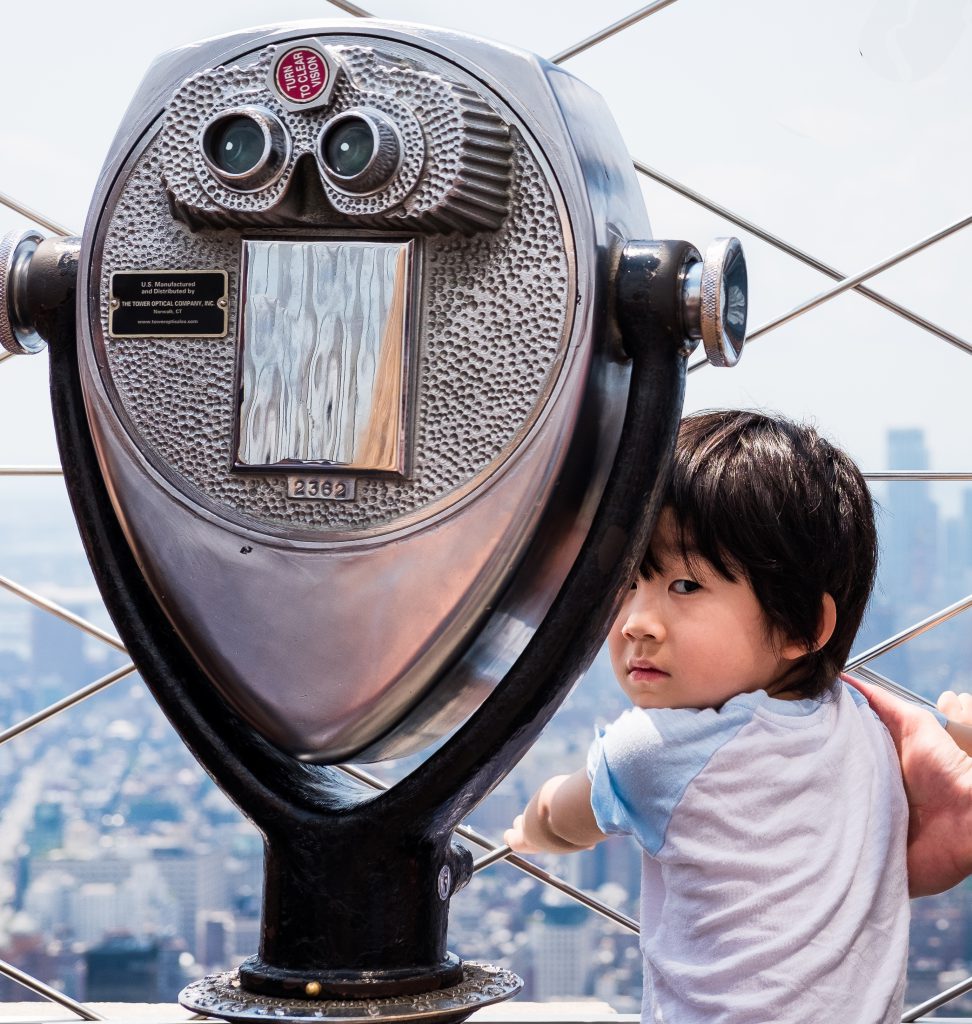 While we say hello to August, we'll also be saying goodbye to NYC as we get ready to head out on vacation (finally!).  But what a summer in the city we've been having this year.  Bash finished a wonderful time at summer camp and then we immediately transitioned to a mini staycation.  Some of Nick's family came to town, so it was time for our annual touristy showing off of our city.  We visited a few favorites and finally made it on a real boat tour.  It's always fun to be a tourist in your own city, gaining a new perspective, making memories, and hearing others' perceptions of the city you call home.  But don't worry, we kept our NYC status and didn't walk in a large group blocking the sidewalks, haha!
While I swear I had shin splints from #somuchwalking, the downtime after they left gave me some much needed time to rest my weary legs and go through photos.  Here are some classic NYC things to do and see that we recommend for first timer visitors.
Exploring Downtown NYC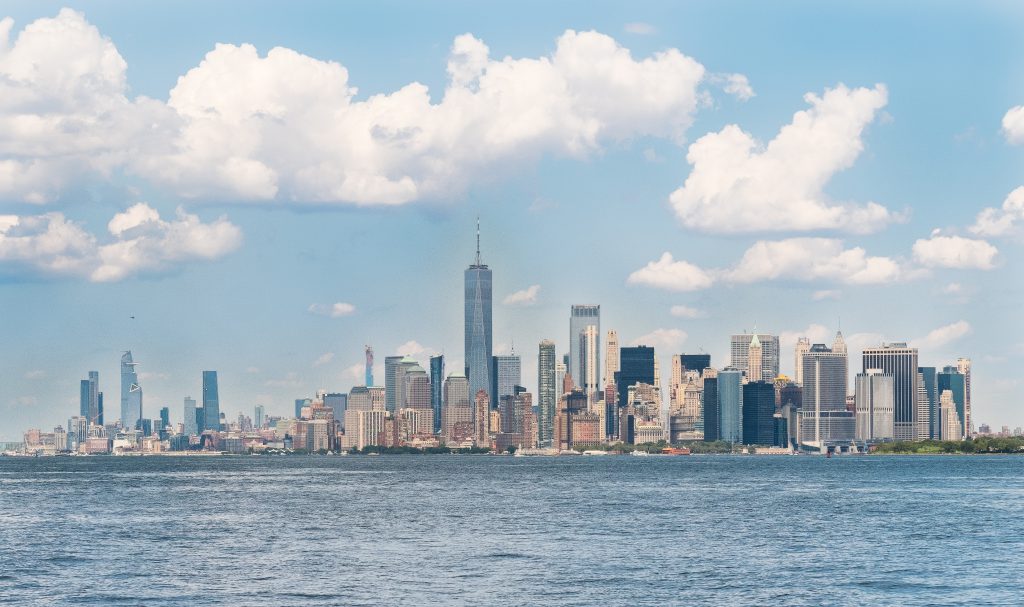 We sent our guests off to explore downtown's quintessential NYC sights: 9/11 Memorial and Museum, 1 World Trade Center, Oculus, Wall Street, Charging Bull, NYSE (anyone remember Trading Places?), Trinity Church (also where Alexander Hamilton is buried), and Stone Street (cute, historic cobblestone street that's a nice juxtaposition amidst the surrounding glass and steel skyscrapers).  While it seems like a lot to do, the tip of NYC narrows down quite a bit and these sights are all within easy walking distance.  You could even easily add in South Street Seaport on the east side for a nice respite and bite to eat.
Since we've been to those places multiple times and many of them aren't the easiest places for our 2 little kiddos (at this stage), we caught up with our guests at the Sea Glass Carousel in Battery Park.  Surprisingly, Ava got a little freaked out by all the action, so we just watched as Bash had a blast.  Note if you have multiple kids in tow, you must have an adult able to ride with each child under 42 inches.  Bash was like a hair shy of the cutoff so if it had been just me with both kids, we wouldn't have been allowed to ride.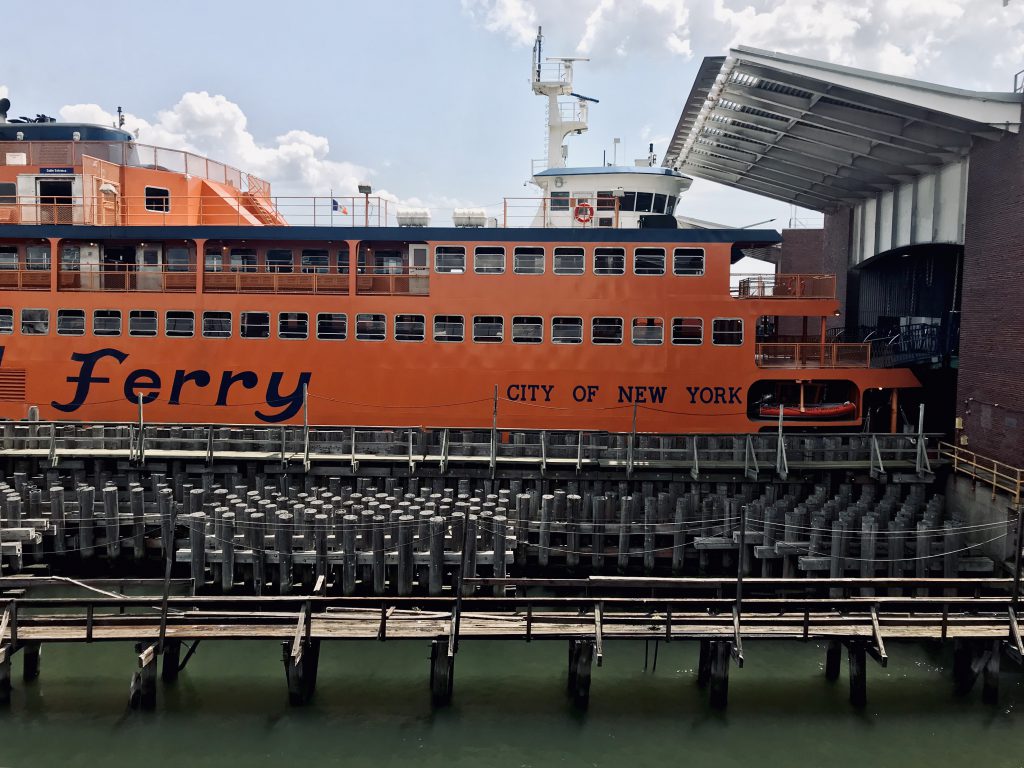 With a quick check of the ferry schedule, we decided to hop on the free Staten Island Ferry for a nice respite and view of the city.  Pro tip: the upper level boarding is likely the fastest access to the outer deck areas.  If you want views of the Statue of Liberty, stay to the right (starboard) when boarding from South Ferry / Whitehall station (NYC).  For a less crowded experience and great views of NYC's downtown skyline, head to the lower boarding area and then hang back by the outer back deck.  In good weather, they open the back deck and you can get great shots of downtown NYC, the Statue of Liberty, Governor's Island, and Brooklyn.  If you're boarding from Staten Island, head to the lower boarding area and make your way to the front of the ferry.  The outer deck will be closed by a short gate (forward direction decks will always be closed), but the doors will be open and you can get some great views while returning to the city.
Empire State of Mind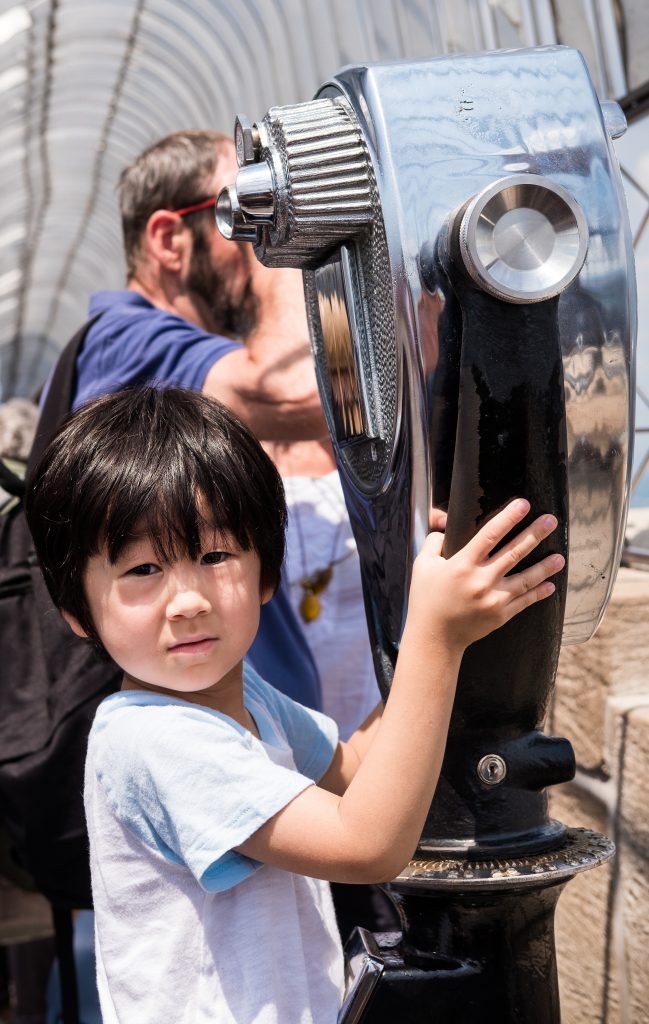 You can't leave NYC until you see it from the top of one of our really tall buildings.  While we've done the Empire State Building pre-kids, this time around, Bash had a blast!  The views are unbeatable and surprisingly, the lines weren't long at all.  The elevator ride with video is super fun for kids and the second floor recently opened a whole new set of interactive exhibits.  We used our City Pass C3 Pass, which offers admission to 86th Floor Main Observation Deck (you can also add upgrades at the ESB ticket desk upon arrival).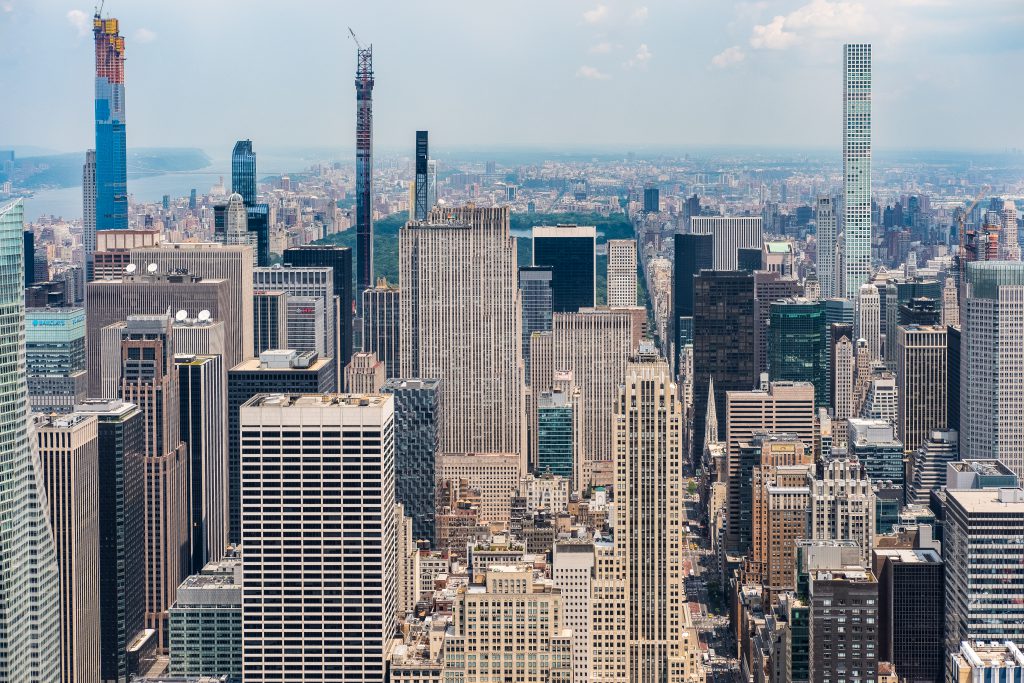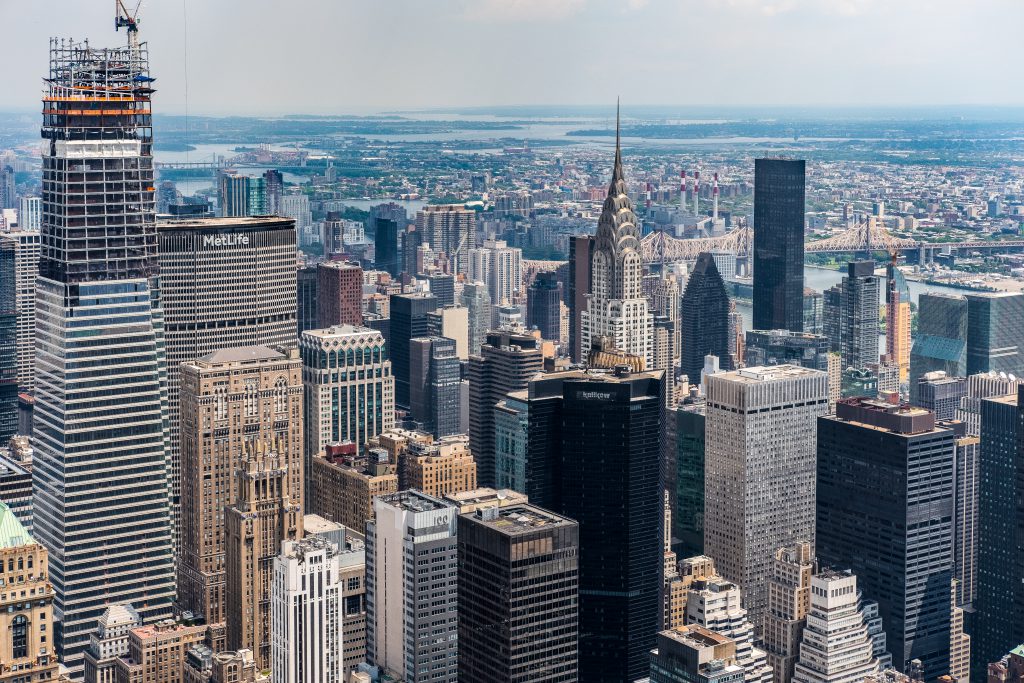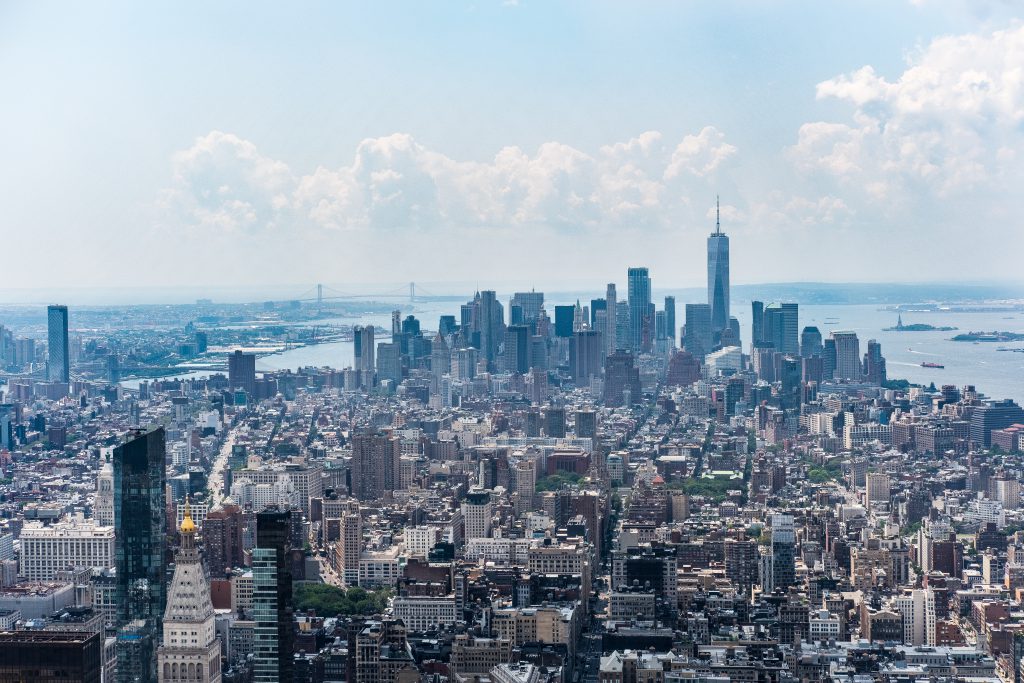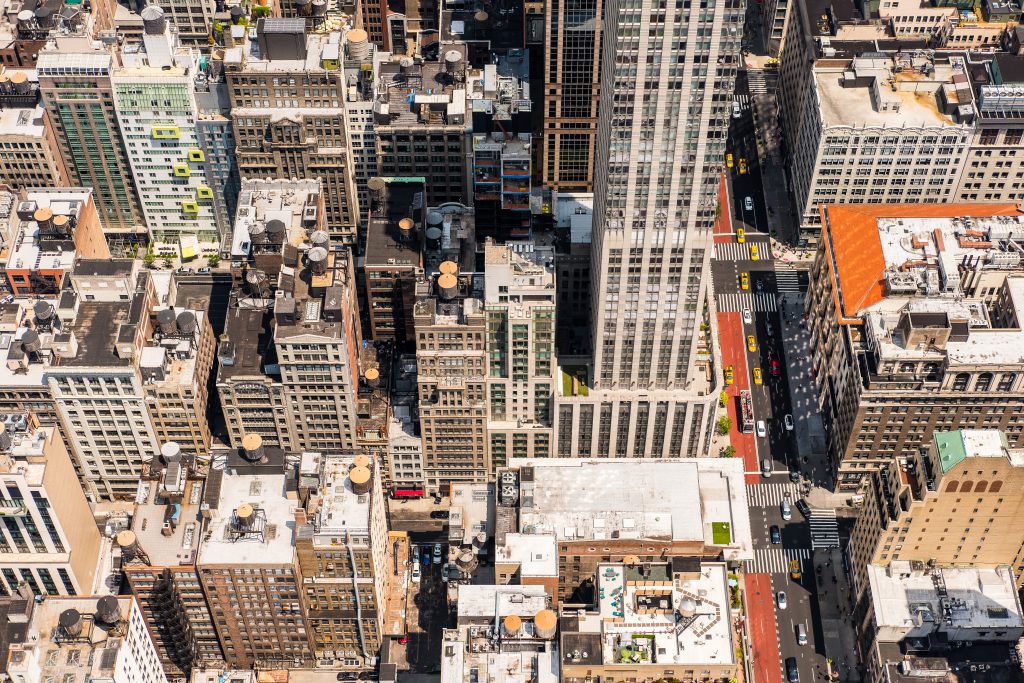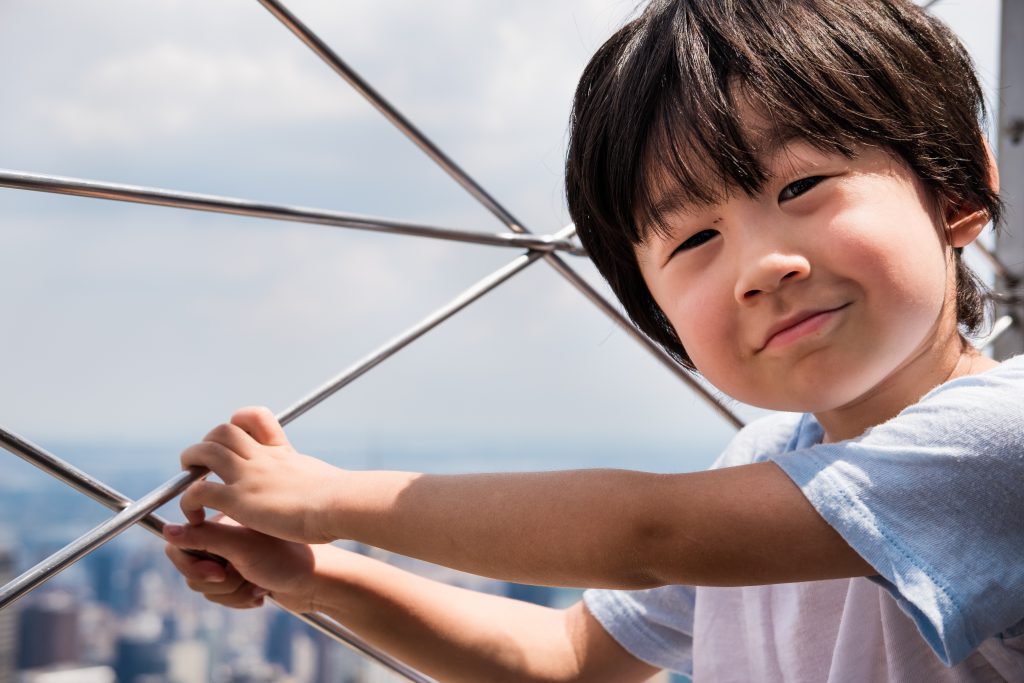 DUMBO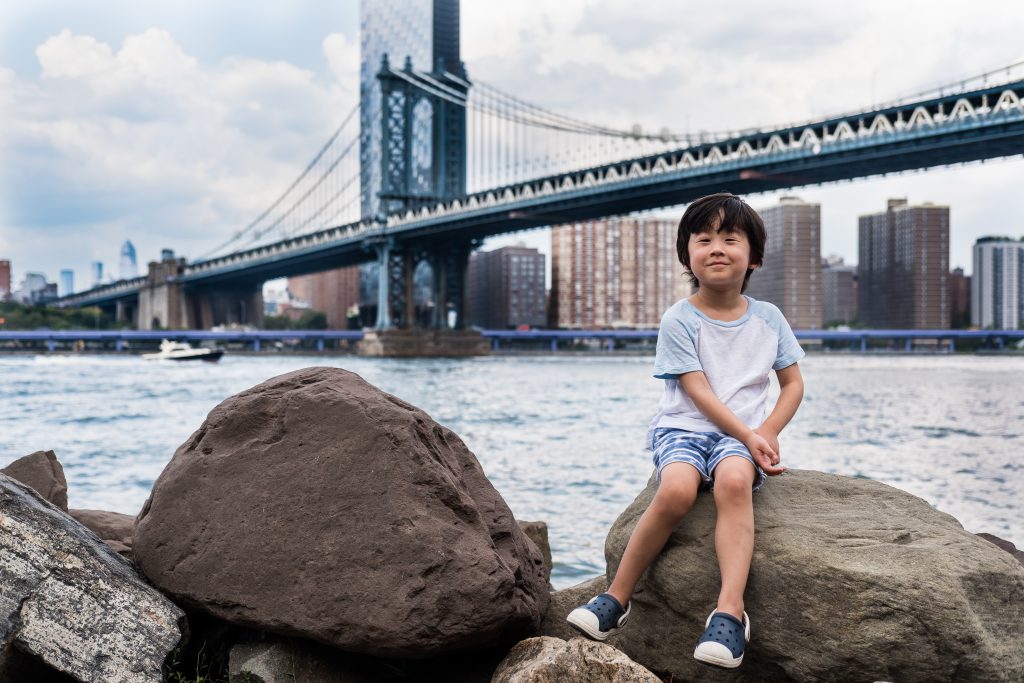 From the ESB, we hopped on the F train and headed to DUMBO, for a different perspective of the city.  Of course, we had to walk down Washington Street for that Instafamous pic of the ESB framed by the Manhattan Bridge shot and then along the waterfront for all touristy pictures.
My highlight was lunch at the Time Out New York Market which houses so many of our (and the rest of New York's) faves all under one roof (and rooftop!).  Our guests indulged in Jacob's Pickles (and then went back to the real thing in our UWS hood the next day), while we finally got to savor Clinton Street Baking Company pancakes and waffles (totally worth the 1.5 hour wait in the LES, but the bonus is no lines at the TO Market location).  Bash lived it up with some Pat La Frieda and Ava, well, this little foodie sadly slept through it all.  Sorry, but there was just no time for photos because we were too busy stuffing our faces.
After lunch, we made our way over to Jane's Carousel, because who doesn't want to go around in circles after a major smorgasboard?!  At least this time Ava was able to join in on the fun.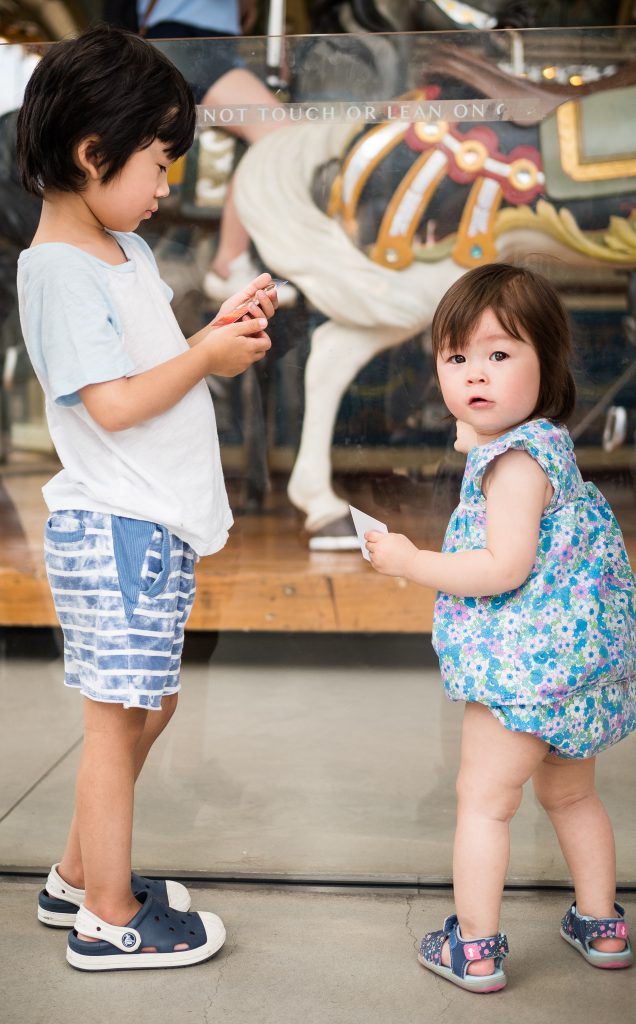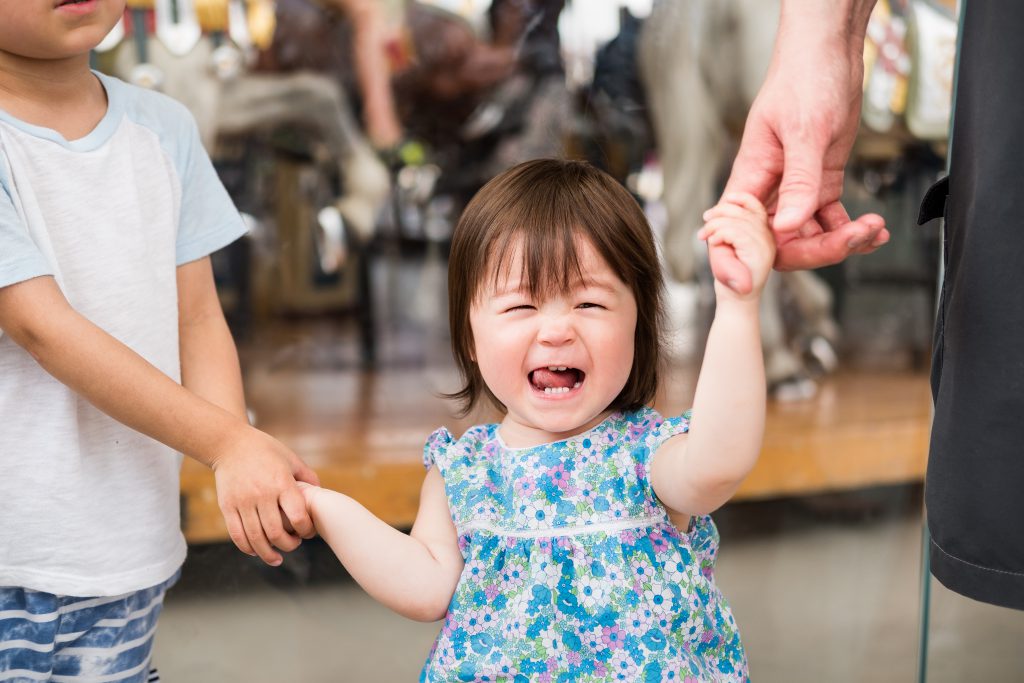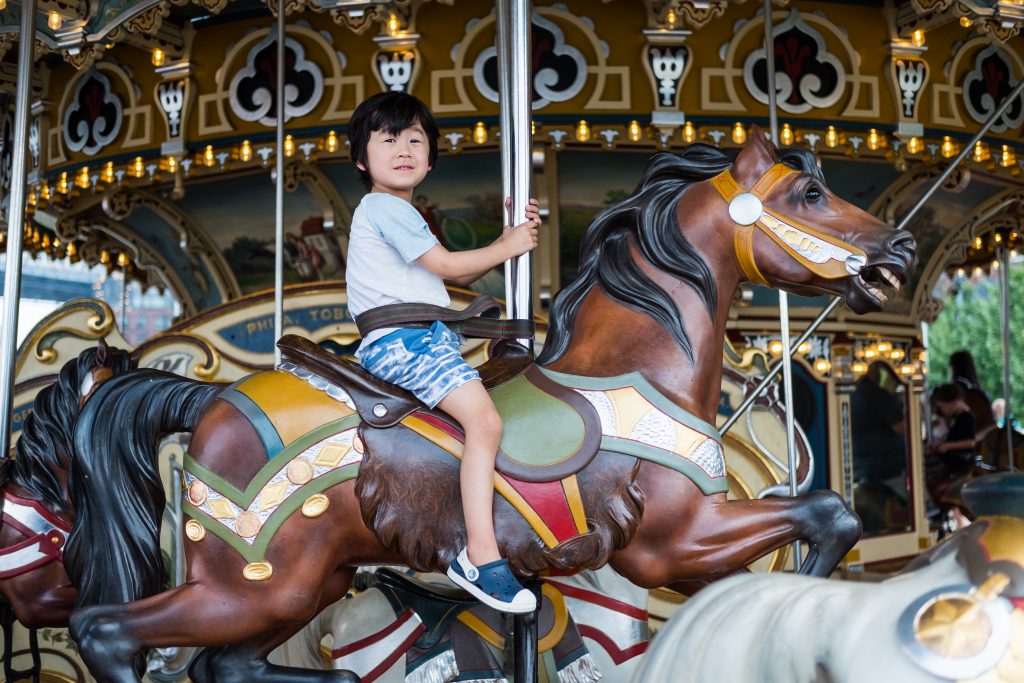 While the Brooklyn Bridge Park playgrounds are always a favorite, it was getting too hot for us in our food comas.  Originally, we had ambitious plans to walk back across the Brooklyn Bridge with a Lizzmonade in our hands, but with 2 kiddos in tow, we decided to call it an afternoon and take the subway back to the UWS.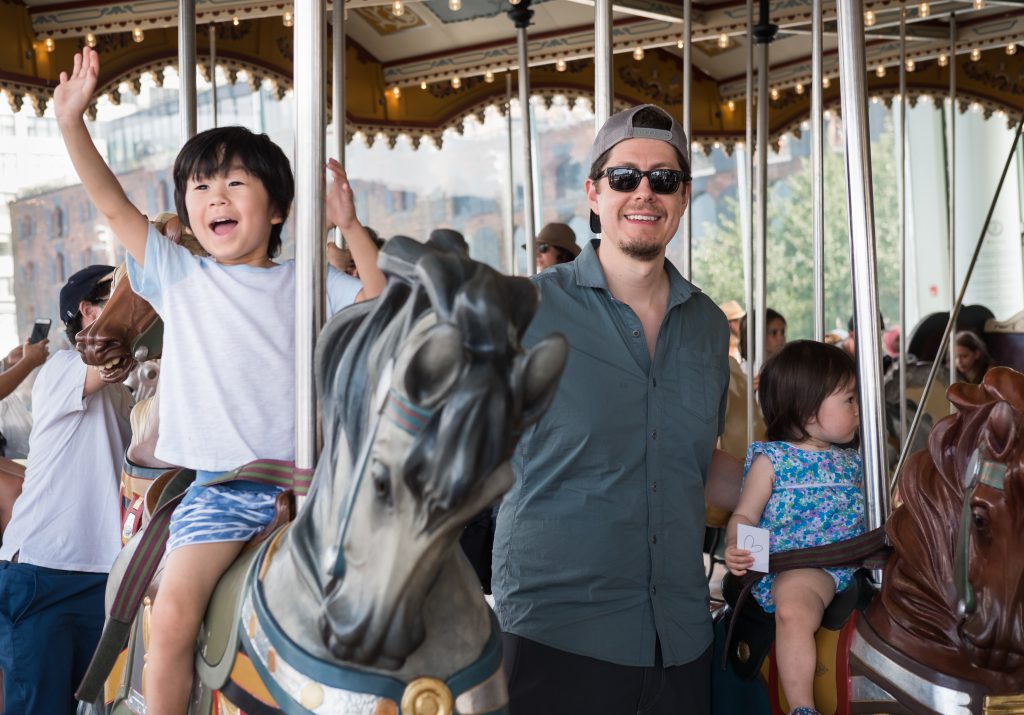 Circle Line Boat Tour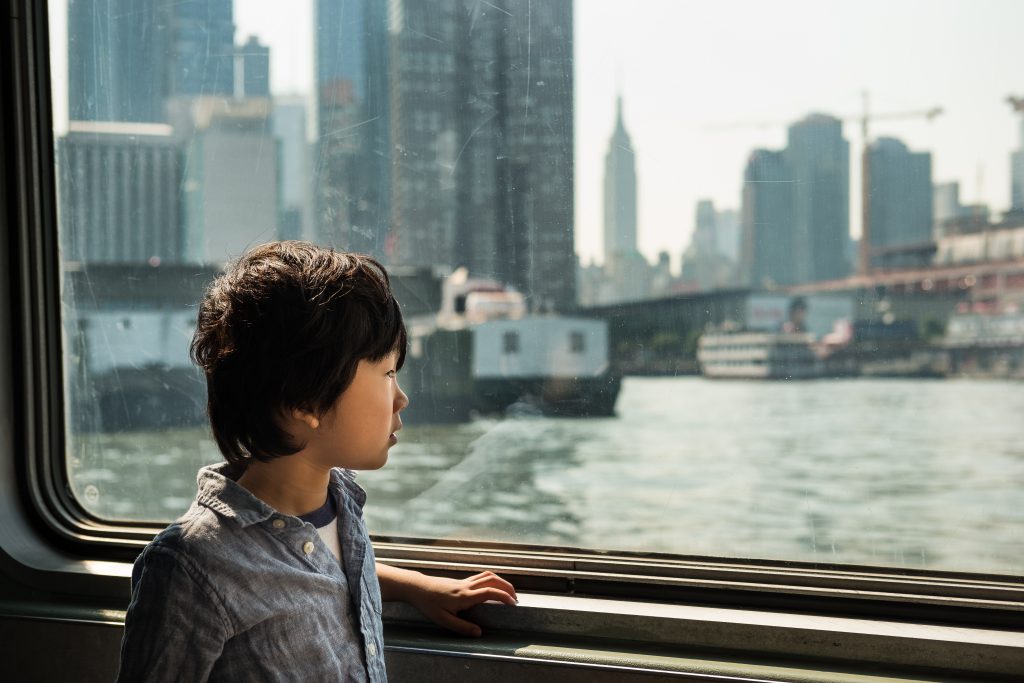 I can't believe we've never done a boat tour of NYC before!  With our City Pass C3, we could select from a variety of activities, including 3 water-based tour options (Ferry access to the Statue of Liberty and Ellis Island, Circle Line Sightseeing Cruises, and / or Hornblower Sightseeing Cruises).  We selected Circle Line's Best of NYC guided tour that circles the entire island of Manhattan.  Note for City Pass C3 users, this tour is an extra $5 per person at the ticket booth and children older than 3 require a paid ticket.  There is also a "premier" option with VIP seating for an additional cost, which provides reserved seating on the upper deck under the shade.  Otherwise, try to board early to snag one of the remaining shaded upper deck seats.  While the open upper deck was still available, we decided to sit inside because it was so hot and so the kids could walk up and down the aisles.  We also hung out on the smaller back deck, which they open up once the boat is in motion.  While the front deck was elbow-to-elbow packed, the back deck wasn't crowded and affords nice up close views of the Statue of Liberty, especially since they turn the boat right next to the Statue so you get unobstructed views.  A couple more logistics: strollers are allowed on board and while there are no changing tables in the restrooms, there is large enough counter space for an impromptu change.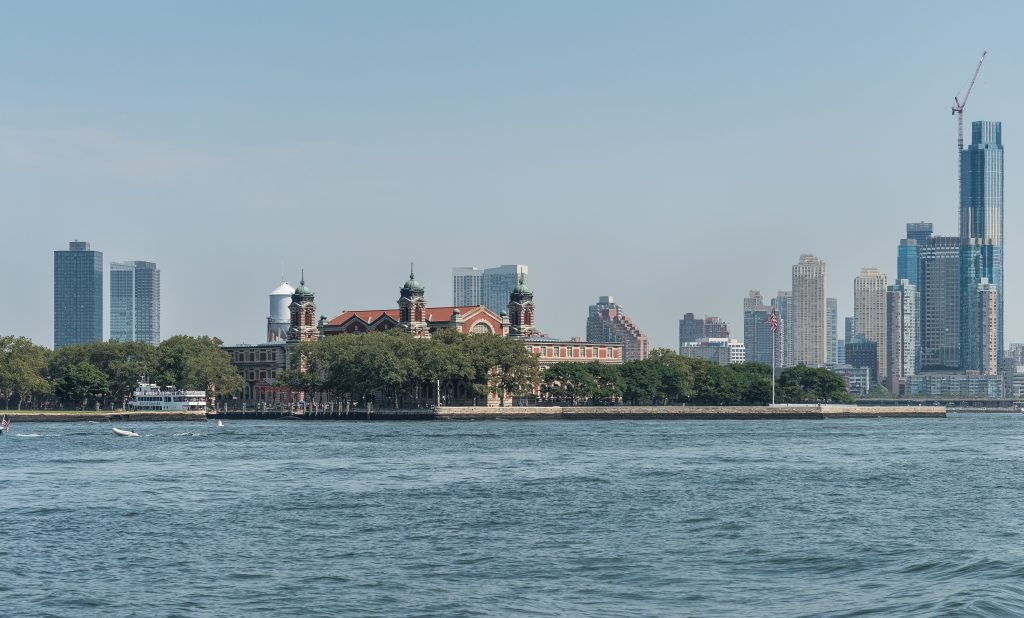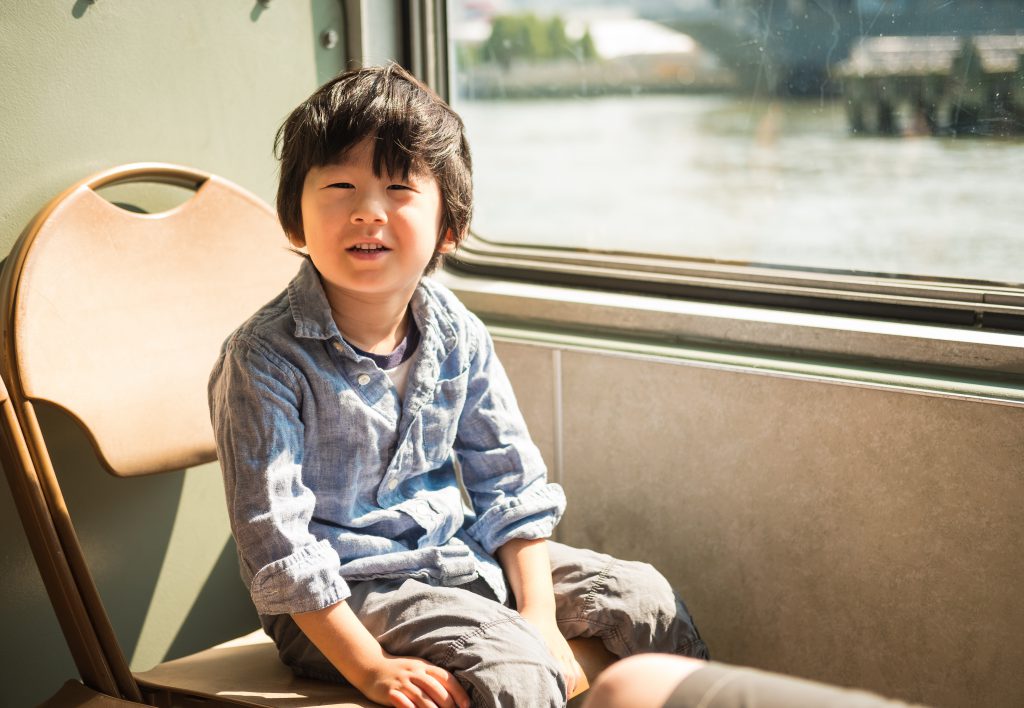 While the kids were getting a little leary (2.5 hours is a little long for our 4 year old and 16 month old), we loved seeing the skyline, key buildings / monuments, and especially the northern part of Manhattan from the East River and Hudson.  We've done a lot of sailing around the southern tip of the Hudson and ferries on the East River, but seeing the northern section of the island was a new adventure and really cool.  The pace slows down and you see a very different side of Manhattan: native birds along exposed tidal marshes.  Bash perked up again once we turned back down the Hudson and we "spotted" our apartment (you know, the one with the water tower on the top, hahah!).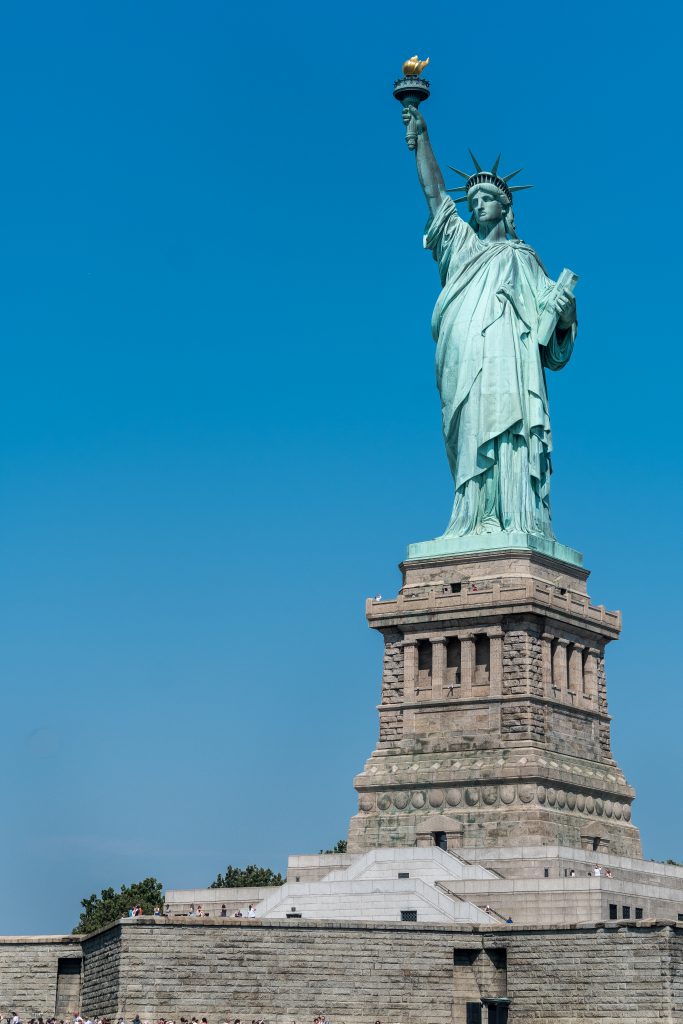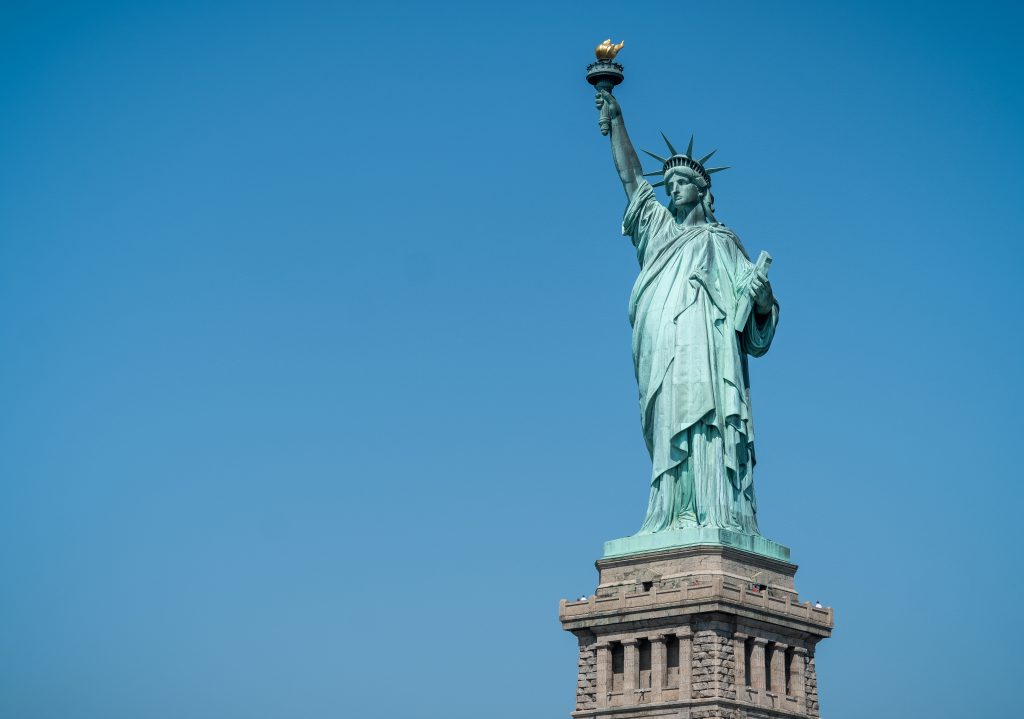 Central Park and Museum Mile
No visit to NYC would be complete without a trip to a few of our world-class museums!  I could probably spend multiple days at the Metropolitan Museum of Art but, with the kids in tow, I usually focus on seeing just one or two exhibits at time.  Pro tip: use the stroller entrance to bypass the lines!  I also like spacing out exhibits with more "interactive" areas like the Cantor Roof Garden (seasonal outdoor exhibits and a great place for snacks), the Temple of Dendur (ancient Egyptian temple with lots of open space and a short flight of stairs that Ava loves to climb), and the Astor Chinese Garden Court collection on the second floor (which houses a replica garden complete with water features and koi fish).  The #metkids interactive map and website is also a great resource for planning kid-friendly visit.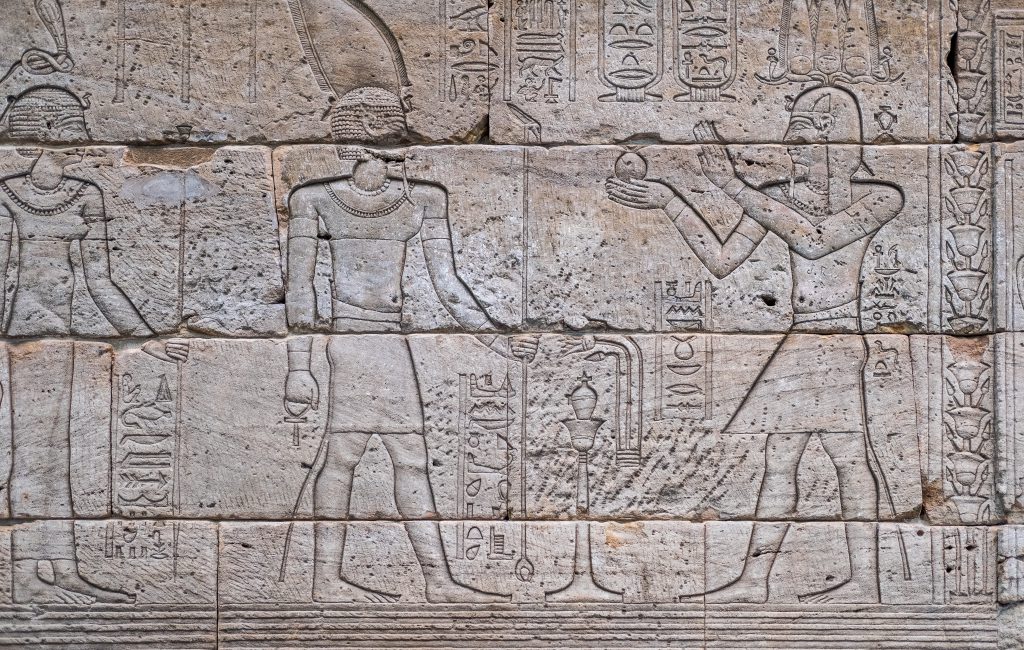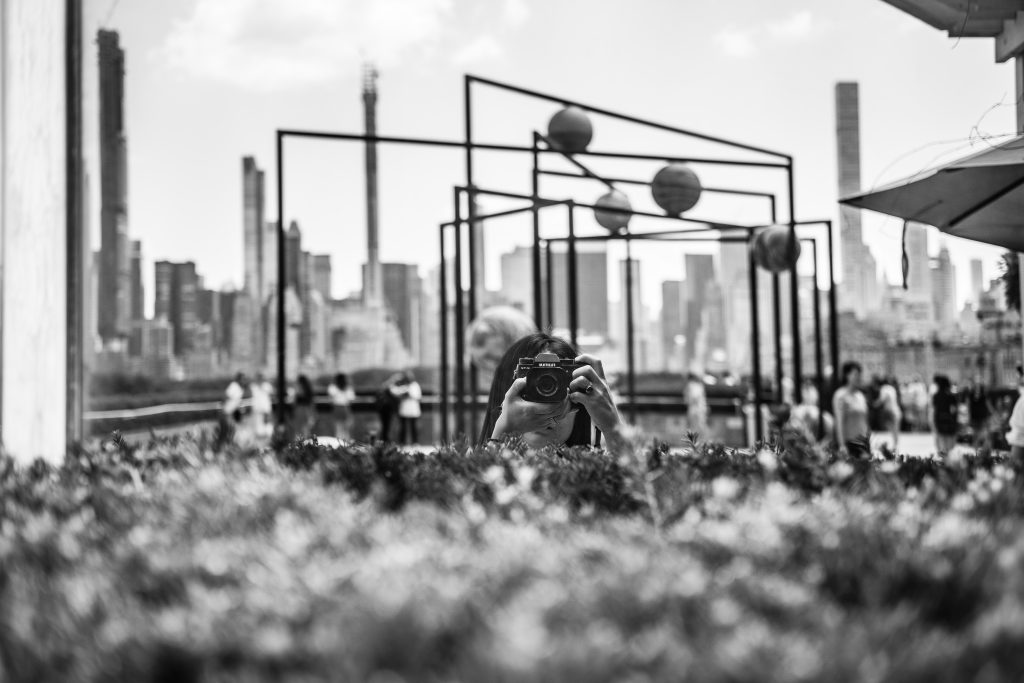 We sent our guests off down Museum Mile for some addition fun including one of my favorites, the Neue Gallerie, some UES window shopping along Madison, 57th, and 5th Ave., and then a quick tour of Rockefeller Plaza / Midtown area.  We met back up post afternoon naps for a stroll through our backyard, Central Park!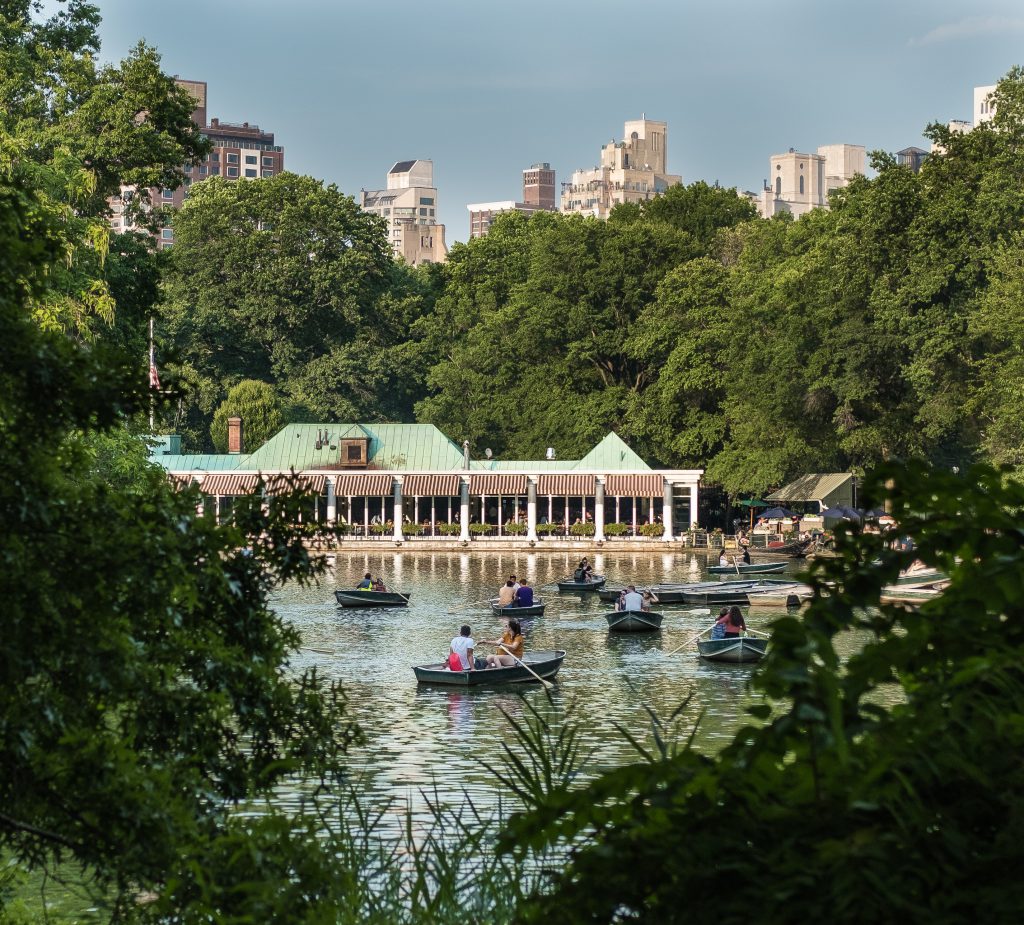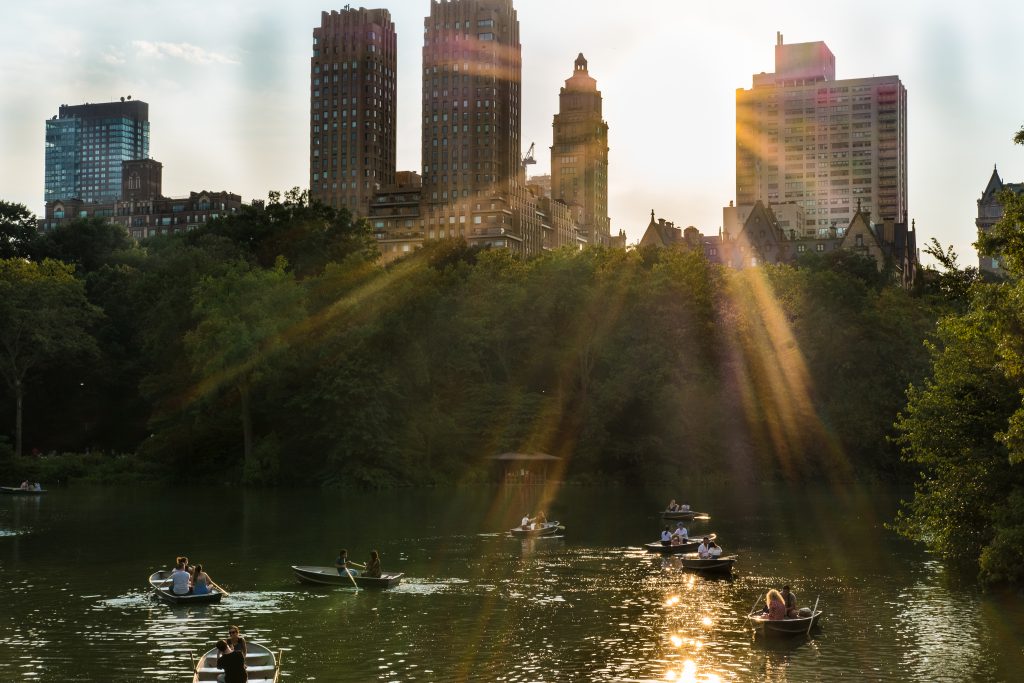 Don't worry, we sent our guests on many more excursions across the city: reminiscing about our DINK (dual income no kids) life living in NoLiTa / SoHo, eating our way through Little Italy and Chinatown, and of course, seeing the touristy Times Square, etc.  There is so much to explore in NYC that I'm sure they will be back again soon!
For more NYC adventure ideas, check out some of our posts:
Happy summer adventuring!