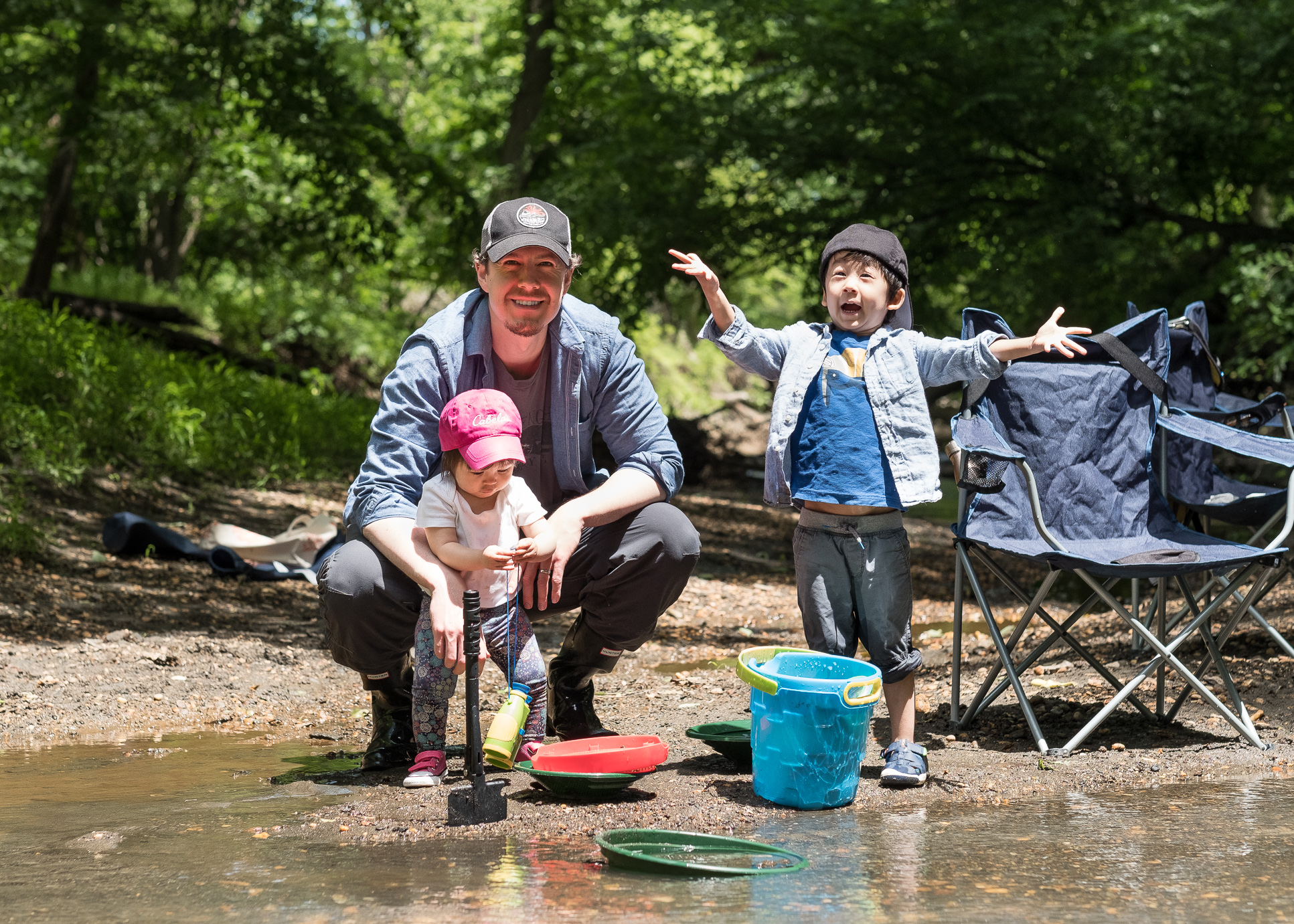 If you're looking for a dino-mite outing with the kiddos, look no further than fossil hunting at Big Brook Preserve in Colts Neck, New Jersey! At about 1 – 1.5 hours drive from NYC, this is a unique family day trip where the kids can play paleontologist for the day. There's no shortage of fascination for the kids: wading in the creek, digging in the dirt, scooping water, sifting rocks, catching tadpoles, identifying animal footprints in the muddy banks, and, of course, discovering a treasure trove of fossils from the Cretaceous age. We all had a blast and can't wait for our next jurassic adventure!
While doing some research on gold panning opportunities along the East Coast (yup, one day, out of the blue, Bash asked to go gold panning – so random!), Nick stumbled upon this spot via the FossilGuy. We figured that fossil hunting might be similar enough to hold Bash's fascination, well, at least until we head out West this summer for some real gold panning!
So, we packed up our gear and hit the trail in search of the creatures that roamed the Garden State millions of years ago. Here's a recap of our adventure, along with some handy tips for a fun Big Brook expedition.
Before You Go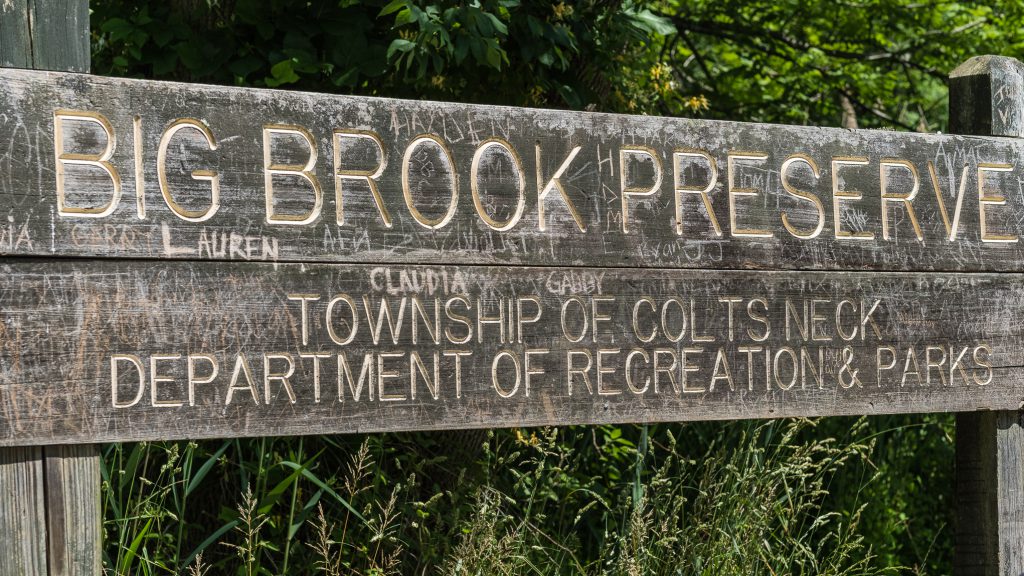 Eager to head out on a rawrsome adventure to Big Brook Preserve (95 Hillsdale Road Colts Neck, New Jersey 07722)? Before you go, here are a few tips to prepare:
The Fossil Guy has tons of expert advice we highly recommend reviewing before planning a trip. NJ Fossils also has a pretty extensive guide to Big Brook and an in depth look at the geology of the area for more technical background.
Check the weather forecast.. Avoid going when rain is called for as the creeks can flood
Review the regulations before you head out. There are several rules and restrictions; a few highlights:

Groups of 15+ require a permit
The collection of fossils within the preserve is limited to those fossils found within the actual stream waterline. Fossil extraction is prohibited from the walls of streambed above the stream waterline. AKA: stick to the water and the gravel bars; no digging the banks
The use of equipment for the collection of fossils is restricted to trowels with a maximum blade of six inches, and small screens with an eighteen-inch-square maximum at all times
No person may harvest more than five fossils per day.

Review what kind of fossils might be found. I spent a lot of time asking, "is this something good?" as it's often hard to tell a rock from a fossil. We also saw, but left some Angel Shark Vertabra, as we realized only after returning home that these were fossils and not rocks. Again, the FossilGuy has a very helpful guide (with pictures!) of the fossils found in Big Brook as well as some background information to help teach kids about fossils. Fossils of NJ has a very detailed list of fossils as does NJ Fossils; you just need to click through all of the links.
Stop off to pick up some snacks and a sandwich to bring along. While there's not much in the area, it's Wawa country and I happen to be a huge fan of their soft pretzels and they make a pretty good club sandwich. Store #784 happens to be right on the way and makes a good pit stop.
There are no restroom facilities onsite. When nature calls, there's a port-a-potty located at the trail-head, parking area. It's best to bring your own wipes and potty for the kids, or plan a pit stop.
What to Bring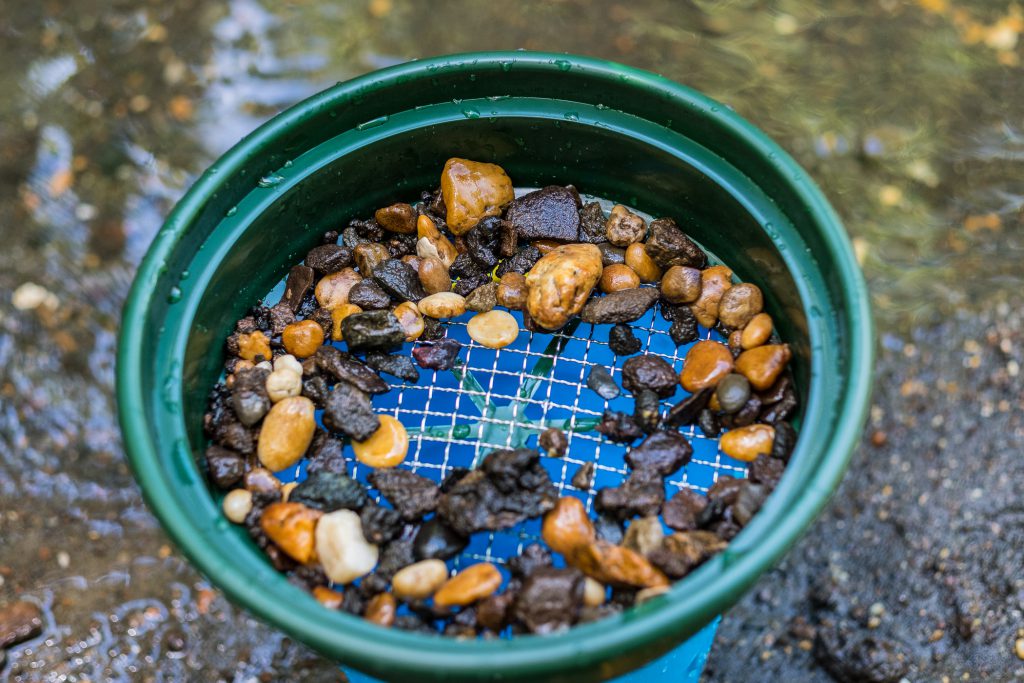 Fossil Hunting Tools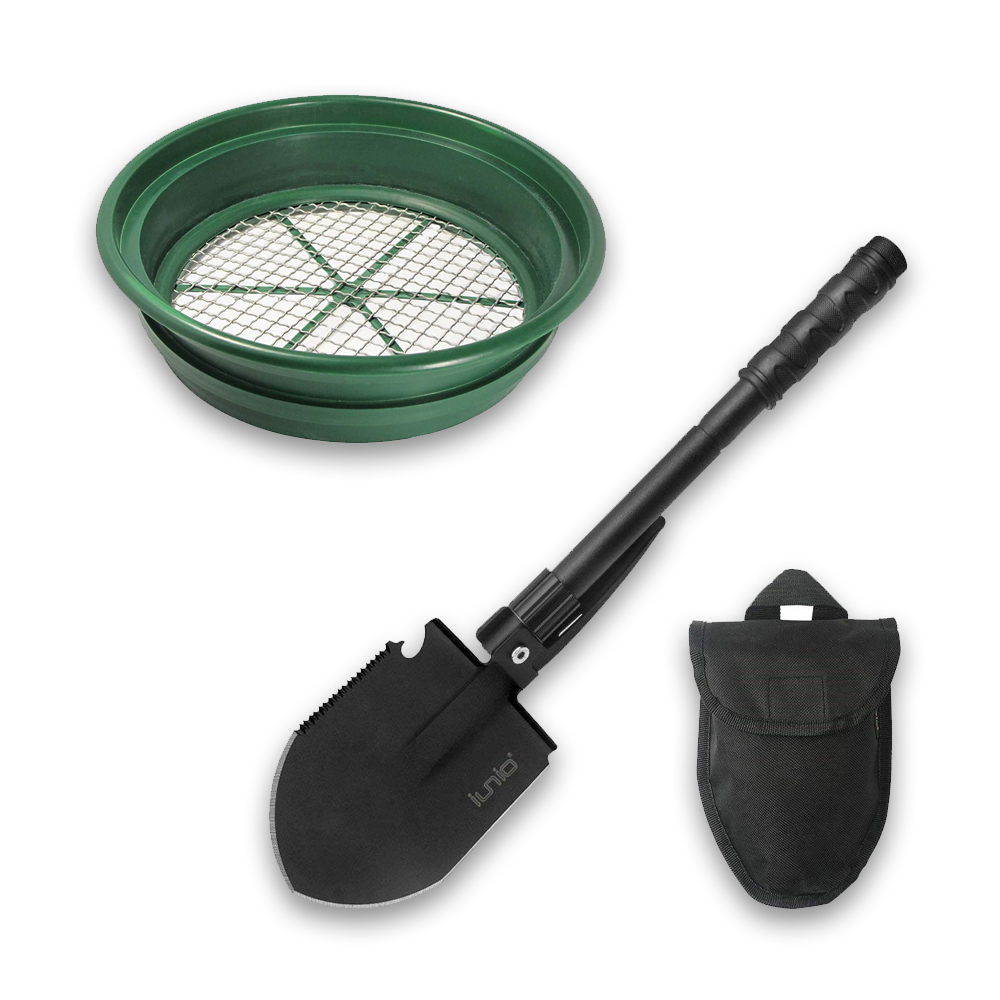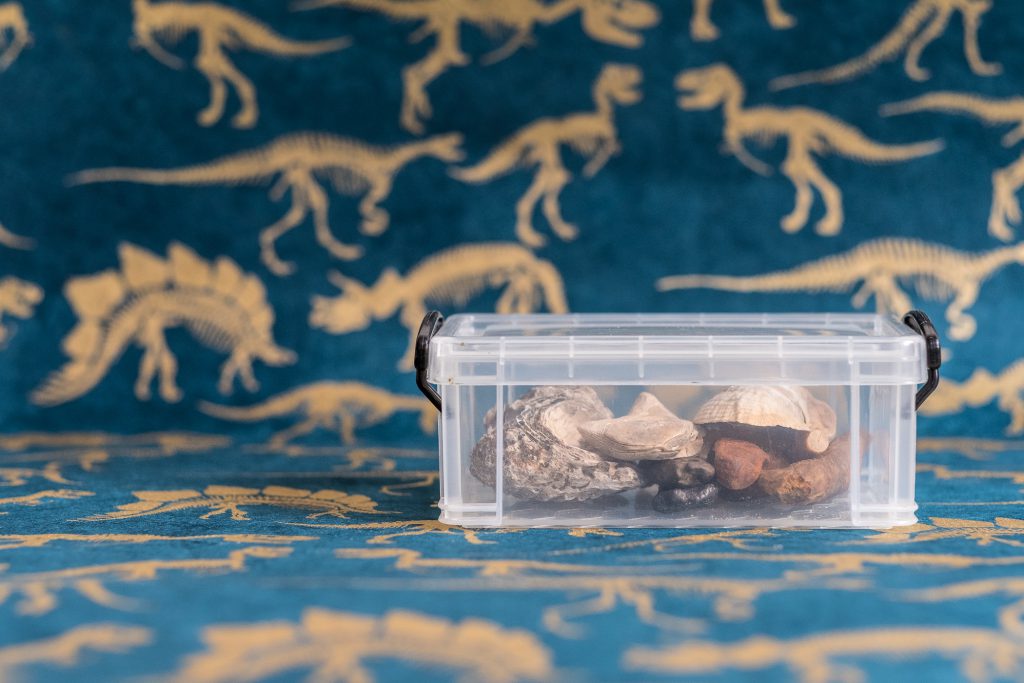 Outdoors Supplies
Bugspray: We like these Cutter Family Insect Repellant Wipes (a lower amount of deet for safety concerns) and a ParaKito Kids Repellant Clip (for baby) attached to Ava's hiking carrier.
Sunscreen: The brook is pretty well shaded with mature lush trees but there are some open spots where the sunshine streams through. My favorite sunscreens have been ThinkBaby and we started using Vanicream Sunscreen this year at Bash's dermatologist's recommendation since he's allergic to everything and has extremely sensitive skin (so far, we love it: he hasn't reacted to it at all and it's super easy to rub in with no streaks or residue).
Water and snacks
Towel and wipes: Expect to get muddy (or at least the kids!). I like these REI camp towels that are easily packable and quick-drying; they're pretty much a mainstay in my summer bag.
Seating: When you're in need of a break, it's nice to have a set of chairs or at least some sort of tarp or foldable, waterproof blanket to sit on without getting that much more muddier. We set up camp on a small, exposed gravel bank in the creek bed. You could always lay down a blanket off the trail in the grass, but the banks are a little steep to go back and forth.
Camera, lenses, extra batteries, etc. because you'll want to document the gigantosaures fun
Bag for your dirty clothes and shoes
Travel first aid kit, including allergy meds, After Bite, hydrocorisone, a tick key just in case, and Ibprofuen for your back-o-sore-us 😉
What to Wear
Clothes and shoes you don't mind getting wet and muddy. I'd recommend long, lightweight pants that roll up for kids as you may be hiking through some brush. We've found these Old Navy Poplin Rollup Pants are great for hiking and camping for Bash. The path is pretty narrow and while I didn't see any poison ivy or poison oak along the trail, the ankle-grazing grasses might irritate any sensitive skin. As for long vs. short sleeves, it really depends on the weather but best to bring layers. We went on a beautiful, sunny day in the high 70s and found that long pants, a short-sleeve shirt, and a lightweight long-sleeve shirt were perfect. The creek is pretty well shaded with lots of mature trees, with some open spots of full sun and the water is refreshingly cool.
Boots, waders, or water shoes with hard soles as there may be sharp rocks and glass in the stream. We brought Bash's Hunter boots which were good for the hike to avoid contact with tall grasses. For wading, they would have been submerged, so we changed him into his Plae Sam sandals which we love for summer playgrounds and splashpads. A good, sturdy water shoe for kids will be perfect for wading.
Hat, sunglasses
A change of clothes and shoes for the ride home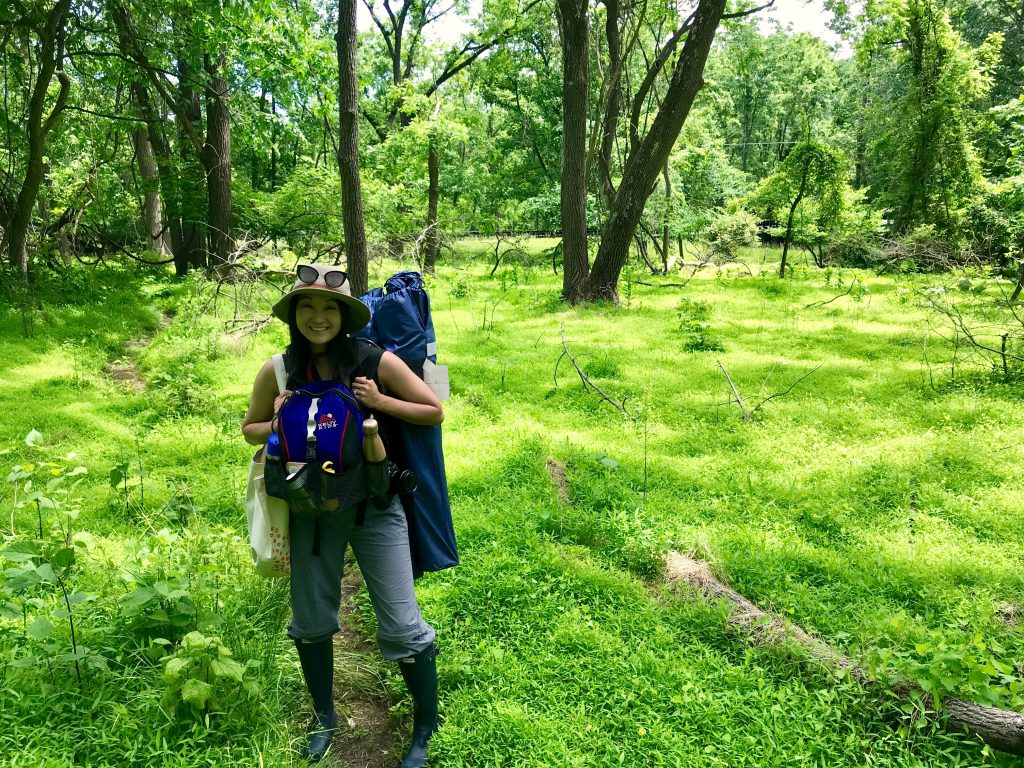 When You Get There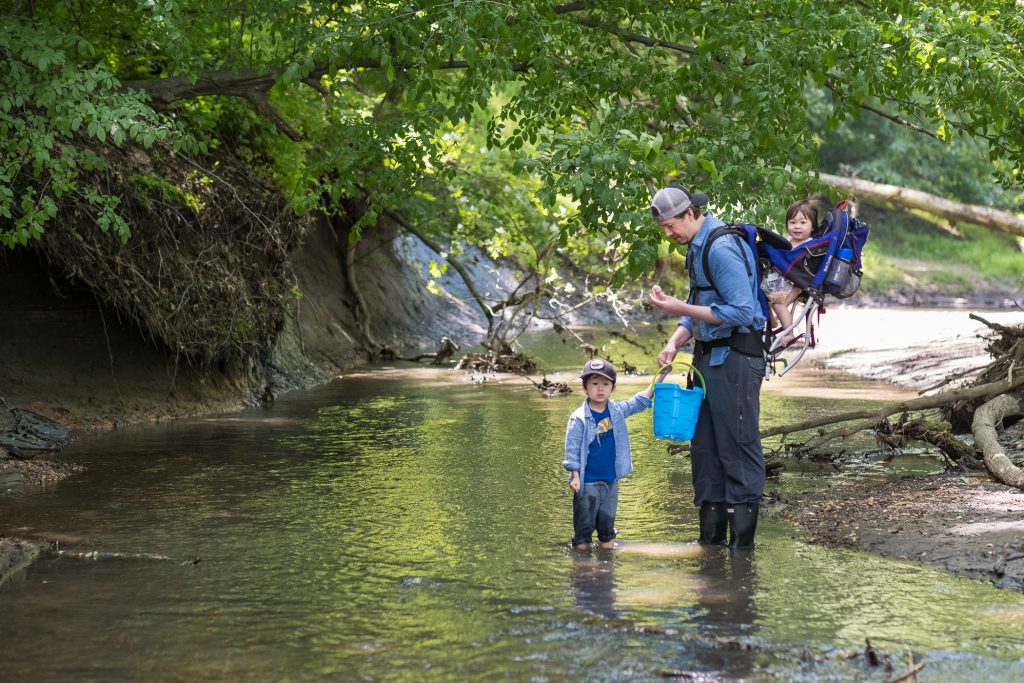 We went on a Sunday late morning and there were already a handful of cars. While in the parking lot, we had some nice chats with a couple of families and amateur fossil hunters and got some good tips. As we started unloading our supplies, Bash immediately went to work scanning the rocky parking lot. Within 5 minutes, he found the first specimen of the day, an oyster shell (not just any oyster shell but a fossilized shell from 65 million years ago)!
From the parking area, it becomes a little like a choose your own adventure: upstream vs. downstream, woodsy path vs. creek bed, swishy swashy through the tall wavy grass or squelch squirch through the sticky mud. We ventured upstream on a whim and started following the narrow trail through the lush, woodsy area. Once we hit the trail towards the brook, it became just us with nature and very quiet; we didn't see another person the rest of the time, which was actually very refreshing and restorative coming from the hustle and bustle of Manhattan.
You can continue along the path for as long as you want as it directly follows the creek. If you head upstream, you'll find a few fallen trees to help the kiddos scramble over and a small, rickety wooden bridge at one point. For younger kids, I'd recommend following the trail through the woods rather than wade through the creek. We started to head back down the creek on our way back, but the sticky mud and scrambling over the fallen trees in the creek was a lot harder to navigate with the kids. If you do choose the creek path, keep your heads down and eyes peeled in the rocks for fossils!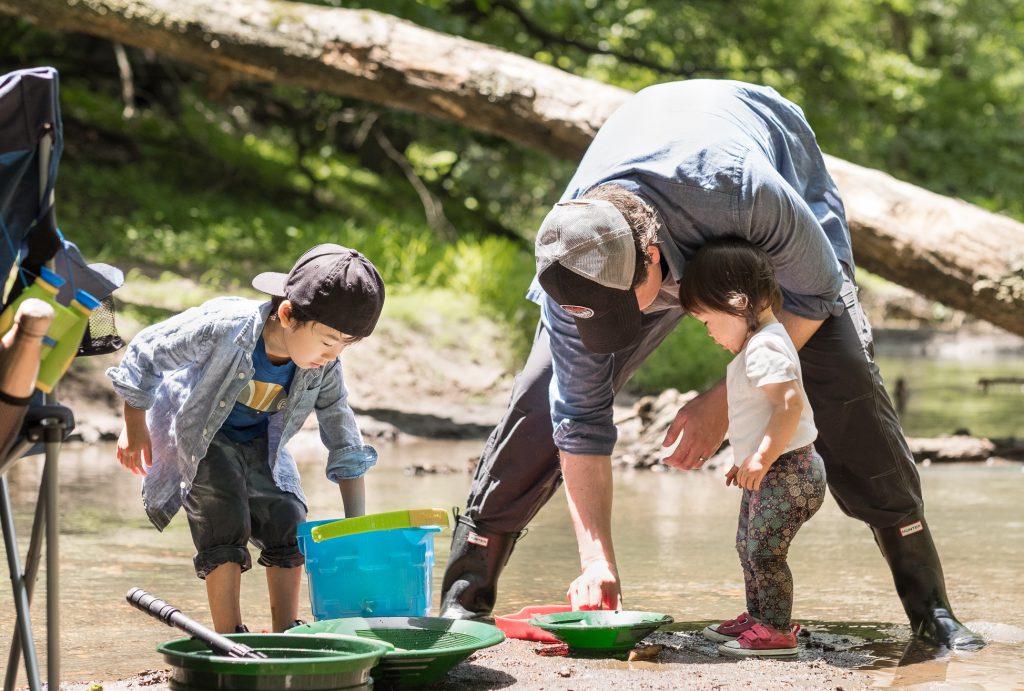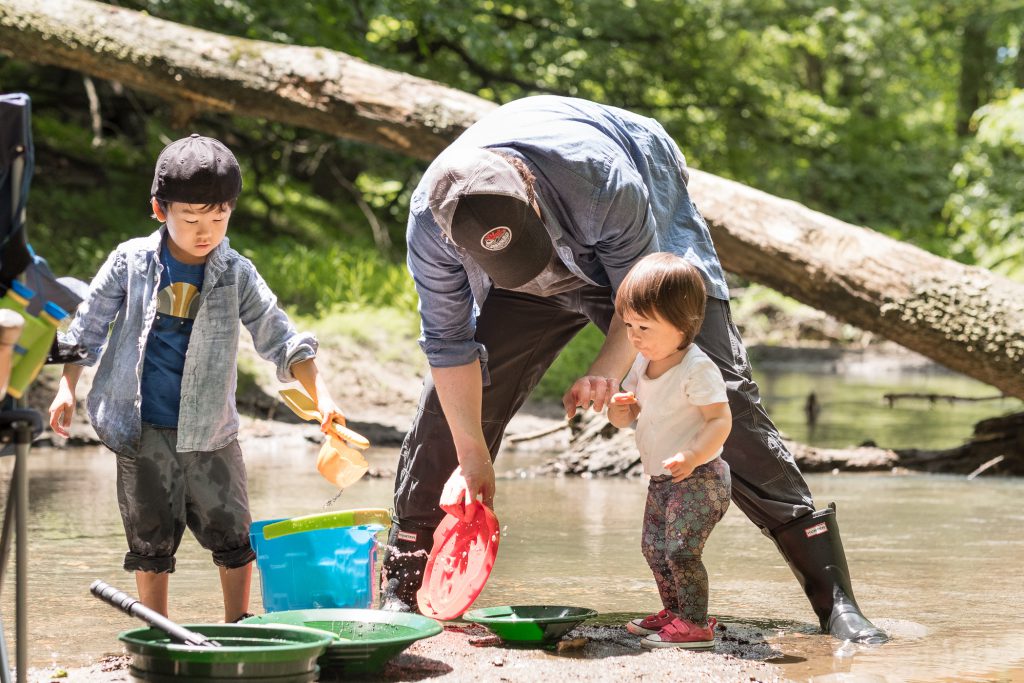 It's easy to pick your spot from the woodsy trail. We found a little less steep way down into the creek and then waded through the creek until we happened upon a good gravely area. Pro tip from the kind gentleman we met in the parking lot: pick a rocky / gravely area – that's where the fossils will accumulate; otherwise, you'll just be sifting through the muck.
We set up our camp on gravely area and got to work. Ava and I scanned our gravel island while Nick and Bash waded in the creek, panning and sifting. We each found interesting and potential specimens and then took turns on sifting duty and hawk eyes on Ava. I'd say this activity is best suited for the preschool age and up, not toddlers. One of us had to always be very vigilant watching Ava so she didn't eat the rocks or ingest too much weird creek water. Plus, the uneven surface is not very amenable to our new, wannabe independent walker, as her wet muddy bottom can attest. Nonetheless, Ava had a blast playing in the mud.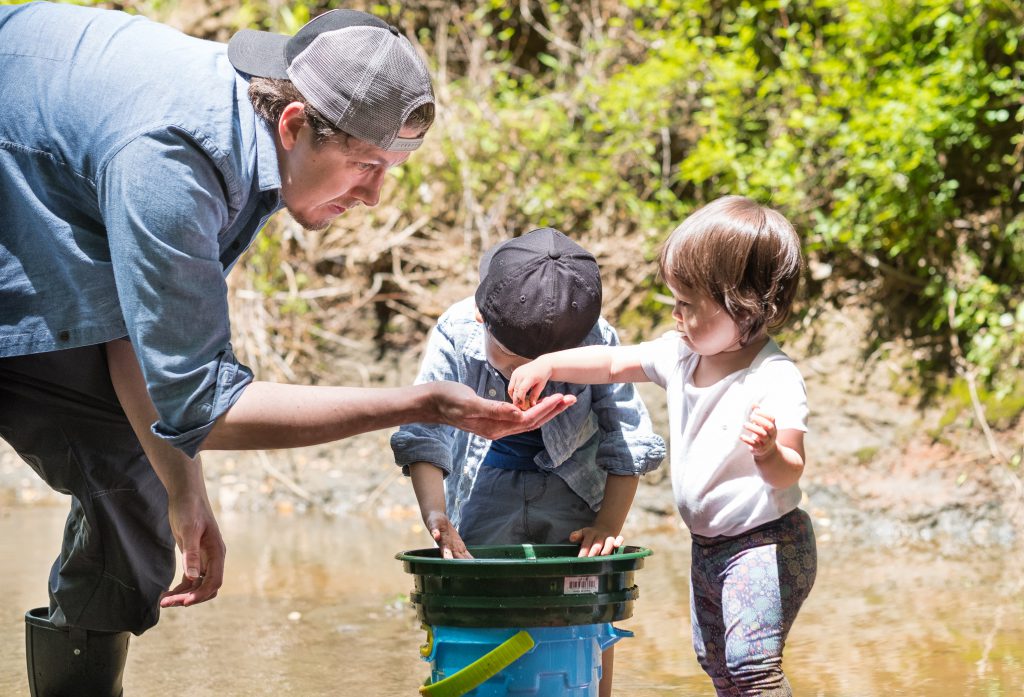 What We Found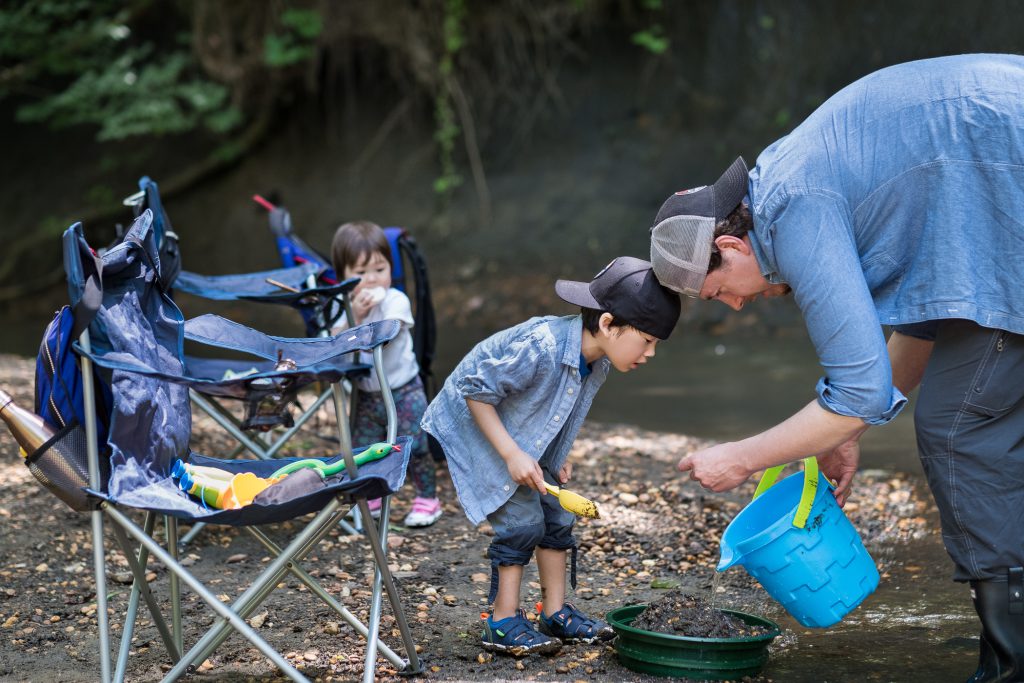 While we didn't find any dinosaur bones (very rare) or shark teeth (more common) this trip, we came away with a great haul of treasures.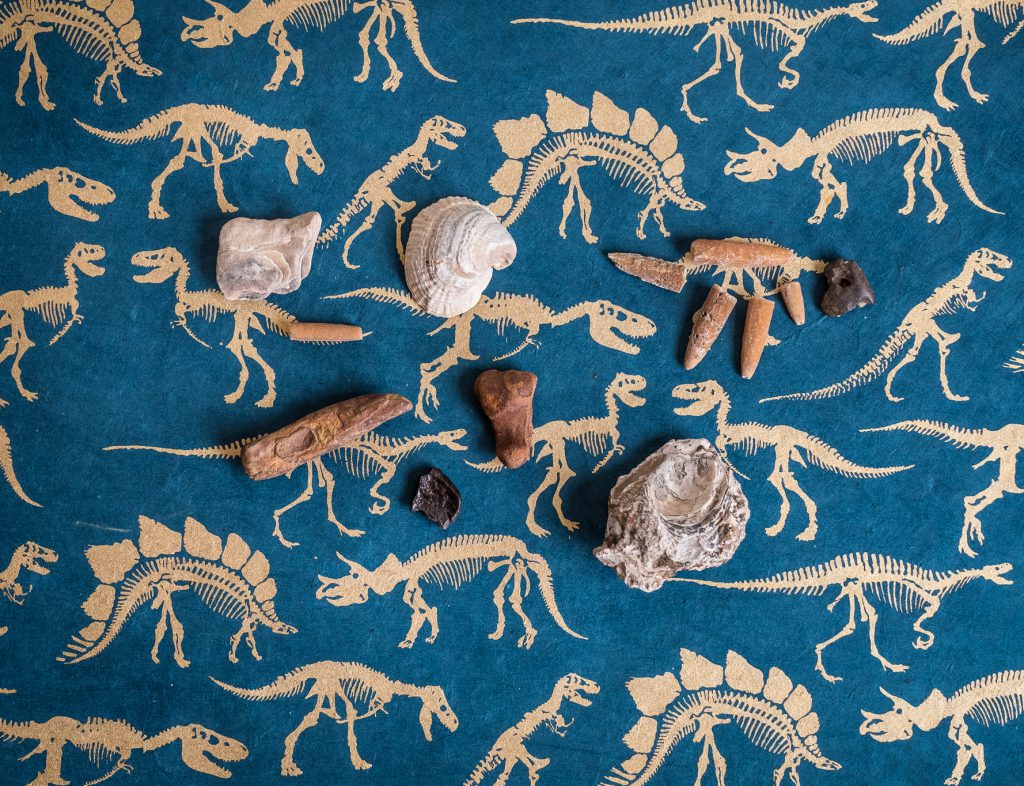 We found a bunch of Belemnitella Americana fossils, oyster shells, fish vertebra, and concretion mineral lumps. Pretty cool knowing that these are over 65 million years old!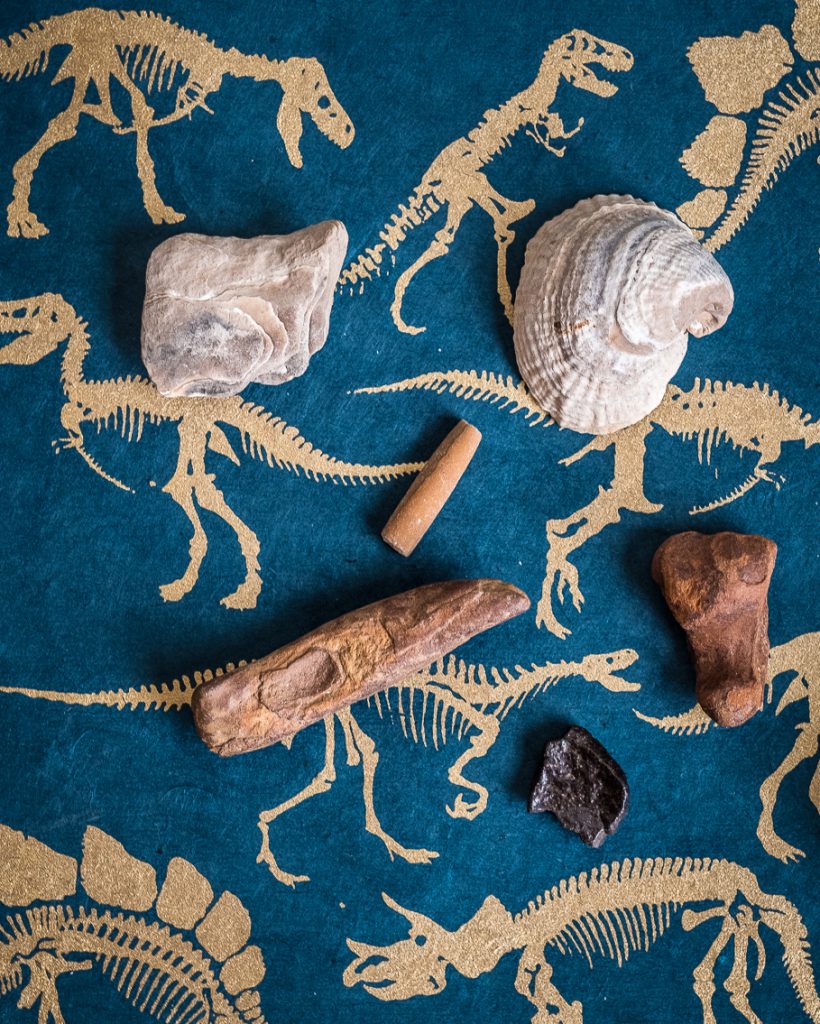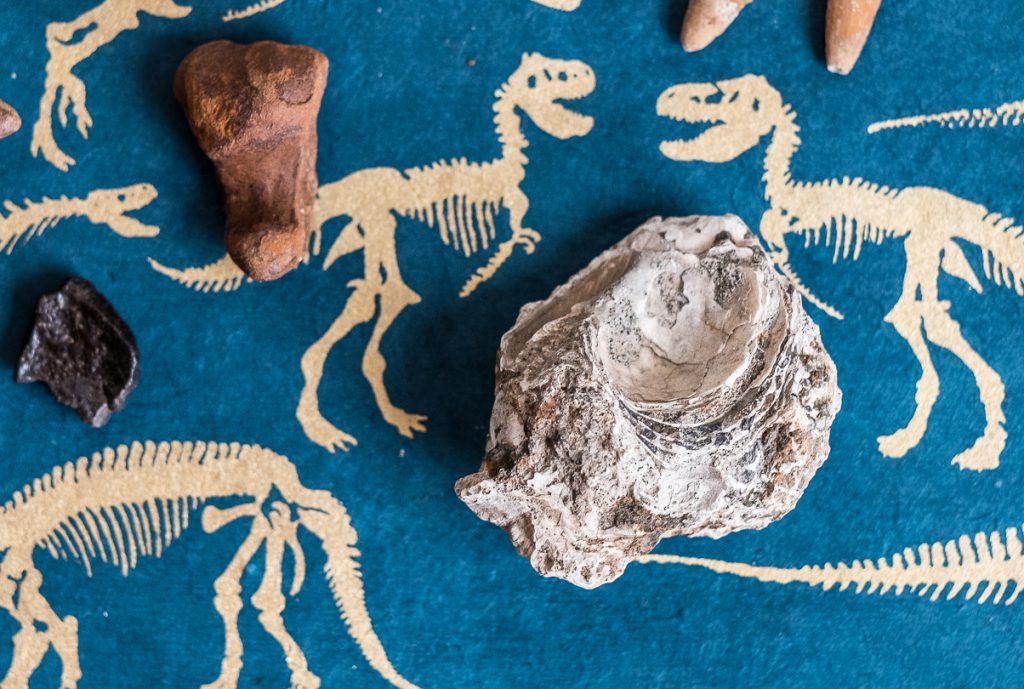 And yes, Bash did try panning for gold, but sadly, he didn't strike it rich and discover the next East Coast Gold Rush!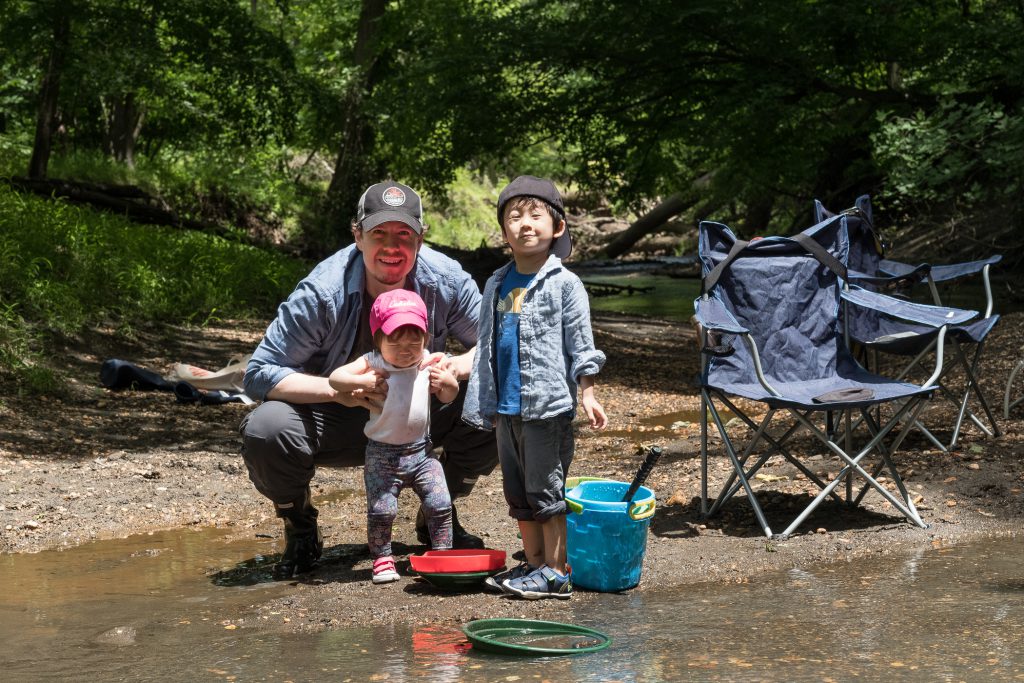 Hope you have a rawrin' good time! If you go to Big Brook, let us know how you liked it and what you found in the comments or tag us on Instagram! For more of our crazy adventures, follow us on Instagram (@bashandco_ny), check out our "Travel" section for some of our daytrips and beyond, and read up on some of our recent favorite NYC area outings: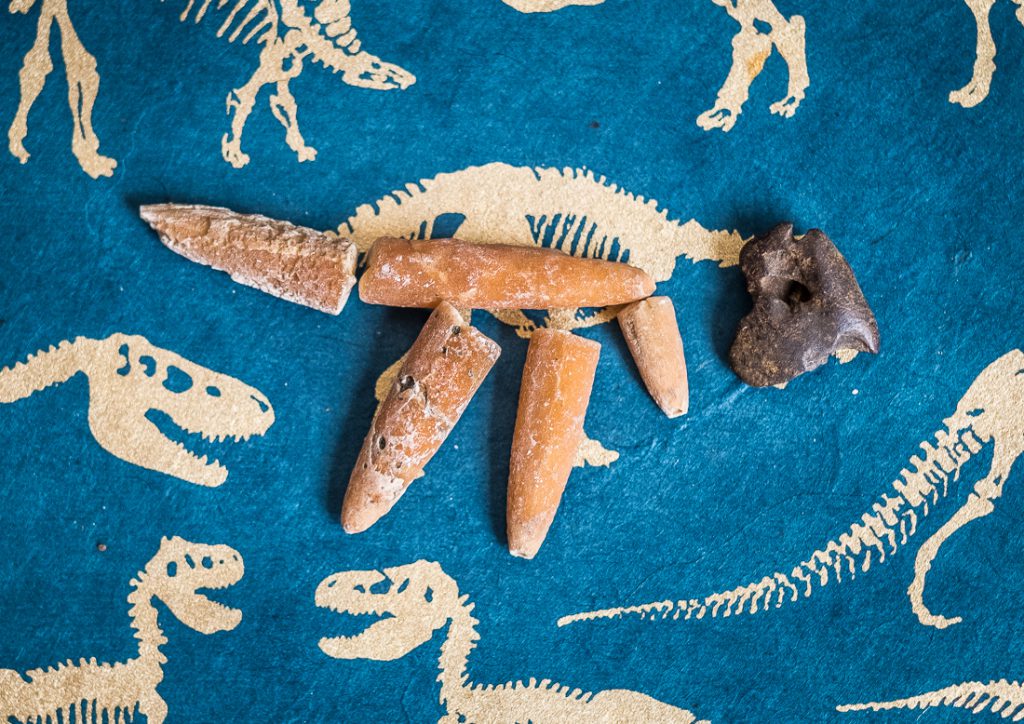 Additional Resources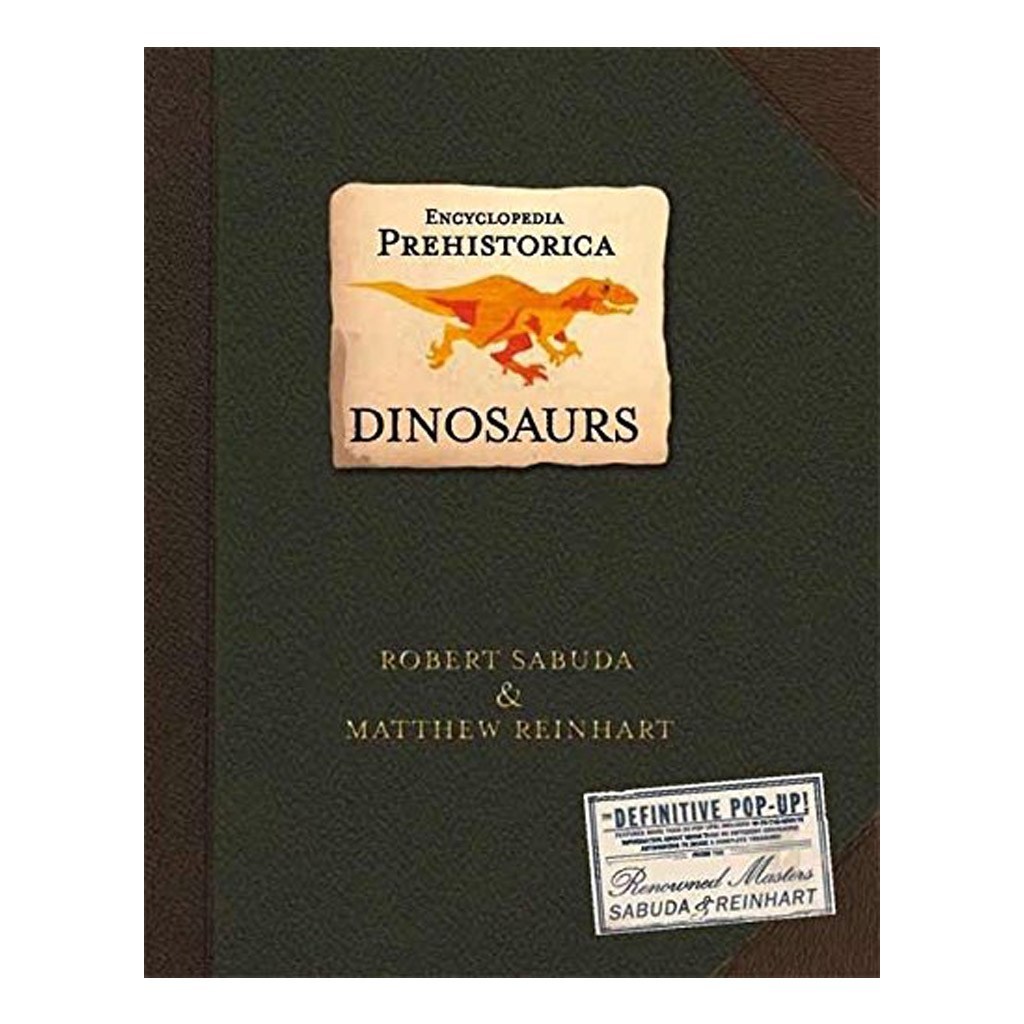 To make the expedition even more educational, here are some of our favorite kids' books on paleontology, fossils, and dinosaurs.
Want to enrich the experience even further? Here are a few easy dino-tastic activities:
Fossil Hunt (at home): fill a sand table with some dinosaur figurines and have your little get to work excavating with spoons and paintbrushes. If you're in NYC, check out the Discovery Room at the American Museum of Natural History for a hands-on dig pit.
Make Your Own Fossils: imprint animal footprints from figurines, dinosaur skeletons, or shells in some molding clay or playdough. Let the casts dry and then add them to the fossil hunt or play a matching game with their counterparts. For plant fossils, go on a scavenger hunt for fallen leaves and bring them home to create leaf rubbings using crayons and some paper.
Make Your Own Dinosaur Bones: Use our salt dough recipe to make your own dinosaur bones. Once the "bones" are dry, use them in an at-home fossil hunt excavation.